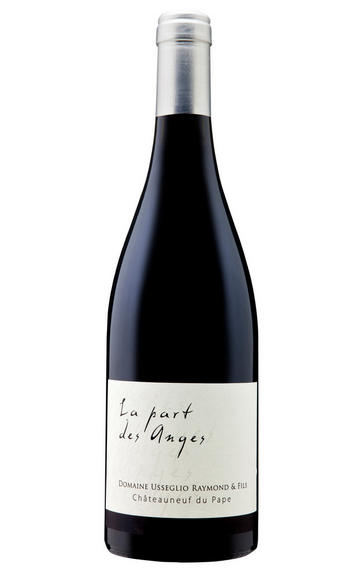 2010 Châteauneuf-du-Pape, La Part des Anges, Domaine Raymond Usseglio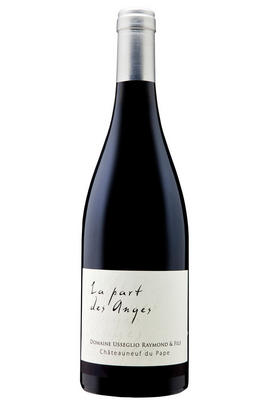 About this WINE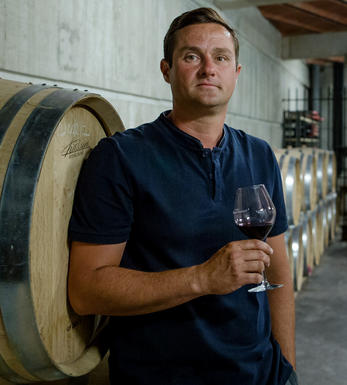 Domaine Raymond Usseglio
Unusual though his name may be, there are several strands of the Usseglio dynasty now excelling in Châteauneuf- Du- Pape.

Two brothers, sons of Italian immigrants, set up wineries in Châteauneuf du Pape. The recognition went initially to Pierre, but Raymond, now represented by his son, Stéphane, is also reaping the rewards of excellence. Traditional winemaking is now embroidered with new ideas, a little new oak, and laudable ambition; the ensemble is getting better and better each year, yet still constitutes excellent value.

The vineyards of Usseglio spread on 21 hectares, of which 16ha are in Châteauneuf du Pape and 5ha in Cotes du Rhône .This multiplicity of soils over the various vineyards adds complexity to the different wines; the cobblestones create rich, fat wines, whereas the sandy soils impart elegance, fineness, and depth.

The Usseglios produce a range of wines including Châteauneuf-du-Pape rouge and blanc, Châteauneuf-du-Pape Blanc Réserve Roussane, Côtes du Rhône and the low-yielding, flagship Châteauneuf-du-Pape Rouge, Cuvée Impériale. The grapes used in the red Chateauneuf include Grenache, Syrah (mainly), Mourvèdre, Cinsault and Counoise.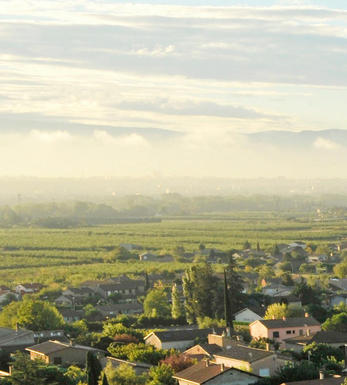 Châteauneuf-du-Pape
Châteauneuf-du-Pape is the largest and most important wine appellation in the southern Rhône. It is home to more than 3,200 hectares of vineyards and over 80 growers; more wine is produced in Châteauneuf than the whole of the northern Rhône put together. The vineyards are bounded to the west by the Rhône river and to the east by the A7 autoroute.

Châteauneuf-du-Pape was the first ever Appellation d'Origine Contrôlée established in France, in 1932. Small, rounded rocks from the ancient river bed known as galets roulés are a key aspect of what makes Châteauneuf -du-Pape wines so distinctive, with the rocks reflecting heat back into the vines at night, thus increasing ripeness and reducing acidity.

The gloriously rich red wines, redolent of the heat and herbs of the south, are enhanced by the complexity which comes from blending several grape varieties. Fourteen are permitted for reds: Grenache, Mouvedre, Syrah, Cinsault, Vaccarese, Counoise, Teret Noir, Muscadin, Picpoul Noir, Clairette, Grenache Blanc, Rousanne, Picpoul Gris and Picardin. With red Châteauneuf-du-Pape, Grenache typically dominates with Syrah and Mourvèdre in support.
White Châteauneuf-du-Pape is becoming increasingly sought-after, even though it represents less than 10 percent of the total production. Here, five grapes are permitted: Grenache Blanc, Clairette, Roussanne, Bourboulenc and Picardin.

Recommended Producers: Château de Beaucastel, Clos de Papes, Vieux Télégraphe, Château Rayas,, Domaine de la Charbonnière, Sabon, Château La Nerthe, Domaine Perrin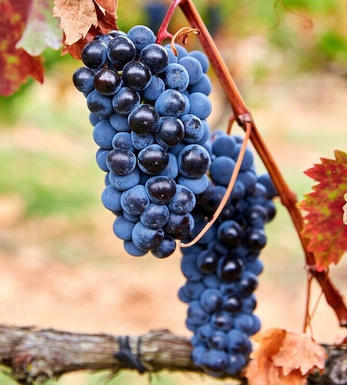 Southern Rhône Blend
The vast majority of wines from the Southern Rhône are blends. There are 5 main black varieties, although others are used and the most famous wine of the region, Châteauneuf du Pape, can be made from as many as 13 different varieties. Grenache is the most important grape in the southern Rhône - it contributes alcohol, warmth and gentle juicy fruit and is an ideal base wine in the blend. Plantings of Syrah in the southern Rhône have risen dramatically in the last decade and it is an increasingly important component in blends. It rarely attains the heights that it does in the North but adds colour, backbone, tannins and soft ripe fruit to the blend.
The much-maligned Carignan has been on the retreat recently but is still included in many blends - the best old vines can add colour, body and spicy fruits. Cinsault is also backtracking but, if yields are restricted, can produce moderately well-coloured wines adding pleasant-light fruit to red and rosé blends. Finally, Mourvèdre, a grape from Bandol on the Mediterranean coast, has recently become an increasingly significant component of Southern Rhône blends - it often struggles to ripen fully but can add acidity, ripe spicy berry fruits and hints of tobacco to blends.
Reviews
Customer reviews
Critic reviews
The massive 2010 Chateauneuf du Pape Cuvee La Parte des Anges reveals huge extraction, abundant new oak, and an intense, full style. While there is a tendency to call this modern-styled, the 70% Mourvedre component puts it in a different category than a traditional Chateauneuf du Pape. Wines such as the Perrins Beaucastel Hommage a Jacques Perrin, Manfred Krankls and Philippe Cambies Chimere, and a few other offerings dominated by Mourvedre come to mind when tasting this cuvee. This 2010 needs to be forgotten for 5-8 years and drunk over the following 25-30 years.
Robert M. Parker, Jr. - 31/10/2012
The only wine that struck me as somewhat atypical is the Chateauneuf du Pape La Parte des Anges, a blend of 70% barrel-aged Mourvedre, 20% Grenache and 10% Syrah. It comes across more like a young Bordeaux than a young Chateauneuf du Pape. Impressively endowed in both 2009 and 2010 with lots of blue and black fruits, toasty oak, graphite, licorice and some of the blue fruit spectrum of Mourvedre. The 2009's tannins may be troublesome if they don't completely resolve themselves.
Everything is there in the 2010, even though it is atypical for the appellation. However, I don't think the tannins will ever become an issue if consumers are willing to wait the requisite 8-10 years both of these wines need. This is a connoisseur's effort from Chateauneuf du Pape. To reiterate, the 2010 Chateauneuf du Pape La Parte des Anges (70% Mourvedre, 20% Grenache and 10% Syrah) has sweeter tannin than the 2009, and may age longer, but both vintages require a decade of cellaring. They are serious, massive, concentrated wines meant for long-term cellaring.
(Robert Parker - Wine Advocate - Oct 2011)