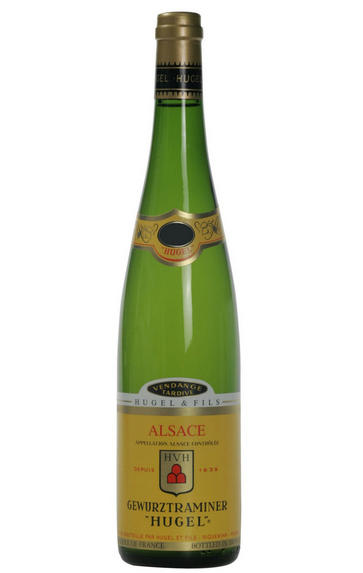 2010 Gewürztraminer, Selection de Grains Nobles, Hugel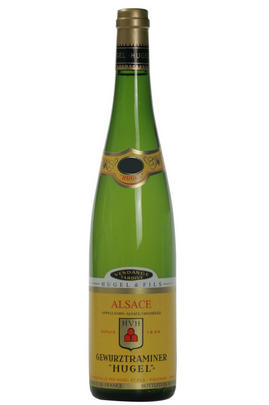 About this WINE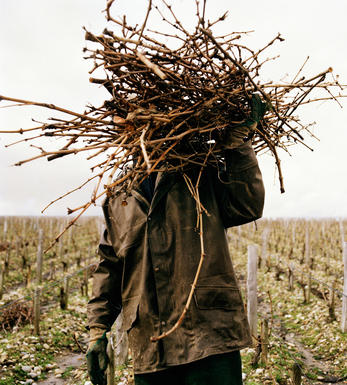 Hugel et Fils
Maison Hugel was founded in 1639 by H. U. Hugelin, this is one of most famous wine producers in Alsace. The wine estate has around 25 hectares of vineyards, as well as buying grapes from nearly 300 contracted growers. Hugel have obtained official recognition for the concept of late harvest wines - Vendages Tardives and Sélection des Grains Nobles - and consistently make some of the finest examples of these in Alsace.

For Johnny Hugel, quality originates in the vineyard. He says: "100% of the quality of a true wine is already in the grapes, not in the cellars where you can only lose quality".

No fertilisers are used in the vineyards and yields are kept very low

In the winery, both stainless steel and oak foudres are used for maturation, depending on the respective varietal and quality level. These are splendid wines of class and finesse.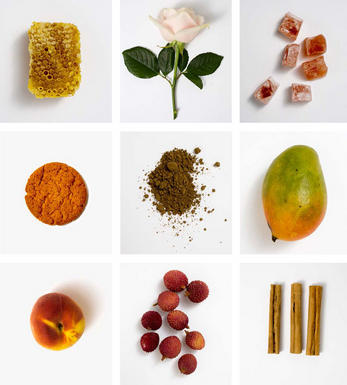 Gewürztraminer
Gewürztraminer is a high quality white grape which produces classic varietal wines in the Alsace region of France.

It is the second most widely planted grape in Alsace and the most widely planted in the Haut-Rhin where it is particularly well suited to the clay-rich soils found in the Vosges foothills. It is normally fermented dry and produces golden, medium to full-bodied wine with heady aromas of lychees, rose petals and white peaches.

It attains naturally high sugar levels far in excess of Riesling and this makes it ideal for sweet, late harvest wines. These can be unctuously sweet and luscious and the best can last for decades. Rieffel, Hugel and Zind Humbrecht consistently produce the finest Gewürztraminer wines in Alsace.

It is also planted in Germany (specifically in the Rheinpfalz and Baden regions), Austria, the Alto Adige in Italy and to a lesser extent in Australia, New Zealand and California. Gerwürz means spice in German, although this pink-skinned grape tends to produce exotically perfumed rather than spice laden wines.
Critics reviews
Celery seed, quince preserves, mint, black tea, caramelized parsnip, and an ethereal overlay of honeyed sheer botrytis secretion characterize Hugel's 2010 Gewurztraminer Selection de Grains Nobles S (whose identifying capital letter is employed on their labels for any S.G.N. in excess of 21% potential alcohol). This represents the second of two lots that the winery for a time considered blending but which proved captivatingly distinctive not to mention, in this instance, supernal. Expansive and satin-textured, this elixir's relative refinement vis-a-vis the corresponding "R" bottling in no way implies a diminution of acidity, which here too is Riesling-like, leading to an intensely bright finish that locks-in on the salivary glands while deploying a kaleidoscopic interaction of strikingly colorful and vivid flavors. It will leave you amazed, perhaps even dazed, and eager to follow (or to permit some lucky descendant of yours to follow) through mid-century.

Amazingly, Marc Hugel reports that his potential alcohol levels in 2010 were not far off from those registered in 2009. In the acid department, though, their profiles were very different, and the 2010s here ended up universally bright and juicy – even the Gewurztraminer – despite virtually all of the non-V.T. wines (including those Gewurztraminer) having undergone at least partial and in most cases complete malolactic transformation, albeit inoculated with Hugel's demonstrably successful strain of bacteria that insure malo occurs during the course of alcoholic fermentation. "And don't imagine," says Hugel, "that the 2010s were short on malic acid!" The total bottled acidities in Gewurztraminer were in fact, Hugel reports, the highest on record and you may be sure that the record in question goes back a long time and incorporates many lean years in which fruit failed to completely ripen! Yes, we live in record-setting viticultural times ... and fortunately, many of the records set are cause for celebration. Consider as well that Hugel bottled the largest collective volume of S.G.N. in 2010 since dramatically different (searing and dry, until in September rain- and botrytis-capped) 1976! (This was a feature peculiar to Hugel and by no means characteristic of the 2010 vintage in Alsace as a whole.) While too-low acidity was a potential problem in 2011, Hugel manages to have captured a satisfying sense of liveliness and refreshment in most of their offerings. "We picked in 29 days," notes Marc Hugel, "which is the fastest we have ever harvested." 2020-2050
David Schildknecht, The Wine Advocate (August 2014)