2010 Châteauneuf-du-Pape, Réserve des Deux Frères, Pierre Usseglio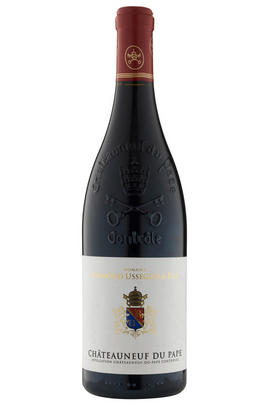 About this WINE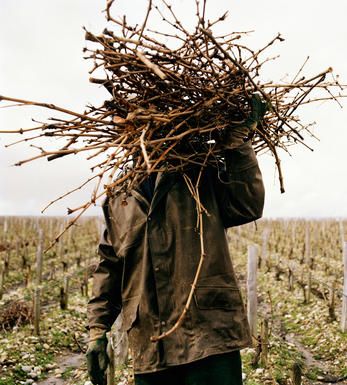 Domaine Pierre Usseglio
This first class domaine is now run by Pierre Usseglio's sons Jean-Pierre and Thierry. It has recently expanded with the purchase of seven hectares of vines that Jean-Pierre had previously worked en metayage. The vineyards are split into three separate plots of vineyards in the La Crau, Serres and Le Bedine subzones of Châteauneuf-du-Pape. The vineyards are old with an average age of 80 years and are planted with Grenache Blanc, Clairette, Bourboulenc and Roussanne.
The grapes from each of the three parcels are fermented separately in concrete cuves before being blended and then and aged for between 18-24 months in immaculately kept oak foudres.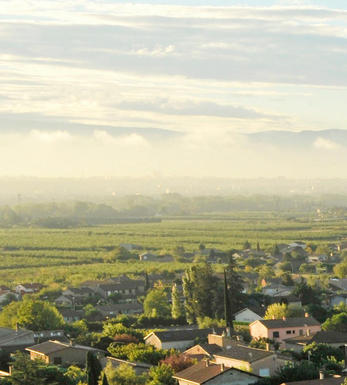 Châteauneuf-du-Pape
Châteauneuf-du-Pape is the largest and most important wine appellation in the southern Rhône. It is home to more than 3,200 hectares of vineyards and over 80 growers; more wine is produced in Châteauneuf than the whole of the northern Rhône put together. The vineyards are bounded to the west by the Rhône river and to the east by the A7 autoroute.

Châteauneuf-du-Pape was the first ever Appellation d'Origine Contrôlée established in France, in 1932. Small, rounded rocks from the ancient river bed known as galets roulés are a key aspect of what makes Châteauneuf -du-Pape wines so distinctive, with the rocks reflecting heat back into the vines at night, thus increasing ripeness and reducing acidity.

The gloriously rich red wines, redolent of the heat and herbs of the south, are enhanced by the complexity which comes from blending several grape varieties. Fourteen are permitted for reds: Grenache, Mouvedre, Syrah, Cinsault, Vaccarese, Counoise, Teret Noir, Muscadin, Picpoul Noir, Clairette, Grenache Blanc, Rousanne, Picpoul Gris and Picardin. With red Châteauneuf-du-Pape, Grenache typically dominates with Syrah and Mourvèdre in support.
White Châteauneuf-du-Pape is becoming increasingly sought-after, even though it represents less than 10 percent of the total production. Here, five grapes are permitted: Grenache Blanc, Clairette, Roussanne, Bourboulenc and Picardin.

Recommended Producers: Château de Beaucastel, Clos de Papes, Vieux Télégraphe, Château Rayas,, Domaine de la Charbonnière, Sabon, Château La Nerthe, Domaine Perrin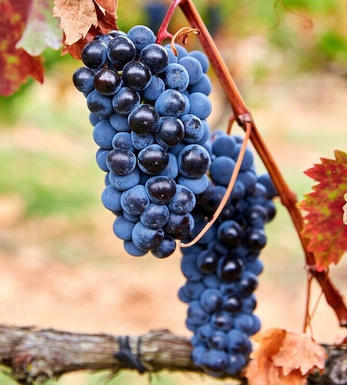 Southern Rhône Blend
The vast majority of wines from the Southern Rhône are blends. There are 5 main black varieties, although others are used and the most famous wine of the region, Châteauneuf du Pape, can be made from as many as 13 different varieties. Grenache is the most important grape in the southern Rhône - it contributes alcohol, warmth and gentle juicy fruit and is an ideal base wine in the blend. Plantings of Syrah in the southern Rhône have risen dramatically in the last decade and it is an increasingly important component in blends. It rarely attains the heights that it does in the North but adds colour, backbone, tannins and soft ripe fruit to the blend.
The much-maligned Carignan has been on the retreat recently but is still included in many blends - the best old vines can add colour, body and spicy fruits. Cinsault is also backtracking but, if yields are restricted, can produce moderately well-coloured wines adding pleasant-light fruit to red and rosé blends. Finally, Mourvèdre, a grape from Bandol on the Mediterranean coast, has recently become an increasingly significant component of Southern Rhône blends - it often struggles to ripen fully but can add acidity, ripe spicy berry fruits and hints of tobacco to blends.
Reviews
Customer reviews
Critic reviews
The 2010 Chateauneuf du Pape Reserve des Deux Freres is composed of 90% Grenache and 10% Syrah, and came in at 15.5% alcohol. In most vintages, this is basically the same cuvee as the Mon Aieul but with more press wine and the use of small new oak casks for aging the Syrah component. Approximately 30% stems were used in the fermentation. The 2010 is closed and nearly inaccessible at present. Full-bodied and massive with an inky/purple color, it reveals notes of smoked meats, blackberries, blueberries, flowers and subtle toast in the background. An enormous unctuosity and viscosity give the wine a palate gripping mouthfeel as the tannins are coated with glycerin. This brilliant wine needs at least 5-7 years of cellaring, and should keep for three decades thereafter.
Robert M. Parker, Jr. - 31/10/2012
The 2010 Chateauneuf du Pape Reserve des Deux Freres is a completely different animal because of the major loss of Grenache crop due to poor flowering. This blend of 65% Grenache and 35% Syrah makes it an unusual Des Deux Freres, since this wine has usually been close to 100% Grenache. The high percentage of Syrah gives the wine a very black/purple color, more blackberry, cassis and acacia flowers, with some smoked meat and Peking duck notes. Rich, full-bodied, thick, and unctuously textured, it is a more modern-styled Chateauneuf du Pape, especially with so much Syrah in the final blend. Nevertheless, it is a brilliant wine that should drink well for 20-25 years given the freshness and good acids these 2010s possess. .
(Robert Parker - Wine Advocate #197 Oct 2011)

One of the top estates in Chateauneuf du Pape is that of the two brothers Thierry and Jean-Pierre Usseglio. Their cellars are just north of the village, adjacent to the walls of the ruins of the pope's palace. They have nearly 60 acres under vine, and make three cuvees of red wines in the top vintages. Their classic or traditional cuvee is made from a blend of mostly Grenache, with some Syrah, Cinsault and Mourvedre.

Their mostly unoaked, tank-fermented and -aged Mon Aieul comes from very old vines (about 85 years of age) and tiny yields, while their cuvee Des Deux Freres leans in a slightly more modern direction for Chateauneuf du Pape, with 50% of it now aged in small barrels, 20% in tank, and 30% in 600-liter demi-muids.