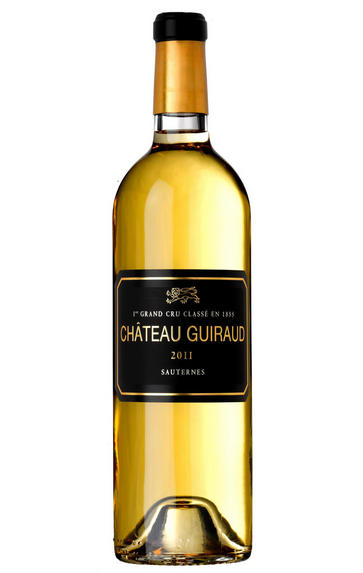 2011 Ch. Guiraud, Sauternes, Bordeaux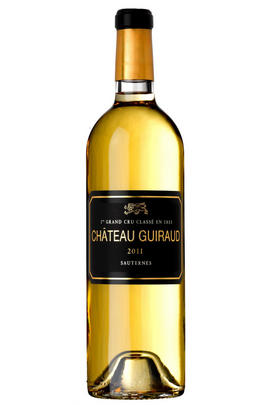 Critics reviews
The 2011 Guiraud is missing some of the vivacity and fruit intensity displayed by some of its peers this year, and its bouquet is quite resinous and missing the fruit concentration of others in this vintage. The palate shows more promise, with very fine tension and crisp acidity, although it is not quite matched by the finish, which feels slightly attenuated. I was hoping for more from Guiraud, which has produced some excellent wines in recent years, although both samples were consistent.
Robert M. Parker, Jr. - Wine Advocate - Issue#200 - Apr 2012
Ripe and unctuous, but with a deliciously racy orange streak running through the core of creamed pear, fig and green plum flavors. Supercreamy on the finish and very long, with honeysuckle and almond notes echoing on and on. A stunner in the making.
Wine Spectator's 2011 Top-Scoring Red Bordeaux
James Molesworth, Wine Spectator, April 9, 2012
Elegant, refined style, typical of Guiraud. Silky sweetness with finely woven flavours and long finish. Combines finesse with depth. Delicate yet intense, the wine possesses breeding and immense drinkability.
About this WINE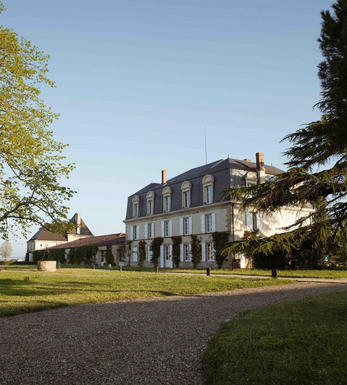 Chateau Guiraud
Château Guiraud is a large Sauternes property that is the only 1er Cru Classé, with the exception of its illustrious neighbour Château d`Yquem, that is located within the commune of Sauternes itself.
Guiraud was owned for a short period by the Maxwell family, who invested heavily in the property, although the wines remained fairly pedestrian. In 1981 it was acquired by a Canadian, Hamilton Narby, and he has transformed Guiraud into one of the very finest Sauternes properties.
Guiraud's 85 hectares of vineyards are located on one of the hills above the village of Sauternes. They are planted with 65% Sémillon and 35% Sauvignon Blanc. The grapes are harvested in "tries" and the juice is then fermented in oak barrels. The wine is then aged in oak casks (50% new) for 2 years.
Guiraud is a very ambitious property with aspirations to produce a wine that will one day rival d`Yquem. The wines are astonishingly rich, especially in light of the high proportion of Sauvignon Blanc in the blend, and are undoubtedly amongst the finest wines being produced in Sauternes today.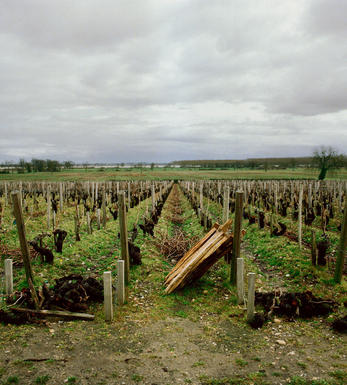 Sauternes
Sauternes is where arguably the world's finest sweet white wines are produced. The Sauternes appellation actually consists of five communes: Barsac, Preignac, Bommes, Fargues and Sauternes itself. Barsac is also an appellation in its own right.

Sauternes literally has an atmosphere different from any of the other major communes. At the southern tip of the Graves,close to the Garonne, not only is the land hillier and decidedly more bucolic but it also enjoys a specific mesoclimate of evening autumn mists which linger until well into the following day, unless burnt off by warm sunshine.

The mists are caused by the cool, spring-fed waters of the Ciron River meeting the warmer tidal Garonne, and the result is an ideal environment for the growth of the mould botrytis cinerea. When its arrival is felicitous, it feeds on the water in the ripe grapes, dehydrating them and leaving sweet, shriveled fruit.


Other regions in Bordeaux (ie Cadillac, Loupiac) produce wines in a similar style from the same method, but none achieve the profundity and complexity of Sauternes.

Recommended Châteaux : Ch. D'Yquem, Ch. Climens (Barsac), Ch. Suduiraut, Ch. Rieussec, Sigalas- Rabaud, Ch. Coutet (Barsac), Ch. de Fargues, Ch. Lafaurie-Peyraguey, Ch. Doisy-Védrines (Barsac), Chateau Partarrieu, La Tour Blanche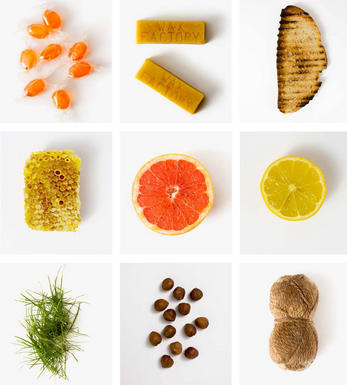 Sémillon
The main grape for Sauternes and particularly successfully grown in Australia's Hunter Valley. Hunter Valley Sémillon is one of Australia's iconic and unique wines, totally unlike any wine produced elsewhere in the world from the same grape variety.

In youth the wines are quite citrusy and fresh, but are generally perceived to gain hugely in complexity as they age and are deemed to be best drunk when at least 5 years old, frequently lasting for 10 or more years. Unusually for Australia, the alcohol levels rarely exceed 11.5%.

In Bordeaux it is the most widely planted white grape and is blended with Sauvignon Blanc to produce the great long-lived dry whites of Graves as well as the great sweet wines of Sauternes. It is high in alcohol and extract and relatively low in aroma and acidity. Its thin skin makes it very susceptible to botrytis which is prerequisite for the making of Sauternes. It responds well to oak ageing and, while having a lightly lemony aroma when young develops lanolin flavours which some describe as "waxy", as well as a rich, creamy, intense, texture and a deep golden colour.