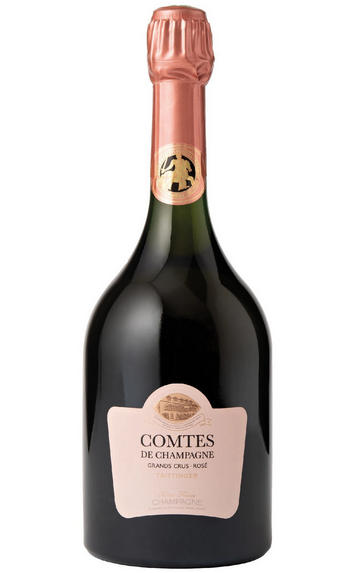 2011 Champagne Taittinger, Comtes de Champagne Rosé, Brut
Prices start from £576.00 per case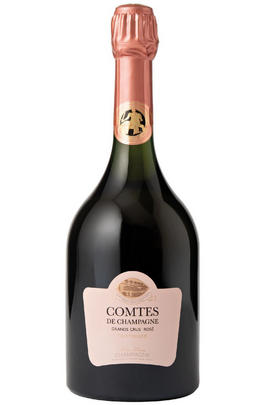 Critics reviews
Antonio Galloni, Vinous
89/100
The 2011 Rosé Comtes de Champagne is soft, forward and open-knit, all of which make it a fine choice for drinking now and over the next handful of years. Sweet dried cherry, tobacco, mint, cedar and crushed flowers give this mid-weight Rosé lovely aromatic complexity.
There are no hard edges or angular contours. Even so, I would prefer to drink the 2011 sooner rather than later, as it is a bit lacking in depth . The blend is 60% Chardonnay and 40% Pinot Noir (including 16% still Pinot from Bouzy).
Drink 2023 - 2030
Antonio Galloni, Vinous.com (March 2023)
Disgorged in October 2022, the 2011 Brut Comtes de Champagne Rosé is a blend of 40% Chardonnay and 60% Pinot Noir, including fully 14% of red wine that lends it notable depth of colour this year. 
The bouquet is complex and incipiently spicy, evoking aromas of cherries, buttery pastry, raspberries and tangerine, with an attractive minty top note. Medium to full-bodied, layered and vinous, with chalky structuring extract, it concludes with a long, sapid finish. 
The limitations of the vintage mean that this is giving, rather open-knit Comtes Rosé, but it is nevertheless a great effort in a challenging year and exhibits none of the herbaceous qualities that mar some of the wines produced in this year. Drink it now and over the next decade.
Drink now until 2045
Yohan Castaing, Wine Advocate (June 2023)
About this WINE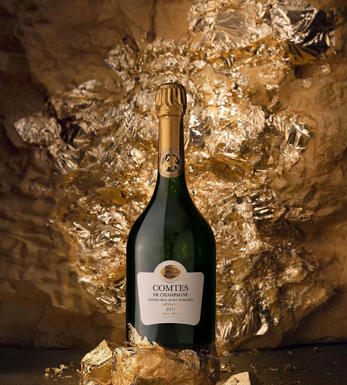 Champagne Taittinger
Taittinger is one of the few family-owned independent Champagne houses in Reims. It produces a very classy Non-Vintage blend and complex Vintage Champagnes as well.
Its top Champagne is Comtes De Champagne - first produced in 1952, it is made from 100% Chardonnay grapes from 6 Grand Cru sites in the Côte de Blancs. This is finely aromatic, rich, creamy Blanc de Blancs at its best, though patience is required as the wine should not be approached for at least ten years.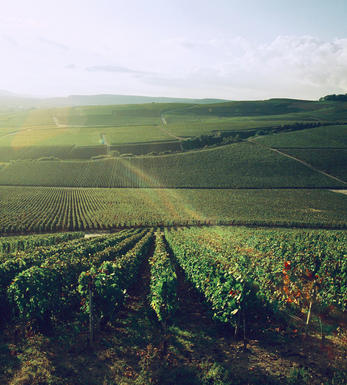 Rosé Champagne
Rosé wines are produced by leaving the juice of red grapes to macerate on their skins for a brief time to extract pigments (natural colourings). However, Rosé Champagne is notable in that it is produced by the addition of a small percentage of red wine – usually Pinot Noir from the village of Bouzy – during blending.
Recommended Producers : Billecart Salmon (Elizabeth Salmon Rose), Ruinart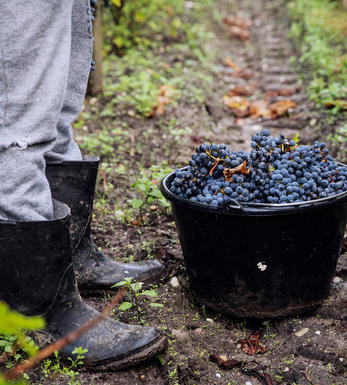 Champagne blend
Which grapes are included in the blend, and their proportion, is one of the key factors determining the style of most Champagnes. Three grapes are used - Pinot Noir, Chardonnay and Pinot Meunier.

26% of vineyards in Champagne are planted with Chardonnay and it performs best on the Côtes des Blancs and on the chalk slopes south of Epernay. It is relatively simple to grow, although it buds early and thus is susceptible to spring frosts. It produces lighter, fresher wines than those from Burgundy and gives finesse, fruit and elegance to the final blend. It is the sole grape in Blancs de Blancs, which are some of the richest long-lived Champagnes produced.
Pinot Noir accounts for nearly 40% of the plantings in Champagne and lies at the heart of most blends - it gives Champagne its body, structure, strength and grip. It is planted across Champagne and particularly so in the southern Aube district.
The final component is Pinot Meunier and this constitutes nearly 35% of the plantings. Its durability and resistance to spring frosts make the Marne Valley, a notorious frost pocket, its natural home. It ripens well in poor years and produces a soft, fruity style of wine that is ideal for blending with the more assertive flavours of Pinot Noir. Producers allege that Pinot Meunier lacks ageing potential, but this does not deter Krug from including around 15% of it in their final blends.