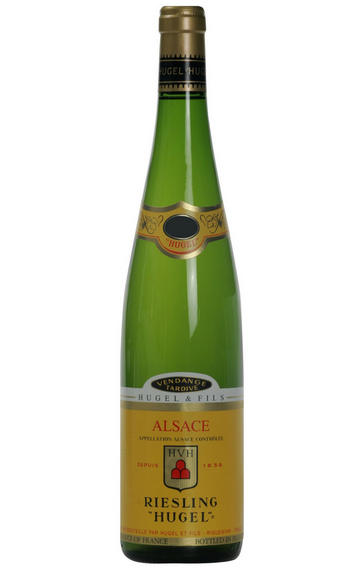 2011 Riesling Vendange Tardive Hugel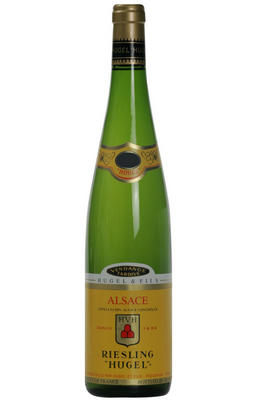 About this WINE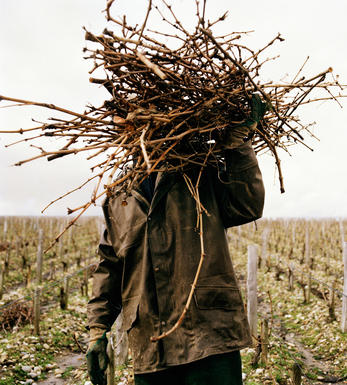 Hugel et Fils
Maison Hugel was founded in 1639 by H. U. Hugelin, this is one of most famous wine producers in Alsace. The wine estate has around 25 hectares of vineyards, as well as buying grapes from nearly 300 contracted growers. Hugel have obtained official recognition for the concept of late harvest wines - Vendages Tardives and Sélection des Grains Nobles - and consistently make some of the finest examples of these in Alsace.

For Johnny Hugel, quality originates in the vineyard. He says: "100% of the quality of a true wine is already in the grapes, not in the cellars where you can only lose quality".

No fertilisers are used in the vineyards and yields are kept very low

In the winery, both stainless steel and oak foudres are used for maturation, depending on the respective varietal and quality level. These are splendid wines of class and finesse.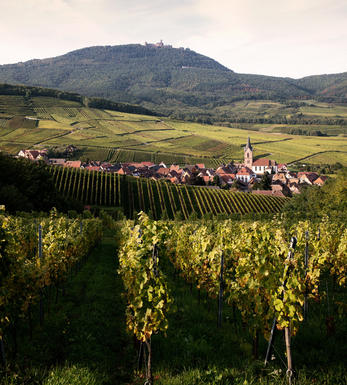 Vendange Tardive
Vendange Tardive (VT) is a particular classification for Alsace wines signifying a late-harvest wine with a greater-than-usual concentration of natural sugars which is the result of the grapes having achieved minimum required ripeness levels (the top producers consistently exceed these). Vendange Tardive translates as 'late harvest'. Its wines can vary from almost dry to very sweet.

The official criteria for a wine to qualify as a VT are:
A minimum grape must weight equivalent to 15.3 percent potential alcohol for Gewürztraminer and Pinot Gris, and 14 percent potential alcohol for Riesling and Muscat.
No chaptalisation or acidification.
Gewürztraminer is ideally suited for vendange tardive wines, as it can easily reach high sugar levels. Vendage Tardive Riesling and Pinot Gris less frequent, but with greater acidity to balance the sweetness, such wines can be long-lived. Muscat Vendange Tardive wines are rare.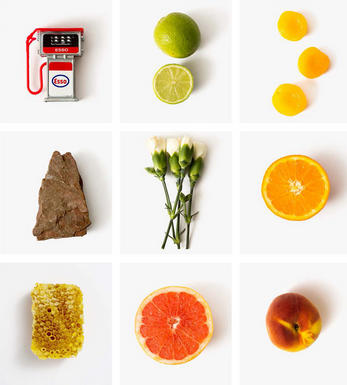 Riesling
Riesling's twin peaks are its intense perfume and its piercing crisp acidity which it manages to retain even at high ripeness levels.
In Germany, Riesling constitutes around 20% of total plantings, yet it is responsible for all its greatest wines. It is planted widely on well-drained, south-facing slate-rich slopes, with the greatest wines coming from the best slopes in the best villages. It produces delicate, racy, nervy and stylish wines that cover a wide spectrum of flavours from steely and bone dry with beautifully scented fruits of apples,apricots, and sometimes peaches, through to the exotically sweet flavours of the great sweet wines.
It is also an important variety in Alsace where it produces slightly earthier, weightier and fuller wines than in Germany. The dry Rieslings can be austere and steely with hints of honey while the Vendages Tardives and Sélection de Grains Nobles are some of the greatest sweet wines in the world.
It is thanks to the New World that Riesling is enjoying a marked renaissance. In Australia the grape has developed a formidable reputation, delivering lime-sherbet fireworks amid the continental climate of Clare Valley an hour's drive north of Adelaide, while Barossa's Eden Valley is cooler still, producing restrained stony lime examples from the elevated granitic landscape; Tasmania is fast becoming their third Riesling mine, combining cool temperatures with high UV levels to deliver stunning prototypes.
New Zealand shares a similar climate, with Riesling and Pinot Gris neck to neck in their bid to be the next big thing after Sauvignon Blanc; perfectly suited is the South Island's Central Otago, with its granitic soils and continental climate, and the pebbly Brightwater area near Nelson. While Australia's Rieslings tend to be full-bodied & dry, the Kiwis are more inclined to be lighter bodied, more ethereal and sometimes off-dry; Alsace plays Mosel if you like.
Reviews
Customer reviews
Critic reviews
Sourced in the Schoenenbourg Grand Cru, the 2011 Riesling Vendange Tardive has a clear, superripe and rich bouquet that leads to a full-bodied though fresh, finessed and piquant palate. This 2011 reveals good salinity and fine tannic grip. A lot of tension. A gorgeous wine!
Stephan Reinhardt - 30/06/2017