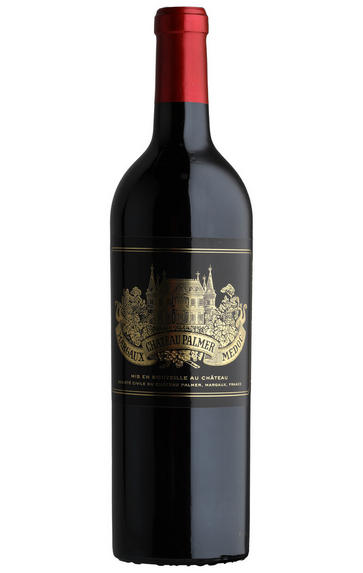 2012 Château Palmer, Margaux, Bordeaux
Prices start from £312.00 per bottle (75cl).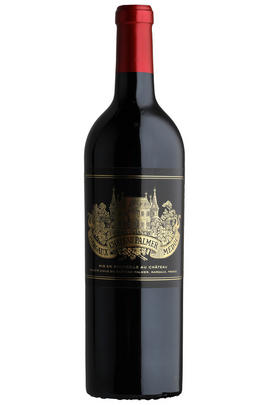 Critics reviews
The annual release of 10 year old Château Palmer, and this time it's an often-underrated but delicious vintage that sits in the shadow of the most prestigious years of the last decade. Proof of how slowly this wine ages, it is packed with blueberry and cassis fruits, a shot of mint leaf, mandarin peel, sage and dark chocolate, with shoulders and a serious architecture, bigger than you might expect for a vintage with such an easy-drinking, gourmet reputation. I last tasted this vintage around eight months ago and it has opened up further since then, often the case as wines shift around the decade mark, and this is an upscore. A moment when Palmer was fully committing to farming biodynamically, doubling its coverage to almost 15 hectares, and had just unveiled a new cellar. Harvest October 1 to 15, Sabrina Pernet technical director, Thomas Duroux director. 68% new oak. No rush to drink, and has many decades ahead, but you can begin thinking about it.
Drink 2023 - 2042
Jane Anson, janeanson.com (Jul 2022) Read more
Château Palmer is one of the vintages superstars. Opaque purple, with a gorgeous nose of blueberry, blackberry fruit, licorice, incense and graphite, the wine has a multi-dimensional, skyscraper-like richness, stunningly well-integrated acidity, tannin, wood, and alcohol, a finish of close to 45 seconds and a full-bodied mouthfeel. This is a great wine from Margaux in 2012 and one of the vintages most remarkable efforts. Anticipated maturity: 2022-2040+. The final blend was 48% Merlot, 46% Cabernet Sauvignon and 6% Petit Verdot.
Robert M. Parker, Jr., Wine Advocate (Apr 2015)
Dark glowing crimson. Rich and opulent. Good balance of ripeness and freshness – even quite seductive and certainly very long. Better than I remember it from the Farr tasting but perhaps I overlooked its qualities then.
Drink 2022 - 2038
Jancis Robinson, jancisrobinson.com (Mar 2022)
This is mind-blowing with complex and superb aromas of dried flowers, blackcurrants and raspberries. Full-bodied, yet polished and velvety with lots of tension and intensity. Layers of fruit and character. Finishes with pure fruit, hazelnuts and minerals. About 20 hectares of 55 hectares were from biodynamically grown grapes. Try in 2022. Stunning.
James Suckling, jamessuckling.com (Feb 2015) Read more
Rich, generous, plummy fruit, with concentrated flavour and considerable tannin that makes its development an unknown quantity. Will all the elements marry? Keep for five years and hope.
Drink 2027 - 2042
Sebastian Payne MW, Decanter.com (Mar 2022)
The 2012 Palmer showed beautifully, with the elegance and purity this cuvée is known for front and center. Offering lots of crème de cassis, licorice, smoked earth and a hint of spring flowers, it has medium to full-bodied richness, a balanced, graceful texture, plenty of tannin, and a great finish. This is one of those wines that grows on you with time in the glass and is going to evolve gracefully on its purity and balance.
Drink 2018 - 2038
Jeb Dunnuck, jebdunnuck.com (Oct 2018) Read more
About this WINE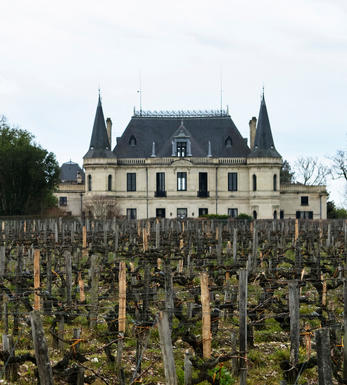 Château Palmer
Château Palmer is a leading wine estate in Margaux. Within its appellation, Palmer is certainly the closest rival to its first growth neighbor, Ch. Margaux. Although officially ranked a Third Growth, at their best, the wines of Ch. Palmer are among the greatest anywhere in Bordeaux.
The estate dates to the 17th century, though it was not until 1814 that Englishman Charles Palmer took ownership and gave it his name. In 1938, the estate was bought by four Bordeaux négociant families, two of whom – Sichel and Mähler-Besse – still own the property today. Since 2004, the estate has been led by the charismatic agronomist and oenologist Thomas Duroux, who had previously made wine at Ornellaia in Tuscany.
Thomas undertook major renovations, including completely modernizing the grape reception area, the vat rooms, and barrel cellar. In the vineyards, the technical team began experimenting with biodynamic farming, and today Palmer is among the leading biodynamic vineyards in Bordeaux. In addition to the grand vin, the Ch. Palmer's portfolio also includes a cuvée called Alter Ego.
Introduced in 1998, Alter Ego is produced from grapes grown on dedicated plots and blended differently from the grand vin. As such, the estate regards it not as a second wine but as a distinctive cuvée in its own right.
Palmer lies in the commune of Cantenac, just outside the village of Margaux. 66 hectares of vines are planted on a plateau of gravel, sand, and clay soils overlooking the Gironde estuary. Plantings include equal parts of Merlot and Cabernet Sauvignon at 47% each and 6% Petit Verdot. Although the average age of the vines is fairly typical of the region at about 40 years, some of the vines are over 70 years old. That, along with the relatively high Merlot content and the benefits of careful, well-established biodynamic practices, may account for the wines' richness and complexity.
Fermentation occurs in conical, stainless-steel vats in varying sizes, allowing each variety and parcel to be fermented separately for subsequent selection and blending. The grand vin is aged for 20-22 months in barrels, of which less than 50% is new. Thanks to the health and consistency of the estate's biodynamically produced fruit, Palmer has been able, over the past few years, to safely reduce the quantity of sulfites added throughout the process, aiming to produce wines with more freshness and purity of flavor. For Alter Ego, less new wood is used, and aging time is slightly reduced to produce a wine the estate describes as "distinguished by its freshness of fruit, crisp intensity, and richness from the moment out of the barrel".
Between 2008 and 2013, Ch. Palmer made the transition to 100% biodynamic farming. In addition to its vineyards, the estate is home to a diversity of complementary plants and grazing animals.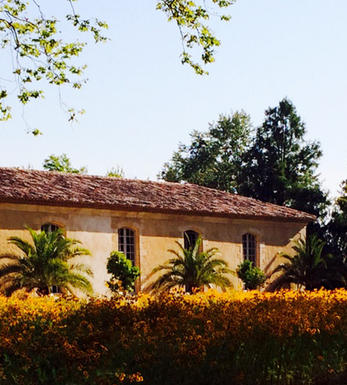 Margaux
If Pauillac can be seen as the bastion of 'traditional' Red Bordeaux, then Margaux represents its other facet in producing wines that are among Bordeaux's most sensual and alluring. It is the largest commune in the Médoc, encompassing the communes of Cantenac, Soussans, Arsac and Labaude, in addition to Margaux itself. Located in the centre of the Haut-Médoc, Margaux is the closest of the important communes to the city of Bordeaux.
The soils in Margaux are the lightest and most gravelly of the Médoc, with some also containing a high percentage of sand. Vineyards located in Cantenac and Margaux make up the core of the appelation with the best vineyard sites being located on well-drained slopes, whose lighter soils give Margaux its deft touch and silky perfumes. Further away from the water, there is a greater clay content and the wines are less dramatically perfumed.
Margaux is the most diffuse of all the Médoc appelations with a reputation for scaling the heights with irreproachable wines such as Ch. Margaux and Ch. Palmer, but also plumbing the depths, with too many other châteaux not fulfilling their potential. There has been an upward shift in recent years, but the appellation cannot yet boast the reliability of St Julien. However, the finest Margaux are exquisitely perfumed and models of refinement and subtlety which have few parallels in Bordeaux.
Recommended Châteaux: Ch. Margaux, Ch. Palmer, Ch. Brane-Cantenac, Ch. Rauzan-Ségla , Ch. Dufort-Vivens, Ch. Ferrière, Ch. du Tertre, Ch. Giscours, Ch. d'Angludet.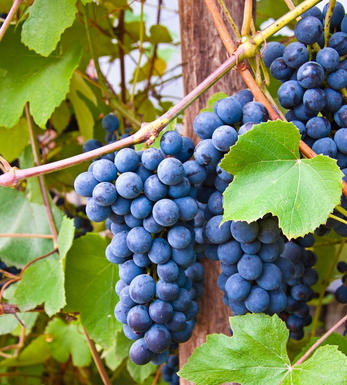 Merlot/Cabernet Franc
Merlot and Cabernet Franc are grape varieties commonly used in Bordeaux-style blends, particularly in the Bordeaux region of France. When these two grapes are blended, they can create a wine that combines the best characteristics of each variety.
Merlot is known for its smoothness, soft tannins, and ripe fruit flavours. It often contributes black cherry, plum, and chocolate flavours to the blend. The grapes are relatively easy to grow and ripen earlier than other Bordeaux varieties, making them versatile for blending.
Cabernet Franc, on the other hand, adds structure, depth, and complexity to the blend. It typically brings aromas of red fruits such as raspberry and strawberry, along with herbal notes like bell pepper and tobacco. These grapes have thinner skins and can be more challenging to cultivate, requiring specific growing conditions to reach their full potential.
When Merlot and Cabernet Franc are combined, the result is a well-balanced wine with various flavours and aromas. The blend often exhibits a Bordeaux wine's medium to full body, along with a smooth texture and moderate tannins. The specific flavour profile can vary depending on the proportions of each grape in the blend and the terroir and winemaking techniques employed.