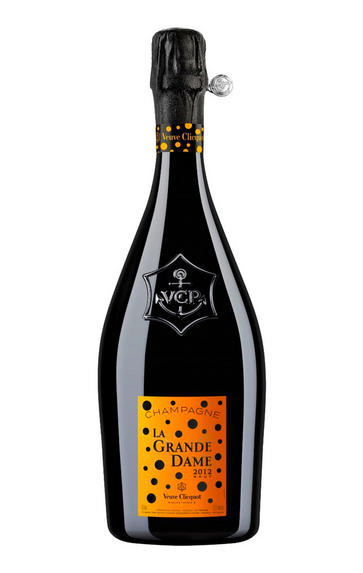 2012 Champagne Veuve Clicquot, La Grande Dame, Brut (Artist Edition)
Prices start from £775.00 per case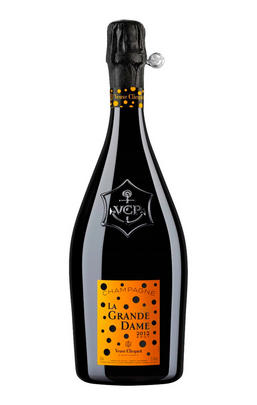 Critics reviews
Antonio Galloni, Vinous
93/100
The 2012 La Grande Dame is terrific. In fact, it is one of the finest recent Grande Dames I can remember tasting. Vibrant and tense, the 2012 exudes energy. At this stage, the natural richness of the 2012 vintage is hidden behind the wine's bright, salivating acids. 
Green apple, pear, mint and white pepper add a brilliant aromatic top register. I would cellar the 2012 for at least a few years, as it is nowhere near ready to drink.
Drink 2027 - 2042
Antonio Galloni, Vinous.com (November 2020)
Jancis Robinson MW
17.5/20
Very difficult spring with frost and some hail but lovely summer. They could choose when to pick, on 17/18 September, a month later than 2020. Quite a bit of wind, so very healthy fruit. Good acidity, as in 2004 (less than 2008). 
90% Pinot Noir mainly from Aÿ, Verzenay, Verzy, Ambonnay and Bouzy. The 10% Chardonnay comes from the Grands Crus Avize and Mesnil-sur-Oger. Verzy and Verzenay were favoured in 2012 for their minerality. They moved to the north from the south of the Montagne de Reims in 2012. Full malo for all Veuve Clicquot wines so far. 
No oak for Grande Dame ingredients (cf vintage Veuve Clicquot). Dosage 6 g/l. Artist Yayoi Kusama has designed a very attractive, but not at all sustainable, package. This seems designed for the gift market.
Notably mineral – even metallic – nose. Certainly not the floral perfume of Pinot Noir but something quite tight and not at all sweet. More structured, transparent, fresh and rewarding than many a Grande Dame I have tasted before. Long and well-balanced, with some lift and even slight bitterness on the end. I can see winemaker Didier Mariotti's description of this as 'vertical'.
Drink 2020 - 2026
Jancis Robinson MW, JancisRobinson.com (November 2020)
Aromas of lime zest, lemon and brioche follow through to a full body with a round, creamy texture, fine bubbles and a delicious finish. Direct and focused 2012. Lots of elegance and energy in this.
Drink or hold
James Suckling, JamesSuckling.com (July 2022)
The 2012 La Grande Dame has started to relax a little post-disgorgement, with some malted bread, honey and toasty complexity building over what is still an impressively precise release for such a Pinot Noir-heavy blend, more focused on delicate red fruits than the broader orange/yellow of the 2015. 
Sweet red apple, nut oil and lemon marmalade flavours ride a persistent snap of citrussy acidity, the texture softening now but still promising a drawn-out and rewarding unwinding of flavour for those that can wait. 
90% Pinot Noir from Äy, Verzenay, Verzy, Ambonnay and Bouzy, and 10% Chardonnay from Avize and Le Mesnil-sur-Oger. Dosage 6 g/L.
Drink 2023 - 2043
Tom Hewson, Decanter.com (March 2023)
About this WINE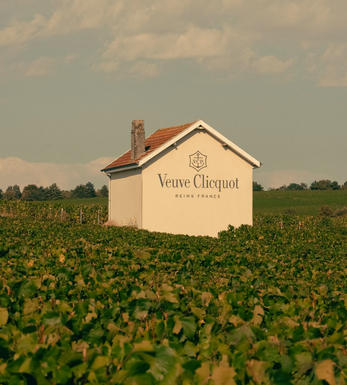 Veuve Clicquot
Philippe Clicquot-Muiron established Veuve Clicquot in 1772. However, it was Phillipe`s daughter-in-law, Nicole-Barbe Clicquot, who really laid the foundations of the modern company. She was one of the great innovators - it was she who invented remuage in the early 19th century. Now it is part of the LVMH group. The Non-Vintage Brut is a blend of 55% Pinot Noir, 30% Chardonnay and 15% Pinot Meunier. It has a nose of white fruits and freshly baked bread and is fresh and balanced on the palate. The vintage wines are similar in character but with more depth of fruit and more structure. La Grande Dame, first made in 1969, is a rich, smooth and finely textured Champagne that simply oozes class and breeding.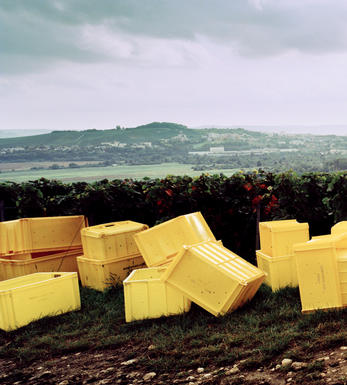 Brut Champagne
Brut denotes a dry style of Champagne (less than 15 grams per litre). Most Champagne is non-vintage, produced from a blend from different years. The non-vintage blend is always based predominately on wines made from the current harvest, enriched with aged wines (their proportion and age varies by brand) from earlier harvests, which impart an additional level of complexity to the end wine. Champagnes from a single vintage are labelled with the year reference and with the description Millésimé.

Non-vintage Champagnes can improve with short-term ageing (typically two to three years), while vintages can develop over much longer periods (five to 30 years). The most exquisite and often top-priced expression of a house's style is referred to as Prestige Cuvée. Famous examples include Louis Roederer's Cristal, Moët & Chandon's Dom Pérignon, and Pol Roger's Cuvée Sir Winston Churchill.
Recommended Producers : Krug, Billecart Salmon, Pol Roger, Bollinger, Salon, Gosset, Pierre Péters, Ruinart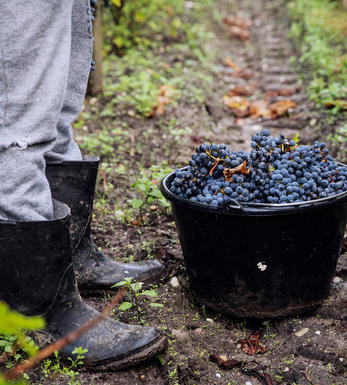 Champagne Blend
Which grapes are included in the blend, and their proportion, is one of the key factors determining the style of most Champagnes. Three grapes are used - Pinot Noir, Chardonnay and Pinot Meunier.

26% of vineyards in Champagne are planted with Chardonnay and it performs best on the Côtes des Blancs and on the chalk slopes south of Epernay. It is relatively simple to grow, although it buds early and thus is susceptible to spring frosts. It produces lighter, fresher wines than those from Burgundy and gives finesse, fruit and elegance to the final blend. It is the sole grape in Blancs de Blancs, which are some of the richest long-lived Champagnes produced.
Pinot Noir accounts for nearly 40% of the plantings in Champagne and lies at the heart of most blends - it gives Champagne its body, structure, strength and grip. It is planted across Champagne and particularly so in the southern Aube district.
The final component is Pinot Meunier and this constitutes nearly 35% of the plantings. Its durability and resistance to spring frosts make the Marne Valley, a notorious frost pocket, its natural home. It ripens well in poor years and produces a soft, fruity style of wine that is ideal for blending with the more assertive flavours of Pinot Noir. Producers allege that Pinot Meunier lacks ageing potential, but this does not deter Krug from including around 15% of it in their final blends.