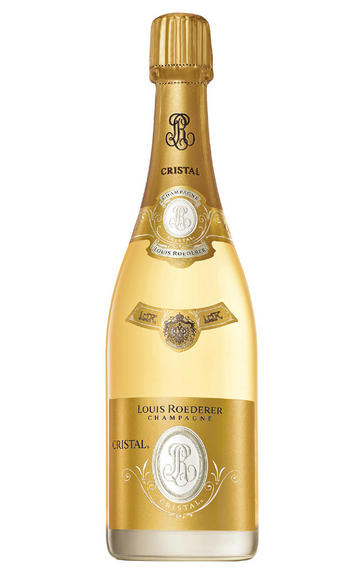 2013 Champagne Louis Roederer, Cristal, Brut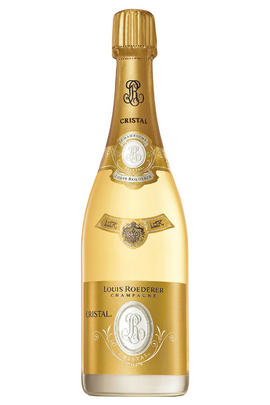 Critics reviews
Pale gold. Tiny bead. Intense nose of fresh almonds, lemon zest and blossom. Tight and tense with masses of acidity and freshness but not painfully so. Neat and a little introvert. This is clearly made up of many layers and is extremely persistent. A fine mix of intellectual and pleasurable. Pretty gorgeous.

Drink 2021 - 2035

Jancis Robinson, jancisrobinson.com (May 2021)
I've revisited Roederer's 2013 Cristal four times since I reviewed it in April of this year—including several times from my own cellar—and I had to admit that even my lavish praise didn't do it full justice. Combining the cool-vintage cut of 2008 with the more completely mature fruit of 2012, the 2013 Cristal might well be said to represent the perfect combination of the two from a purist's perspective. The wine unwinds in the glass with notes of crisp orchard fruit, white flowers, almond paste and citrus oil, followed by a medium to full-bodied, seamless and multidimensional palate that's intense but weightless, with racy acids, a pinpoint mousse and a long, penetrating finish. Drink the 2008 Cristal on its own, and you're unlikely—to put it mildly—to have any complaints; but compare it directly with the 2013 and you'll see Roederer's rapid progress in the vineyards writ large.
Drink 2025 - 2060

William Kelley, Wine Advocate (Sep 2021)
I think the 2013 Cristal checks in behind the 2008, but it's nevertheless a beautiful wine. Lots of ripe orchard fruits, toasted bread, brioche, and chalky mineral notes define the nose, and it's medium to full-bodied, with a layered, nicely concentrated, tight, inward style, beautiful precision and purity, and a great finish. It needs a good 5-7 years of bottle age to hit its stride and will keep for two decades or more.

Drink 2026 - 2048

Jeb Dunnuck, jebdunnuck.com (May 2021)
The peak of drinkability is between 15 and 20 years from the harvest; so says Jean-Baptiste, but he has not spared the taster the wondrous early impression of perfection in the making. A soft gold with glistening highlights, like the river meadow at dawn; the nose effortlessly marries a panoply of flavours, the citric grip nodding to hints of passion fruit and Mirabelle plum, with hazelnut and almond signalling the grace of development. Texturally generous, yet tightly wound, taut and flinty yet ripe and open, the wine faithfully underlines the vigneron's philosophy, every nuance of its template deftly rehearsed and charmingly enacted. Disgorged: autumn 2020. Dosage: 7.5g/L.

Drink 2021 - 2033

Simon Field MW, Decanter.com
About this WINE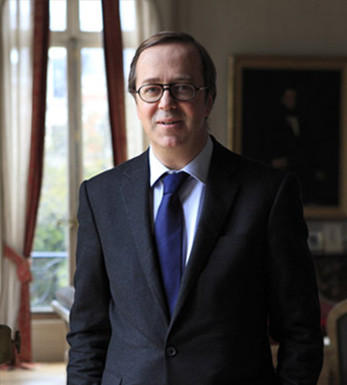 Louis Roederer
Founded in 1776, Louis Roederer is a family-owned, independent Champagne house with a well-deserved reputation for quality. It is managed by Frédéric Rouzaud, the seventh generation to be at the helm.
In 1876, Louis Roederer created the now-famous Cristal at the request of Alexander II. This once intensely sweet wine is now one of the most luscious, deeply flavoured champagnes available, with the '88, '89 and '90 among the greatest Cristals ever released.
Louis Roederer's best-selling non-vintage blend for almost 40 years, Brut Premier, has recently been replaced by Collection 242. This new multi-vintage blend was created by Chef du Caves Jean-Baptiste Lécaillon in response to increasingly warm vintages. The cuvée aims to capture freshness and is based on a perpetual reserve which focuses on acidity and minerality.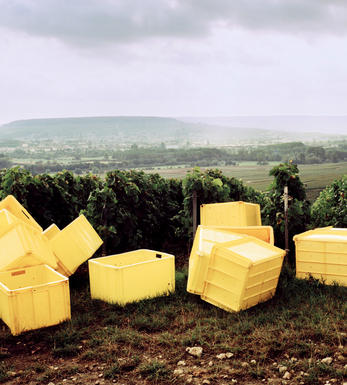 Champagne
Our wine buyers leave no stone unturned in their quest to find the best Champagnes, and Berry Bros. & Rudd takes particular pride in its eclectic range of artisan Champagnes that represent a real sense of terroir, original winemaking, labour-intensive viticulture (often organic/biodynamic) and the uncompromising excellence of the end product.





How Champagne is made



In 1668, in the village of Hautvillers, the monk turned cellar master, Dom Pérignon, is said to have discovered how to make sparkling wine; while the same technique is used all over the world today, the region of Champagne continues to make some of the finest.

So what makes wine sparkle? Adding a solution of sugar and yeast to a white wine starts another fermentation in the bottle which results in the bubbles. Once the yeasts have done their job, a sediment known as 'lees' collects on the side of the bottle; contact with this deposit during maturation gives the wine its characteristic flavours of freshly-baked bread, toast and biscuit. Once this sediment is isolated (remuage) and removed (dégorgement), the Champagne is topped up with a sugar solution to make it dry or sweet


The Champagne Wine Region

Champagne is the most northerly wine region in France and is situated north-east of Paris. There are three main vineyard areas: Côte des Blancs, Vallée de la Marne and Montagne de Reims.

Ripeness of the grapes is often a problem, which is one reason why a blend of grape varieties is usually used: the white Chardonnay to give fruit and elegance, and two reds – Pinot Noir (particularly to provide a 'backbone') and Pinot Meunier.

In Champagne there are around 15,000 growers and 290 Champagne houses. Traditionally, growers have sold their grapes to the Champagne houses which account for 70 percent of production and 90 percent of exports. Recently, increasing numbers of growers are making growers' Champagnes themselves, using their own grapes.

The Champagne houses used to be organized into a Syndicat des Grandes Marques, which had 28 members, not all of them of equal quality. That has now been superseded by the Club des Grandes Marques, with 24 participants: Ayala, Billecart-Salmon, Bollinger, Canard- Duchêne, Deutz, Dom Pérignon, Heidsieck & Co. Monopole, Henriot, Krug, Lanson, Laurent-Perrier, Moët & Chandon, G.H. Mumm, Perrier Jouët, Joseph Perrier, Piper-Heidsieck, Pol Roger, Pommery, Ch. & A Prieur, Louis Roederer, Ruinart, Salon, Taittinger, Veuve Clicquot-Ponsardin.

Champagne Styles

Vintage Champagne
Made exclusively from grapes grown in a single year, this is produced only in the best years, and is released at about six years of age.

Non-Vintage Champagne
Most of the Champagne produced today is Non-Vintage, comprising the blended product of grapes from multiple vintages. Typically grapes from a single-year vintage will form the base of the blend, ranging from 15 percent to up to 40 percent.

Rosé Champagne
Typically light in colour, rosé Champagne is produced either by leaving the clear juice of black grapes to macerate on its skins for a brief time (known as saigneé), or by adding a small amount of Pinot Noir red wine to the sparkling wine cuvée. The saigneé method is more elaborate and costly, requiring highly-skilled winemaking, hence only a few houses still use it – among them Laurent Perrier and Louis Roederer.

Luxury (Prestige) Cuvée
Top of the range, this is vintage-dated. Famous examples include Louis Roederer's Cristal, Laurent-Perrier's Grand Siècle, Moët & Chandon's Dom Pérignon, Duval-Leroy's Cuvée Femme and Pol Roger's Cuvée Sir Winston Churchill.

Demi-Sec (Rich) Champagne
Demi-Sec or Rich is a medium-dry to medium-sweet style which occupies the other end of the spectrum from the standard dry "Brut" style. Brut Natural or Brut Zéro contains less than three grams of sugar per litre, Extra Brut has less than six grams of sugar per litre, and Brut less than 12 grams of sugar per litre.

Recently Disgorged Champagne
R.D. (Recently Disgorged) style was introduced for the first time by Madame Bollinger in 1961, on the 1952 Bollinger Grande Année vintage. Late disgorgement allows the Champagne to retain its freshness, vivacity and fruity expression, despite the ageing.

Blanc de Blancs Champagne
Blanc de Blancs denotes a Champagne made exclusively from Chardonnay grapes.

Blanc de Noirs Champagne
Blanc de Noir Champagnes are made exclusively from black grapes, Pinot Noir (typically) and Pinot Meunier grapes. Bollinger's prestige cuvée Vieilles Vignes Françaises is the lead example.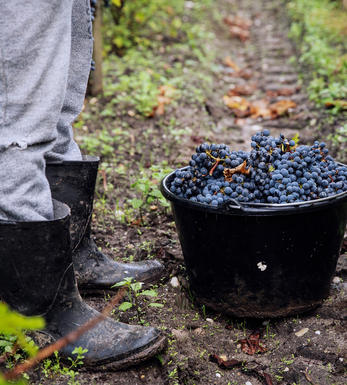 Champagne Blend
Which grapes are included in the blend, and their proportion, is one of the key factors determining the style of most Champagnes. Three grapes are used - Pinot Noir, Chardonnay and Pinot Meunier.

26% of vineyards in Champagne are planted with Chardonnay and it performs best on the Côtes des Blancs and on the chalk slopes south of Epernay. It is relatively simple to grow, although it buds early and thus is susceptible to spring frosts. It produces lighter, fresher wines than those from Burgundy and gives finesse, fruit and elegance to the final blend. It is the sole grape in Blancs de Blancs, which are some of the richest long-lived Champagnes produced.
Pinot Noir accounts for nearly 40% of the plantings in Champagne and lies at the heart of most blends - it gives Champagne its body, structure, strength and grip. It is planted across Champagne and particularly so in the southern Aube district.
The final component is Pinot Meunier and this constitutes nearly 35% of the plantings. Its durability and resistance to spring frosts make the Marne Valley, a notorious frost pocket, its natural home. It ripens well in poor years and produces a soft, fruity style of wine that is ideal for blending with the more assertive flavours of Pinot Noir. Producers allege that Pinot Meunier lacks ageing potential, but this does not deter Krug from including around 15% of it in their final blends.