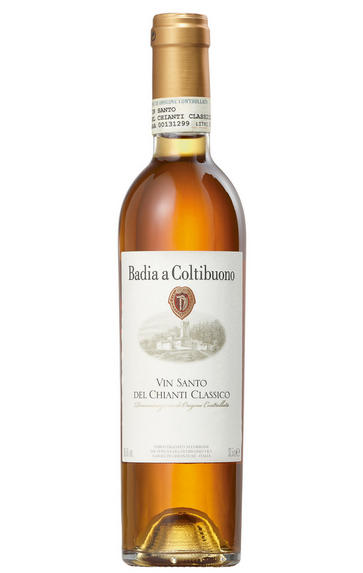 2013 Vin Santo del Chianti Classico, Badia a Coltibuono, Tuscany, Italy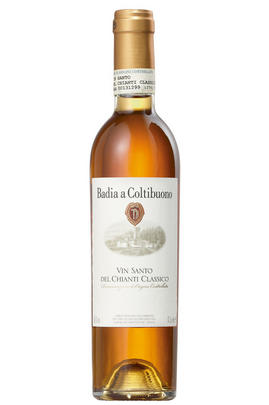 About this WINE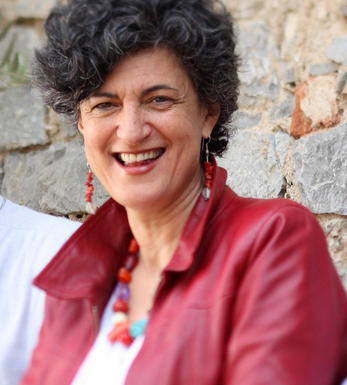 Badia a Coltibuono, Tuscany
Located in Gaiole in Chianti, Badia a Coltibuono's history dates back to 1051, to the Vallombrosan order of monks, whose fine abbey ('Badia' ) still stands proud at the heart of the wine property; 'Coltibuono' means 'good crop' by the way. Current owners, the Stucchi Prinetti family have only been in residence since its purchase in1846 by great great grandfather and Florentine banker Michele Giuntini, cousin of the Selvapiana family of Rufina.

The present generation, siblings Emanuela, Roberto, Paolo & Guido, now run the show, bringing this most traditional of wine estates up to date. At 74ha it's no garage operation, but it is fortunate in owning a significant slice of subzone/sottozona Monti in Chianti, whose excellent terroir is much prized.

Another asset is their stock of ancient Sangiovese clones, which they have used to replant key sites at higher densities of 7-8,000 Sangiovese plants per hectare; as opposed to the ultra traditional pattern of low densities of red and white grapes.

In 1996 they built a new winery in Monti, and with the 2003 harvest their fruit was certified ICEA organic. Roberto Stucchi Prinetti remarks that since going organic they've noticed that the fermentations have been easier to follow. He adds that though they've sacrificed journalist 'Points' they're more than happy with the pale elegance of their wines. They also produce a Chianti Classico Riserva.

Vin Santo
Produced in the DOCs of Pomino, Carmignano, Bolgheri, Elba, Chianti Classico and Montepulciano, Vin Santo is an unfortified sweet white wine particular to Tuscany.
It is usually made from a blend of Trebbiano Toscana and Malvasia Bianco, with smaller, more quality-conscious producers tending to have a higher percentage of the latter as they believe this improves the quality and enhances the wine's personality. Once harvested, the fruit is dried on rush mats over the winter before being pressed and fermented until the yeast dies off naturally. In larger operations the wines are filtered, chilled and/or sulphured too.
Ageing takes place in 50-250 litre wooden casks which are not topped up, bestowing the wines with an oxidative oloroso-style character. Traditionally the casks were made of chestnut but oak is increasingly taking their place. The best examples come from Montepulciano and tend to be fuller-bodied and more complex, perhaps due to the addition of local variety Pulcinculo.
Recommended producers: Massimo Romeo.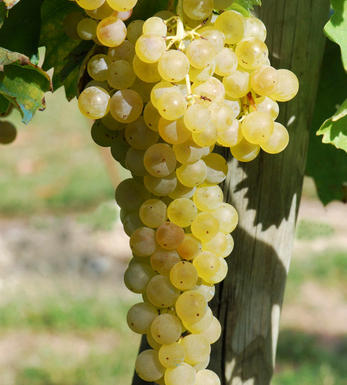 Trebbiano d'Abruzzo
Trebbiano is a high yielding white wine grape variety, originated in the South-Eastern Mediterranean. Italy still has extensive plantings of the grape (it accounts for over half of the white wines in the country, with diminishing importance in the recent years).

It is also found in France, where it is known by the name of Ugni Blanc as a major component in Armagnac and Cognac that benefit from its high acidity and subtle flavours.

Trebbiano's received some poor press over the years being responsible perhaps for too many anodyne Italian whites (and red blends!). However, a new broom across the country has been sweeping away the poorer clones and practices in favour of something far more respectable, such as the examples produced by Monte del Frà