About this WINE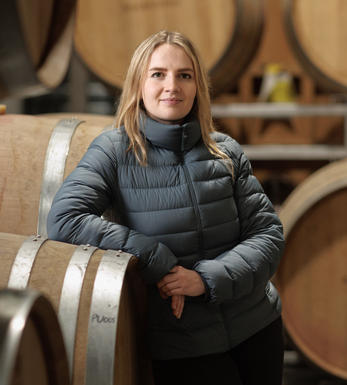 Gusbourne Estate
Gusbourne Estate has become a standard-bearer of high quality English sparkling and still wines. The estate has been awarded the IWSC English Wine Producer of the Year in 2013 and their wines continue to go from strength to strength.

The estate sits on the low slopes of the ancient Kentish escarpment at Appledore. The extensive two hundred hectare Estate is on a single site with twenty hectares under vine cultivation with Chardonnay, Pinot Noir and Pinot Meunier grapes.

They are currently planting a further ten hectares of these Champagne clone vines, placing the extent of the plantings amongst the largest vineyards in England. The entire Estate consists exclusively of south facing slopes thereby ensuring that for most of the summer months the vines bask in a relatively warm and dry local microclimate. Located only 6 miles from the coast, the sea has a moderating influence on the weather, providing a long growing season. Together with the Estate's clay and sandy loam soils, these particular conditions help ensure the production of exceptional quality grapes.

The first mention of Gusbourne Estate dates back to 1410, when John de Gosborne's will was filed. Subsequently the estate passed to Philip Chute, a man of distinction and great wealth who won fame and the gratitude of Henry VIII at the siege of Boulogne on September 14th 1544. He had served as the standard bearer to the men of arms of the Kings Band. 'Goosbourne' as it was known then, carried the characteristic three geese crest that now adorns the small parish church in Appledore. Today they pay tribute to their heritage by using the same three geese on all of their bottles.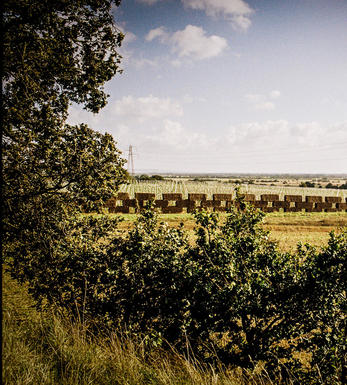 England
The Romans introduced the vine to this country, but winemakers ever since, from the medieval monks at Warden Abbey to the pioneering oenologist Ray Barrington Brock, have found it fiendishly difficult to make successful wines in such a marginal climate. They have also found them equally difficult to sell. Recent years have seen a marked improvement across the board, both in terms of viticultural and vinification techniques, and in the weather.
The authorised grape varieties have been selected for their ability to ripen in England's adverse and challenging climate. They inlcude the following varieties, mainly of German origin:
Huxelrebe
A crossing of Chasselas x Courtillier Musqué. It is often used for dessert wines because of its naturally high sugars and its susceptibility to 'noble rot'. It has a mouthwatering acidity and pronounced aromas of elderflowers, and a grapey, intense fruity palate.
Madeleine Angevine 7672
It is a high-yielding, cold-climate resistant grape, which thanks to its relative low acidity, lends itself well for blending with more high-acid varieties. On its own it produces light-bodied, fruity wines with a pronounced muscatty bouquet.
Muller-Thurgau (Rivaner)
A vigorous, early ripening variety, crossing of Riesling x Riesling, once the core ingredient of the German Liebfraumilch wines, and among the first grapes planted in the U.K. Its popularity is on the wane.
Reichensteiner
A Müller-Thurgau crossing with Madeleine Angevine and Calabreser Fröhlich. A widely planted variety in the UK , thanks to its ability to ripen reliably, and and its high yields. The wine is quite simple on its own and is often used for blending in both still and sparkling wines, sugar levels.
Schonburger
A Pinot Noir - Chasselas Rosé - Muscat Hamburg crossing. This grape has earned a good reputation in the UK, yielding white wines with low acidity, fleshy texture, delicate Muscat overtones (evocative of a less pronounced version of Gewürztraminer).
Seyval Blanc
The most widely grown variety in the UK, a heavy cropper heavily and reliable performer even in cold vintages. It is often used for blending -still or sparkling wines- , and can even take oak ageing. The single varietal versions display crisp acidity, with neutral flavours.
Auxerrois
This grape is mainly grown in Alsace, where it is usually blended into 'Edelzwicker' and it comes from the Pinot Blanc family. In the UK it is useful as a sparkling wine base (adding body to the blend), as well as on its own.
Bacchus
A crossing of Silvaner, Riesling and Müller-Thurgau, originating from German vineyards. A pronounced aromatic grape, with high sugar and lush fruit character. The best examples of Bacchus wine age well and develop interesting flavours. This is one of the UK's ameliorateur varieties, capable of producing quality wines.
Chardonnay
With plantings on the increase, it is used for sparkling wines blends, along with Pinot Noir and Pinot Meunier. There also some good examples made into still, varietal wine.
Kerner
A Trollinger (Black Hamburg) and Riesling crossing. This is a very successful grape in the UK climate, that yeilds ripely fruity wines. Stylistically it bears many similarities to Riesling
Optima
A Silvaner - Riesling and Müller-Thurgau crossing , high in natural sugars and hence suitable for 'late harvest' wines.
Orion
A hybrid originating from the Optima and Villard Blanc graes. A new generation of hybrid varieties bred both for wine quality and disease resistance. A recent introduction in the English vineyards. Early examples show wines of good fruit and aromatics.
Phoenix
Another recently created hybrid from Bacchus x Seyve Villard 12-375, bred for quality and disease resistance. Currently planted in a few vineyards.
Würzer
A Müller-Thurgau - Gewürztraminer crossing with quite pronounced, spicy flavours.
The vast majority of English wine production is white wines and, over 90% of that originates from the above varieties. The wines are typically light-bodied, low in alcohol, perfumed and floral, and with refreshing acidity. Sparkling wine is the definite style that holds most promise for quality wine production: Made generally by the traditional mèthode champenoise and from the classic champagne grapes (Pinot Noir, Chardonnay).
Investment at estates like Nyetimber has found that England's chalky soil and cool climate are capable of producing sparkling wines of the highest quality.
Camel Valley in Cornwall also exemplify the quality now found in in these cool and pleasant lands.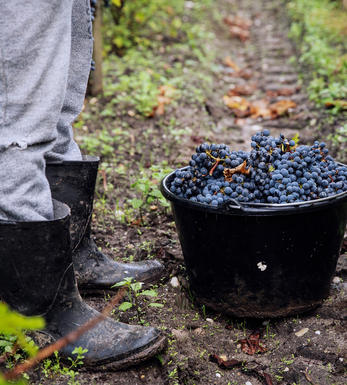 Champagne Blend
Which grapes are included in the blend, and their proportion, is one of the key factors determining the style of most Champagnes. Three grapes are used - Pinot Noir, Chardonnay and Pinot Meunier.

26% of vineyards in Champagne are planted with Chardonnay and it performs best on the Côtes des Blancs and on the chalk slopes south of Epernay. It is relatively simple to grow, although it buds early and thus is susceptible to spring frosts. It produces lighter, fresher wines than those from Burgundy and gives finesse, fruit and elegance to the final blend. It is the sole grape in Blancs de Blancs, which are some of the richest long-lived Champagnes produced.
Pinot Noir accounts for nearly 40% of the plantings in Champagne and lies at the heart of most blends - it gives Champagne its body, structure, strength and grip. It is planted across Champagne and particularly so in the southern Aube district.
The final component is Pinot Meunier and this constitutes nearly 35% of the plantings. Its durability and resistance to spring frosts make the Marne Valley, a notorious frost pocket, its natural home. It ripens well in poor years and produces a soft, fruity style of wine that is ideal for blending with the more assertive flavours of Pinot Noir. Producers allege that Pinot Meunier lacks ageing potential, but this does not deter Krug from including around 15% of it in their final blends.
Reviews
Customer reviews
Critic reviews
Delicate strawberry nose – but the palate is much more assertive, with just-ripe redcurrant and cranberry fruit which has an authentic Pinot Noir style about it. Dry, creamy texture. Proper, valid rosé flavour – a step up from their previous vintages, with lovely red fruit juice throughout.
Richard Hemming MW - jancisrobinson.com, 2nd Feb 2017
Sometimes all you want on a sunny clear day is a glass of sparkling rosé, and Kent's Gusbourne is one of the go-to producers of English fizz. The 2013 is made from 100 per cent pinot noir and has a berry-citrus bouquet. 
Samuel Muston, "The 10 best English sparkling wines", i Newspaper.