About this WINE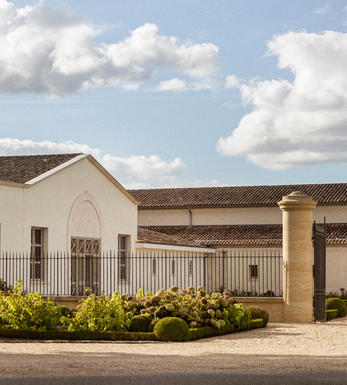 Chateau de Fieuzal
The origins of Château de Fieuzal date back as far as the first stirrings of winemaking in Bordeaux's Graves region, named for its thin, gravel-studded soil. The estate, which is in the Pessac-Léognan appellation of Graves, sits on one of the best gently sloping, gravel-outcrops in the area - long admired for its excellent drainage and heat diffusing properties. Both Graves and Fieuzal are reputed to produce some of the best white wines in Bordeaux, but Fieuzal's reds are equally good. In 1959 they were awarded the official status of Graves Grands Cru Classé wines.

Fieuzal is named after the family who owned the property up to 1851, while the original 16th century name of the estate was Gardères. After the Fieuzal family sold the estate, it was split in two and the halves were named Château de Fieuzal and Château Haut Gardères. It wasn't until 1995 that the two estates were finally reunited to form the current Fieuzal vineyards, which now cover some 75 hectares, 10 of which are used to grow white wine grapes.

Six families have owned Château de Fieuzal over the last 400 years, and each owner has shaped both the property and the style of its wines. Jean and François Gardères, workers at a neighbouring property, owned the original Château de Fieuzal plots. Ownership was transferred to Bordeaux's Dabadie family who held it until the 17th century, when the Fieuzal family bought it.

Toward the end of the 19th century the Ricard family, owners of other famous Bordeaux estates including Domaine de Chevalier and Malartic-Lagravière, bought Fieuzal. Abel Ricard inherited the estate from his father in 1908 and then, a few years later, transferred the management to Odette Ricard and his son-in-law Erik Augustinus Svensson, known as Bocké. A singular man, Bocké was considered to be an unusual character in Bordeaux and a dandy. It was under his management, however, that in 1959 Château de Fieuzal's classification was raised to the rank of Cru Classé de Graves. With the death of Odette Ricard in 1973, Bocké decided to sell Fieuzal to a brilliant Bordeaux chemist, George Nègrevergne.

Nègrevergne appointed his son-in-law, Gérard Gribelin, as Fieuzal's manager. Under his tenure Gribelin doubled the size of the vineyard to 30 hectares, renovated the winemaking area and began to successfully experiment with innovative techniques, helping to position Fieuzal as one of Bordeaux's great wines. In 1994 financial group, Banque Populaire, bought Fieuzal. A year later, in 1995 the bank bought Château Haut-Gardère and completed the reconstitution of the original estate that had been divided up during the Ricard's time.

In 2001 Irish wine lovers, Brenda and Lochlann Quinn, bought Fieuzal. Their goal is to carefully tread the ever-evolving line between continuous technical improvements in winemaking and vine growing, and, maintaining the essential Graves nature of Fieuzal's wines. Their judicious investments in the vineyards and winery have considerably raised the standard of Fieuzal's wines and helped them regain their élan. As part of the wine renaissance at Fieuzal the vineyard is managed on a plot-by-plot basis. Essentially, this means that different grape varieties, grown in different parts of the vineyard, undergo tailored winemaking processes to avoid masking or muting their distinct flavours and aromas.

In 2007 the Quinns hired a talented young winemaker to run the estate. Stephen Carrier brought with him a blend of classic French winemaking skills and experience of New World techniques. Working closely the Quinns, with their passion for wine, and Carrier, with his rigorous and innovative winemaking style, have together broadened Fieuzal's reputation as a wine well-worth drinking.

As well as hiring Carrier, the Quinns brought well-known Bordeaux winemaking consultant, Hubert de Bouärd, on board in 2006. De Bouärd owns the Saint Emilion estate Château Angélus. Other developments at Fieuzal have included a restructuring of the vineyard and, in 2011, the inauguration of a new cellar, fully equipped with advanced winemaking facilities.

Fieuzal's property is divided by the Eau Blanche (White Water) stream, while its gravelly soil unfolds around the hill in complex geological layers - a result of century long pressure from the Garonne River. Such thin, stony soil is highly adept a draining water and at keeping and rediffusing heat. The vines, which have a current average age of 30 years, are planted at a density of 9,000 plants per hectare. Chemical applications are kept to a bare minimum, traditional farming methods are used and grapes are picked and sorted – twice - by hand, all of which helps to preserve the purity of the fruit.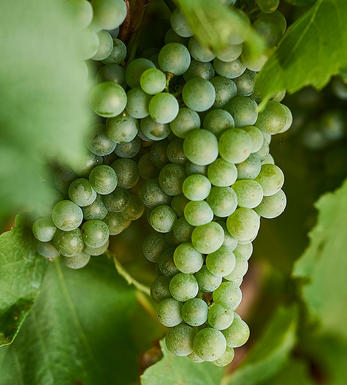 Sauv.Blanc & Sémillon
The blend used for White Graves and Sauternes and rarely encountered outside France. In the great dry whites of Graves, Sauvignon Blanc tends to predominate in the blend, although properties such as Smith Haut Lafite use 100% Sauvignon Blanc while others such as Laville Haut Brion have as much as 60% Sémillon in their final blends. Sauvignon Blanc wines can lose their freshness and fruit after a couple of years in bottle - if blended with Sémillon, then the latter bolsters the wine when the initial fruit from the Sauvignon fades. Ultimately Sauvignon Blanc gives the wine its aroma and raciness while Sémillon gives it backbone and longevity.
In Sauternes, Sémillon is dominant, with Sauvignon Blanc playing a supporting role - it is generally harvested about 10 days before Sémillon and the botrytis concentrates its sweetness and dampens Sauvignon Blanc`s naturally pungent aroma. It contributes acidity, zip and freshness to Sauternes and is an important component of the blend.