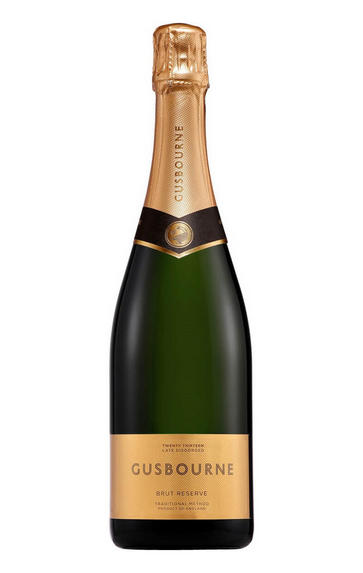 2013 Gusbourne Estate, Brut Reserve, Sparkling, Kent (Late Disgorged)
Prices start from £101.75 per bottle (75cl).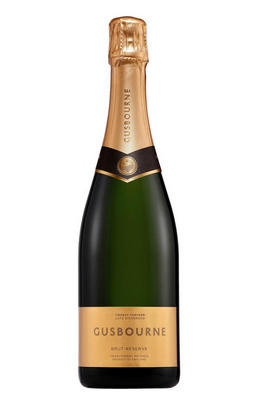 Critics reviews
Svetoslav Manolev MS
93/100
Lovely golden colour with a powerful nose of ripe orchard fruits, spice and brioche. Still youthful with great complexity and richness balanced by superb freshness. A thriller of a wine!
Svetoslav Manolev MS, IWSC (2022)
About this WINE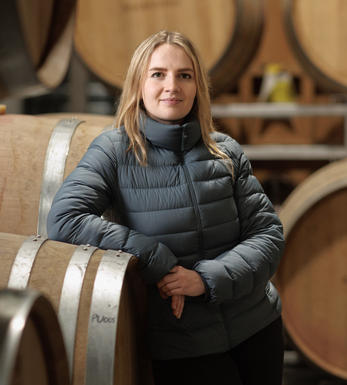 Gusbourne Estate
Gusbourne Estate has become a standard-bearer of high quality English sparkling and still wines. The estate has been awarded the IWSC English Wine Producer of the Year in 2013 and their wines continue to go from strength to strength.

The estate sits on the low slopes of the ancient Kentish escarpment at Appledore. The extensive two hundred hectare Estate is on a single site with twenty hectares under vine cultivation with Chardonnay, Pinot Noir and Pinot Meunier grapes.

They are currently planting a further ten hectares of these Champagne clone vines, placing the extent of the plantings amongst the largest vineyards in England. The entire Estate consists exclusively of south facing slopes thereby ensuring that for most of the summer months the vines bask in a relatively warm and dry local microclimate. Located only 6 miles from the coast, the sea has a moderating influence on the weather, providing a long growing season. Together with the Estate's clay and sandy loam soils, these particular conditions help ensure the production of exceptional quality grapes.

The first mention of Gusbourne Estate dates back to 1410, when John de Gosborne's will was filed. Subsequently the estate passed to Philip Chute, a man of distinction and great wealth who won fame and the gratitude of Henry VIII at the siege of Boulogne on September 14th 1544. He had served as the standard bearer to the men of arms of the Kings Band. 'Goosbourne' as it was known then, carried the characteristic three geese crest that now adorns the small parish church in Appledore. Today they pay tribute to their heritage by using the same three geese on all of their bottles.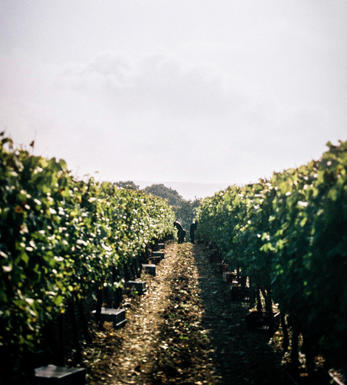 Kent
Located south-east of London, Kent is home to a growing number of exciting English wine producers, notably Gusbourne Estate, Chapel Down and Hush Heath Estate.
These estates specialise in English sparkling wine made using the so-called traditional method, best known for its use in making Champagne. Indeed, Champagne Taittinger chose Kent as the location for its own English vineyard, Domaine Evremond.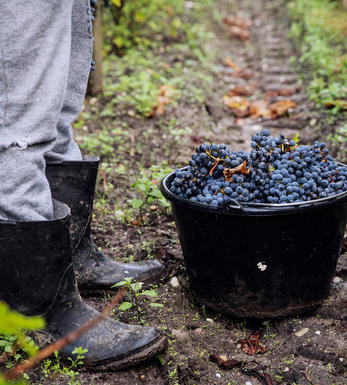 Champagne Blend
Which grapes are included in the blend, and their proportion, is one of the key factors determining the style of most Champagnes. Three grapes are used - Pinot Noir, Chardonnay and Pinot Meunier.

26% of vineyards in Champagne are planted with Chardonnay and it performs best on the Côtes des Blancs and on the chalk slopes south of Epernay. It is relatively simple to grow, although it buds early and thus is susceptible to spring frosts. It produces lighter, fresher wines than those from Burgundy and gives finesse, fruit and elegance to the final blend. It is the sole grape in Blancs de Blancs, which are some of the richest long-lived Champagnes produced.
Pinot Noir accounts for nearly 40% of the plantings in Champagne and lies at the heart of most blends - it gives Champagne its body, structure, strength and grip. It is planted across Champagne and particularly so in the southern Aube district.
The final component is Pinot Meunier and this constitutes nearly 35% of the plantings. Its durability and resistance to spring frosts make the Marne Valley, a notorious frost pocket, its natural home. It ripens well in poor years and produces a soft, fruity style of wine that is ideal for blending with the more assertive flavours of Pinot Noir. Producers allege that Pinot Meunier lacks ageing potential, but this does not deter Krug from including around 15% of it in their final blends.