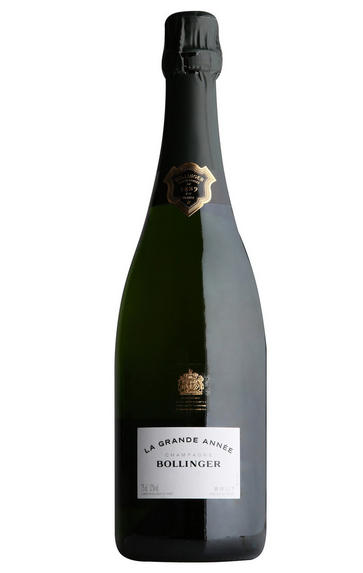 2014 Champagne Bollinger, La Grande Année, Brut
Prices start from £130.00 per bottle (75cl).
Critics reviews
Antonio Galloni, Vinous
98/100
The 2014 La Grande Année is stunning. In fact, it is one of the best recent editions I can remember tasting. What comes through most is the wine's sizzling energy and tension, qualities that aren't often associated with Bollinger, where the Champagnes tend to show more breadth and volume. In 2014, readers will find a Grande Année built on linear intensity and drive.
The 2014 is a blend taken from 19 villages, 61% Pinot Noir and 39% Chardonnay instead of the more typical 70/30 mix. For the second time in two decades (the first was 2007), Verzenay takes the lead in the Pinots over Aÿ, more or less an inverse from the norm.
Verzenay, a north-facing village in the Montagne de Reims that saw less rain than Aÿ and most of the Vallée de la Marne, yields Pinots of energy more than volume. That, married with Chardonnays mostly from the Côtes des Blancs (predominantly Chouilly, Vertus, Oiry and Cramant), results in a truly magical Grande Année that will delight Champagne fans for several decades.
I can't recommend the 2014 highly enough. It's a total knock-out. Disgorged: April, 2021. Dosage: 8 grams per liter.
Drink 2024 - 2044
Antonio Galloni, vinous.com (March 2022)
Offering up complex aromas of crisp yellow orchard fruit, confit citrus, frangipane, walnuts, dried white flowers and subtle hints of iodine, Bollinger's 2014 Brut La Grande Année is medium to full-bodied, pillowy and vinous, with an elegantly fleshy core of fruit that's underpinned by racy acids and complemented by a pretty pinpoint mousse.
Concluding with a long, chalky finish, this is a charming but precise Grande Année that's more giving and demonstrative than its immediate predecessor, the 2012, but which attains a very similar level of quality in a more challenging vintage—testimony to the serious viticulture that underpins Bollinger's contemporary excellence.
Drink 2021 - 2045
William Kelley, Wine Advocate (March 2022)
The 2014 is very closely linked to the cold vintages, which express the characteristics of the different terroirs, the soil, and therefore the minerality,' explains Denis Bunner, assistant cellarmaster at Bollinger. 'This is a vintage of contrasts, with one of the hottest Junes in the last 50 years, but a very cool August, resulting in slow ripening.
We harvested from 15 September, for two weeks, which makes it one of our shortest harvests. The most important thing for us was to manage the ripeness in order to obtain the best possible sorting window.' A blend of 61% Pinot Noir and 39% Chardonnay, this 2014 La Grande Année is from 19 villages, all grands and premiers crus, with 23% coming from Verzenay and 18% from Aÿ. It was aged for six months in small barrels. It has fresh and distinctive notes of lemon, herbs, red berries and gooseberries, and a splendid calcareous frame.
The palate is mineral, tense and elegant with a dense structure, a perfectly balanced texture, fine bubbles, and a lingering finish.
Drink 2022 - 2035
Yohan Castaing, Decanter (March 2022)
About this WINE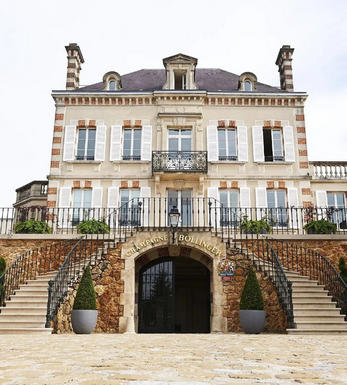 Bollinger
The Champagne House of Bollinger was established in 1829 by Jacques Bollinger and Paul Renaudin. Over the years the vineyard holdings have been steadily increased with the largest expansion taking place under the stewardship of the legendary Mme Lily Bollinger. She ran the company between 1941 and 1977 and today it is managed by her great-nephew, Ghislain de Montgolfier.
Bollinger has a reputation for producing muscular champagnes with body, depth and power, and is today considered one of the "Great" Champagne houses.

70% of the grapes come from the firm's own vineyards. 80% of the harvest is barrel-fermented with the wines being kept on their yeast lees for an extended period of time (in the case of the RD, around 10 years).

Bollinger produces classic, complex, Pinot-Noir dominated champagnes with the ability to age gracefully for many years.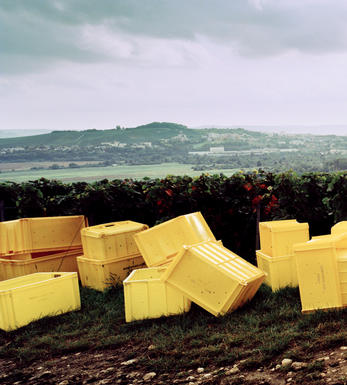 Brut Champagne
Brut denotes a dry style of Champagne (less than 15 grams per litre). Most Champagne is non-vintage, produced from a blend from different years. The non-vintage blend is always based predominately on wines made from the current harvest, enriched with aged wines (their proportion and age varies by brand) from earlier harvests, which impart an additional level of complexity to the end wine. Champagnes from a single vintage are labelled with the year reference and with the description Millésimé.

Non-vintage Champagnes can improve with short-term ageing (typically two to three years), while vintages can develop over much longer periods (five to 30 years). The most exquisite and often top-priced expression of a house's style is referred to as Prestige Cuvée. Famous examples include Louis Roederer's Cristal, Moët & Chandon's Dom Pérignon, and Pol Roger's Cuvée Sir Winston Churchill.
Recommended Producers : Krug, Billecart Salmon, Pol Roger, Bollinger, Salon, Gosset, Pierre Péters, Ruinart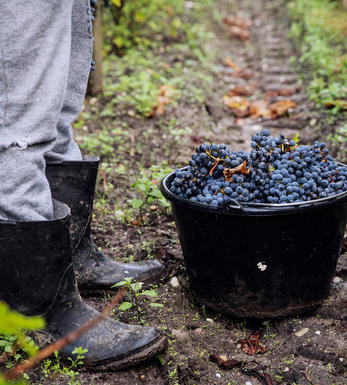 Champagne blend
Which grapes are included in the blend, and their proportion, is one of the key factors determining the style of most Champagnes. Three grapes are used - Pinot Noir, Chardonnay and Pinot Meunier.

26% of vineyards in Champagne are planted with Chardonnay and it performs best on the Côtes des Blancs and on the chalk slopes south of Epernay. It is relatively simple to grow, although it buds early and thus is susceptible to spring frosts. It produces lighter, fresher wines than those from Burgundy and gives finesse, fruit and elegance to the final blend. It is the sole grape in Blancs de Blancs, which are some of the richest long-lived Champagnes produced.
Pinot Noir accounts for nearly 40% of the plantings in Champagne and lies at the heart of most blends - it gives Champagne its body, structure, strength and grip. It is planted across Champagne and particularly so in the southern Aube district.
The final component is Pinot Meunier and this constitutes nearly 35% of the plantings. Its durability and resistance to spring frosts make the Marne Valley, a notorious frost pocket, its natural home. It ripens well in poor years and produces a soft, fruity style of wine that is ideal for blending with the more assertive flavours of Pinot Noir. Producers allege that Pinot Meunier lacks ageing potential, but this does not deter Krug from including around 15% of it in their final blends.