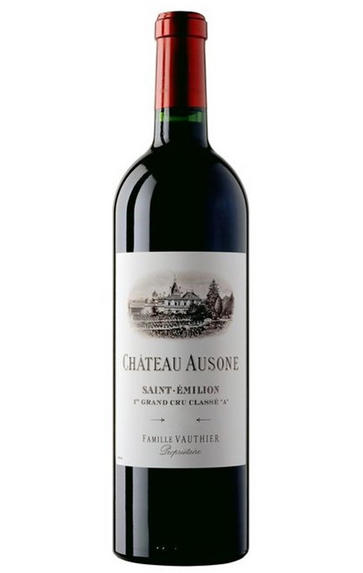 2014 Château Ausone, St Emilion, Bordeaux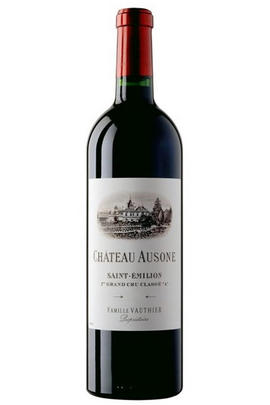 Critics reviews
The 2014 Ausone has an almost pastille-like purity on the nose, equally red and black fruit laced with allspice and clove, gaining complexity all the time in the glass. The palate is medium-bodied with supple tannin, fleshy and generous, a fine bead of acidity, gaining volume and mass towards the succulent, velvety smooth final third. This is a very seductive wine with not a hair out of place, though it is not the most cerebral Ausone that I have tasted in recent years. More an Ausone intent on sensory pleasure. Tasted blind at the annual Southwold tasting.
Drink 2020 - 2055
Neal Martin, vinous.com (Mar 2018)
Antonio Galloni, Vinous
95/100
The 2014 Ausone is going to need at least a few years to fully come together. Delicate, sensual and perfumed, the 2014 is one of the most refined wines of the vintage. The high %age of Cabernet Franc confers aromatic intensity, freshness and nuance, but also gives the wine an unresolved reticence that will likely take years to melt away. The 2014 is a very pretty, restrained Ausone. The blend is 60 % Cabernet Franc and 40 % Merlot.
Drink 2020 - 2039
Antonio Galloni, vinous.com (Feb 2017) Read more
The 2014 Ausone, a blend of 60% Cabernet Franc and 40% Merlot, was matured in barrel for 20 months with 85% new oak. Compared to the Chapelle d'Ausone, this Grand Vin demanded gentle coaxing from the glass. It eventually unfurls to reveal mineral-rich red berry fruit, oregano, orange blossom and later on blackcurrant winegums. It displays superb delineation. The palate is medium-bodied with filigree tannin. There is an almost sorbet-like freshness conferred upon this Saint Emilion by the growing season, very harmonious and poised with one of the most precise and tensile finishes that you will find this vintage. One of the stars of the vintage, this may merit a higher score with bottle age. This is a great success.
Drink 2022 - 2045
Neal Martin, Wine Advocate (Mar 2017)
Jancis Robinson MW
16.5/20
Tasted blind. Bright crimson. Some menthol notes. Quite chunky and dense with a slightly feral note and dry tannins. Not sophisticated. Very pinched finish. Something a bit raw about this.
Drink 2024 - 2040
Jancis Robinson MW, jancisrobinson.com - Feb 2018
Fabulous aromas of currants, rose petals, dried strawberries and hints of lemon rind. Wet earth and chalk. Full and dense and so compacted and squeezed. What a texture. Phenomenal. Needs five to six years to open, but it's a joy to taste. Amazing. Such energy! From organically grown grapes as well. I am in awe.
James Suckling, jamessuckling.com (Jan 2017) Read more
My Right Bank wine of the vintage, along with Lafleur (Pomerol). A record 60% Cabernet Franc in the blend. Powerful and fine at once. Racy dark fruit, liquorice and violet nose. Palate has real verve, tension and ample fruit. Strong tannic frame but tiny, fine tannins. Minerally presence. Balanced.
Drink 2022 - 2045
James Lawther MW, Decanter.com (Apr 2015) Read more
About this WINE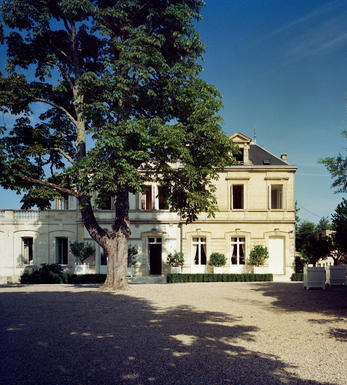 Chateau Ausone
Chateau Ausone is named after the Roman poet Ausonius who owned over 100 acres of vineyard around Saint Emilion. It is perched on the hillside in the southern outskirts of the village of Saint Emilion.

Ausone has only 7.3 hectares of vines and its vineyards (Merlot 50%, Cabernet Franc 50%) flourish on a steep, south-east facing slope, protecting them from cold north winds and westerly rain. Those vines at the top of the slope thrive on limestone (the `St.Emilion plateau') whilst those further down benefit from a clay/loam topsoil (the 'Côtes').

Ausone struggled during the 1950s and 1960s, but with the hiring of new régisseur Pascal Delbeck in 1976, the estate returned to producing wines worthy of its outstanding historic reputation. Recently Ausone has been at the very peak of its form and with the ubiquitous Michel Rolland now acting as consultant, it is now producing ultra-rich, lush, exotically fruity wines that require a minimum 10 years of bottle ageing.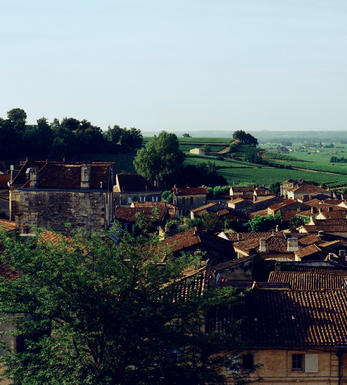 St-Emilion
St Emilion is one of Bordeaux's largest producing appellations, producing more wine than Listrac, Moulis, St Estèphe, Pauillac, St Julien and Margaux put together. St Emilion has been producing wine for longer than the Médoc but its lack of accessibility to Bordeaux's port and market-restricted exports to mainland Europe meant the region initially did not enjoy the commercial success that funded the great châteaux of the Left Bank.
St Emilion itself is the prettiest of Bordeaux's wine towns, perched on top of the steep limestone slopes upon which many of the region's finest vineyards are situated. However, more than half of the appellation's vineyards lie on the plain between the town and the Dordogne River on sandy, alluvial soils with a sprinkling of gravel.
Further diversity is added by a small, complex gravel bed to the north-east of the region on the border with Pomerol. Atypically for St Emilion, this allows Cabernet Franc and, to a lesser extent, Cabernet Sauvignon to prosper and defines the personality of the great wines such as Ch. Cheval Blanc.
In the early 1990s there was an explosion of experimentation and evolution, leading to the rise of the garagistes, producers of deeply-concentrated wines made in very small quantities and offered at high prices. The appellation is also surrounded by four satellite appellations, Montagne, Lussac, Puisseguin and St. Georges, which enjoy a family similarity but not the complexity of the best wines.
St Emilion was first officially classified in 1954, and is the most meritocratic classification system in Bordeaux, as it is regularly amended. The most recent revision of the classification was in 2012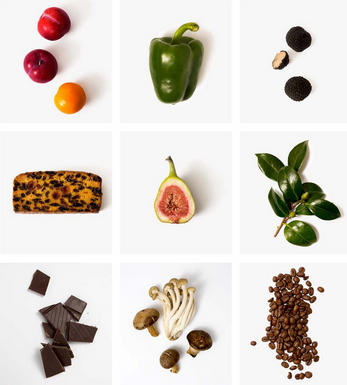 Merlot
The most widely planted grape in Bordeaux and a grape that has been on a relentless expansion drive throughout the world in the last decade. Merlot is adaptable to most soils and is relatively simple to cultivate. It is a vigorous naturally high yielding grape that requires savage pruning - over-cropped Merlot-based wines are dilute and bland. It is also vital to pick at optimum ripeness as Merlot can quickly lose its varietal characteristics if harvested overripe.
In St.Emilion and Pomerol it withstands the moist clay rich soils far better than Cabernet grapes, and at it best produces opulently rich, plummy clarets with succulent fruitcake-like nuances. Le Pin, Pétrus and Clinet are examples of hedonistically rich Merlot wines at their very best. It also plays a key supporting role in filling out the middle palate of the Cabernet-dominated wines of the Médoc and Graves.
Merlot is now grown in virtually all wine growing countries and is particularly successful in California, Chile and Northern Italy.