About this WINE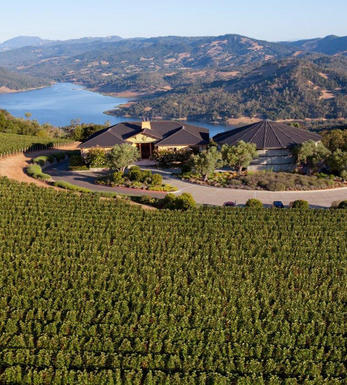 Colgin Cellars
Founded in 1992 in the Napa Valley, Colgin Cellars is one of the world's most exciting fine wine producers. The story here began three decades ago. Ann Colgin, driven by a love for the land and a reverence for fine wine, was inspired to source the fruit for her first wine. This bottling, Herb Lamb, came from exceptional hillside vineyards that yield wines of harmony, grace, and precision.
About Colgin Cellars
In the years that followed, Colgin Cellars gradually added to their hillside vineyard holdings. Their reputation burgeoned and, in 2005, they were named "One of the Fifty Greatest Wine Estates in the World" by Robert Parker. Today, these singular wines have a devoted following.
Typically, Colgin Cellars' wines are sold through direct allocation to private clients. However, we have been fortunate to secure small parcels of their four wines. These include the three Cabernet Sauvignon-based bottlings – "Tychson Hill," "Cariad," and "IX Estate" – in addition to the "IX Estate" Syrah.
In the vineyard
Colgin Cellars has three vineyard sites, the oldest of which is Tychson Hill. Situated just north of the town of St. Helena, this – the smallest of the Colgin Cellars vineyards (2.4 hectares) – has historic roots starting in 1860. Owned by Josephine Tychson in the late 19th-century, she was the first woman to build a winery in the Napa Valley. The vineyard was removed during Prohibition, rediscovered by Colgin in the mid-1990s, and replanted with heritage clones of Cabernet Sauvignon.
Cariad, south of Tychson Hill, is a 3.2-hectare site on volcanic, stony soils with gravelly alluvium. Here, the mineral-rich soils coupled with the cool mountain climate translate into sublime Cabernet Sauvignon-based blends.
Last, but by no means least, is IX Estate, where the Colgin Cellars winery is situated. Carved from an ancient lava flow overlooking the Napa Valley, its eight hectares, rich in well-draining clays and weathered igneous rock soils, are planted with Cabernet Sauvignon, Cabernet Franc, Merlot, Petit Verdot, and Syrah.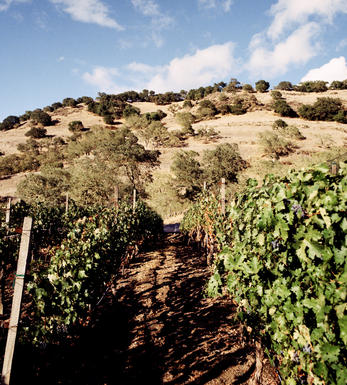 Napa Valley
North Coast's Napa Valley is California's most famous viticultural area (AVA), claiming some of the most expensive agricultural land in the world and producing wines of 'cult' status.
Its 16,000 ha of vines lie over a strip (40 miles long-5 miles wide) of diverse soils (clay, gravely, volcanic), with its northernmost end on the side of Mountain Helena and its foot in San Francisco Bay. The valley is framed by two mountains ranges Vaca (to the north) and Mayacamas (to the south), yet the main climatic influence is the cool wind and fog that is sucked in from San Pablo Bay during the afternoon, allowing grapes to ripen slowly and evenly.
The area enjoys a variety of unique microclimates, as temperatures can vary dramatically as much as 15 degrees, from the north to the south end of the valley. These differences have led to the creation of several sub-AVAs (14 in total) including:
Atlas Peak, Chiles Valley District, Diamond Mountain District, Howell Mountain, Los Carneros, Mt. Veeder, Oakville, Rutherford, St. Helena, Spring Mountain District, Stags Leap District, Yountville, Wild Horse Valley and Oak Knoll District. The Calistoga AVA is still pending approval.
Both the "Napa Valley" designation and the sub-AVA name must appear on the wine label simultaneously, with the exception of wines from the Carneros AVA, which is shared between the Napa Valley and the Sonoma County.
Cabernet Sauvignon is the undisputed king of Napa grapes, occupying over 45% of the vineyard acreage, followed by (predominantly) Chardonnay, Sauvignon Blanc, Chenin Blanc, Riesling, Zinfandel, Merlot, Cab. Franc and to a lesser extent Petite Sirah, Sangiovese, Barbera, Dolcetto.
Recommended Producers
Frog's Leap, Dominus, David Ramey, Viader, Stag's Leap Cellars, Paras Vineyards, Heitz.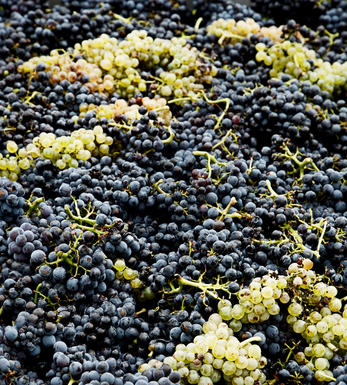 Other Varieties
There are over 200 different grape varieties used in modern wine making (from a total of over 1000). Most lesser known blends and varieties are traditional to specific parts of the world.