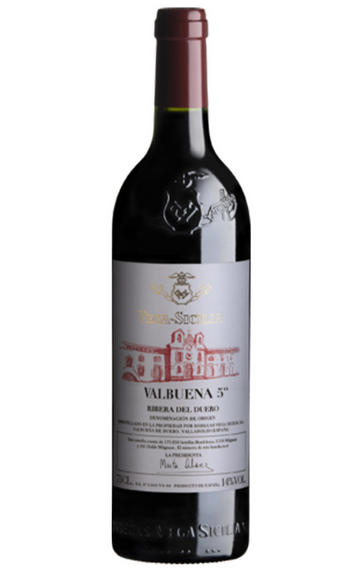 2014 Valbuena 5°, Vega Sicilia, Ribera del Duero, Spain (Limited Edition Signed Case)
Prices start from £285.00 per case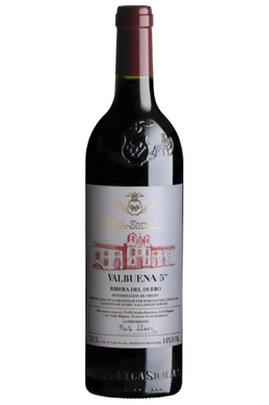 About this WINE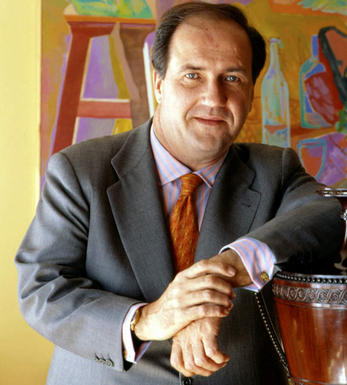 Vega Sicilia
Vega Sicilia, Spain's "first growth" and most prestigious wine estate, is located in Ribera del Duero. It was founded in 1864 by Don Eloy Lecanda y Chaves, who arrived from Bordeaux with cuttings of local grapes (Cabernet Sauvignon, Merlot and Malbec) and planted them, together with Spain's signature grape Tinto Fino (aka Tempranillo) in the arid Ribera soils.

The winery begun building its formidable reputation after 1903 under the ownership of Antonio Herrero, winning a number of awards at home and overseas. The estate changed hands several more times before its acquisition by the current owners, the Álvarez family, in 1982.

The estate's success is founded on its meticulous approach. In the vineyard it applies low yields, aided by green harvesting and painstaking selection at harvest. In the winery, wines are aged in any number of receptacles – using French and American, new and old oak, small barrels or huge vats – to engender further complexity. Despite prolonged barrel ageing, the fruit is never dried out or overly oaky – compelling evidence of the superb quality of its raw materials.

The Vega Sicilia range includes three cuvées: Único (literally translating as "unique") is the flagship, followed by Único Reserva Especial (a multi-vintage blend) and their "entry-level" offering Valbuena 5° (an expression of Tinto Fino aged for five years, hence the "5°"). The top two wines are a blend of Tinto Fino with a small percentage of Cabernet Sauvignon and/or Merlot, depending on the vintage. They are both aged for approximately 10 years prior to release, normally spending six of those in barrel and three in bottle.

This illustrious property laid the founding stone for Ribera del Duero, which is now acknowledged to be one of the best wine regions in Spain.

Vega Sicilia has now built up a portfolio which includes Bodegas Alion (providing a more modern expression of Ribera del Duero), Bodegas Pintia (in the emerging region Toro), Macán (a partnership with Benjamin de Rothschild) and the Hungarian Tokaji estate, Oremus.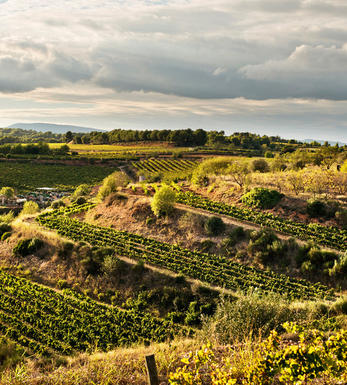 Spain
For so long, Spain was regarded as a source of inexpensive red wine with only Rioja standing above the parapet. Now there is a plethora of interesting wines in many different styles.
Exciting fresh whites, especially from the Albariño in the Rías Baixas and Verdejo in Rueda, – not forgetting Viura in Rioja - have extended the choice. There have also been interesting developments in that most classical of all wine regions, Jerez - the home of sherry - not so much in modernisation of production, but in developing small-scale bottlings of the highest quality Sherry at remarkably affordable prices.
Modern techniques and a new appreciation of what might be possible have encouraged pioneers to produce some startlingly attractive reds. There are now some thoroughly competent wines from La Mancha, and striking bottlings of Monastrell (known elsewhere as Mataró or Mourvèdre) in Jumilla.
Thankfully, the modernisation of the pedestrian has not held back successful traditional styles of wine. Alongside such modernists as Palacios Remondo and Allende in Rioja, long established houses like La Rioja Alta and CVNE continue to make graceful, old-style wines contingent upon several years' barrel-ageing before further maturation in bottle. These Reserva and Gran Reserva wines have the gentle fragrance of well-seasoned fruit in partnership with a dash of vanilla oak. There are also subtle differences between regions of Rioja and in the precise makeup of the grape mix, with Garnacha and Mazuelo supporting the dominant Tempranillo.
The only challenger to Rioja's claim to red wine supremacy is the Ribera del Duero, where the same red grape, Tempranillo, defines the wines, though known here as Tinto Fino. Most magisterial of all producers is Vega Sicilia whose Unico wines are not released onto the market before a minimum of 10 years - including at least seven years of barrel ageing.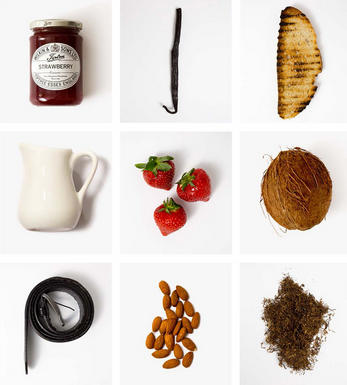 Tempranillo/Tinto Fino
A high quality red wine grape that is grown all over Spain except in the hot South - it is known as Tinto Fino in Ribera del Duero, Cencibel in La Mancha and Valdepenas and Ull de Llebre in Catalonia. Its spiritual home is in Rioja and Navarra where it constitutes around 70% of most red blends.
Tempranillo-based wines tend to have a spicy, herbal, tobacco-like character accompanied by ripe strawberry and red cherry fruits. It produces fresh, vibrantly fruit driven "jovenes" meant for drinking young. However Tempranillo really comes into its own when oak aged, as with the top Riojas where its flavours seem to harmonise perfectly with both French and American oak, producing rich, powerful and concentrated wines which can be extraordinarily long-lived.
In Ribera del Duero it generally sees less oak - the exception being Vega Sicilia where it is blended with Cabernet Sauvignon and Merlot and then aged for an astonishing 7 years in oak and is unquestionably one of the world`s greatest wines.