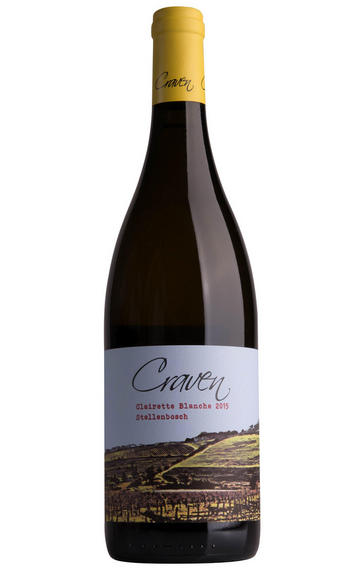 2015 Craven, Clairette Blanche, Stellenbosch, South Africa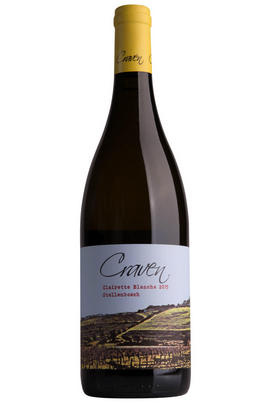 Critics reviews
The 2015 Clairette Blanche comes from vines literally across the road from Mulderbosch that had been previously sold to Distell (some is sold to John Seccombe at Thorne & Daughters for his Rocking Horse label). Half is skin-fermented to add body, the rest whole bunch pressed. It offers an attractive nose of honeysuckle, grapefruit and wax resin scents that are well defined. The palate is well balanced with a waxy texture, more resinous in flavor than fruit-driven, with a touch of lemongrass leading to a concentrated and very saline finish that is not unlike a charged Muscadet (meant in a good way). This is one of those South African wines prospering outside the envelope.
Neal Martin - 30/11/2015
About this WINE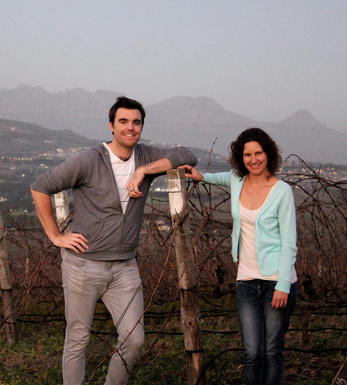 Craven
The 2014 vintage was the first commercial release from dynamic husband-and-wife winemaking team Mick and Jeanine Craven. Mick (an Aussie) and Jeanine (a Stellenbosch native) met during vintage in California in 2007 and have travelled the winemaking world since, finally settling in Jeanine's native Stellenbosch.

"We chose South Africa, as we think there is a lot of potential here to make amazing wines. We live in Stellenbosch and our hearts are here in this town, which is why we only make wines from the Stellenbosch region, as we want to be within a heartbeat of the vines. We want to make wines which are interesting, both stylistically and by varietal, but also wines which have a sense of place and express where they come from. We have isolated particular vineyard sites, for their unique soils and micro-climates, where we work with the growers to ensure that we get the best results from the particular sites. All our wines will come from single vineyards around Stellenbosch. Winemaking is very hands off with minimal additions (if any), native ferments and neutral oak."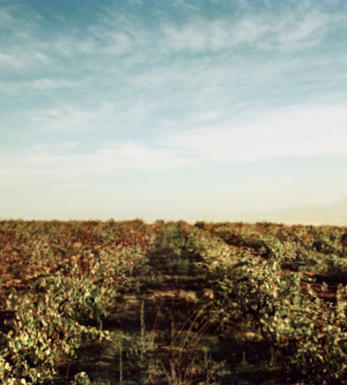 Stellenbosch
Stellenbosch is South Africa's best-known wine region, producing a wide variety of wines from leading estates, even though it accounts for less than 20 per cent of the country's total production. Designated wards within the wine region are Jonkershoek Valley, Simonsberg-Stellenbosch, Bottelary, Devon Valley and Papegaaiberg.

At 17,500 hectares, Stellenbosch remains the Cape's most famous and important fine wine district, thanks to its proximity to Cape Town, to the cooling influences of False Bay, its mountainous (ie Helderberg, Simonsberg), granitic topography and its centres of learning such as Elsenburg Agricultural College.
It's notable for the refinement of its Cabernet Sauvignon and Chardonnay, especially from the likes of Glenelly Estate, Keermont Vineyards Oldenburg Vineyards, Raats Family and Anwilka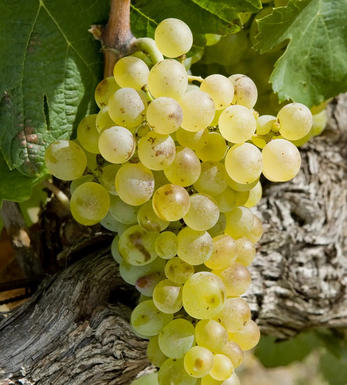 Clairette
Clairette is a white grape with a long history and is widely grown in various wine regions, particularly in France and other Mediterranean countries. It is known for producing wines with diverse styles, from dry to sweet and sparkling to still.
The variety is believed to have originated in the Rhône Valley, with historical references dating back to the 16th century. Nowadays, it is grown in several other Mediterranean regions, including Provence, Languedoc-Roussillon, Southern Rhône, and certain areas in Spain, Italy, and Algeria.
Clairette is a vigorous and high-yielding vine, making it relatively easy to grow in the vineyard. It prefers warm and sunny climates, which need plenty of sunlight to ripen fully. The grape clusters are medium-sized and compact.
The wines can vary in style, depending on the region and winemaking techniques. In some areas, it is used in blends to add acidity and structure, while in others, it can be the dominant grape in varietal wines.
The dry white wines typically exhibit delicate aromas of white flowers, citrus fruits, and sometimes hints of herbs. In certain regions, the variety is used to make sweet wines, either as a late-harvest style or as a component in fortified wines, such as the famous Muscat de Beaumes-de-Venise. Clairette is also used to produce sparkling wines, adding freshness and acidity to the blends.