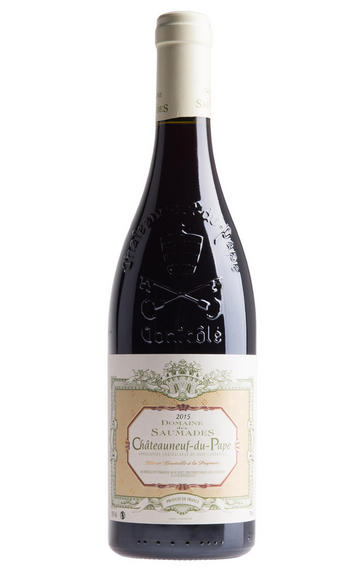 2015 Châteauneuf-du-Pape Rouge, Domaine des Saumades, Rhône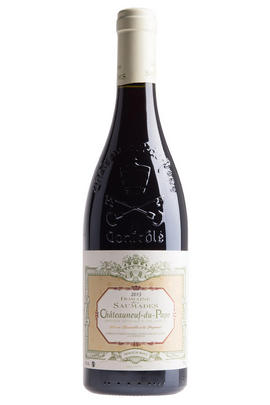 About this WINE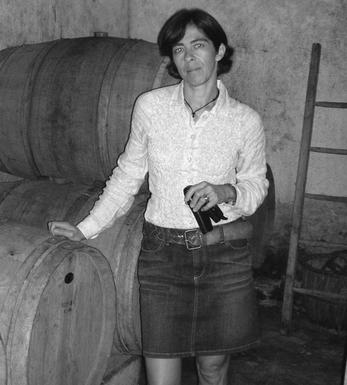 Domaine Des Saumades
Four generations of Moussets have been winemakers in Châteauneuf du Pape. However, Domaine des Saumades was created in 1995 when Frank and Muriel Mousset created their own domaine. This is a very small domaine with only 2.5 hectares and limited production allowing for excellent quality control. It employs traditional methods for pruning and working the vines and all wines are aged in oak.
Franck and Murielle are a young couple making a modern style Châteauneuf du Pape. Their wines are powerful and fruit driven, with the ability to develop into graceful examples from this region. The red is a 100% Grenache, and demonstrates the potential power of this grape when handled skilfully. It is a wine of extraordinary complexity, packed full of seductive dark fruits and rich chocolate notes. The white, a mélange of Clairette, Grenache Blanc and Bourboulenc, displays a myriad of flavours as diverse as fresh citrus tones to mouth filling warm vanilla. This is what Châteauneuf du Pape is all about.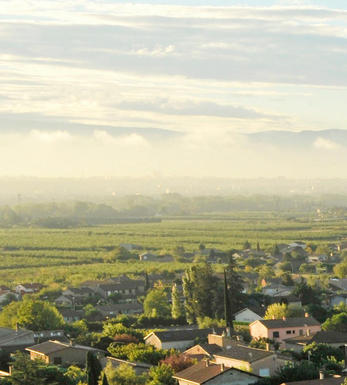 Châteauneuf-du-Pape
Châteauneuf-du-Pape is the largest and most important wine appellation in the southern Rhône. It is home to more than 3,200 hectares of vineyards and over 80 growers; more wine is produced in Châteauneuf than the whole of the northern Rhône put together. The vineyards are bounded to the west by the Rhône river and to the east by the A7 autoroute.

Châteauneuf-du-Pape was the first ever Appellation d'Origine Contrôlée established in France, in 1932. Small, rounded rocks from the ancient river bed known as galets roulés are a key aspect of what makes Châteauneuf -du-Pape wines so distinctive, with the rocks reflecting heat back into the vines at night, thus increasing ripeness and reducing acidity.

The gloriously rich red wines, redolent of the heat and herbs of the south, are enhanced by the complexity which comes from blending several grape varieties. Fourteen are permitted for reds: Grenache, Mouvedre, Syrah, Cinsault, Vaccarese, Counoise, Teret Noir, Muscadin, Picpoul Noir, Clairette, Grenache Blanc, Rousanne, Picpoul Gris and Picardin. With red Châteauneuf-du-Pape, Grenache typically dominates with Syrah and Mourvèdre in support.
White Châteauneuf-du-Pape is becoming increasingly sought-after, even though it represents less than 10 percent of the total production. Here, five grapes are permitted: Grenache Blanc, Clairette, Roussanne, Bourboulenc and Picardin.

Recommended Producers: Château de Beaucastel, Clos de Papes, Vieux Télégraphe, Château Rayas,, Domaine de la Charbonnière, Sabon, Château La Nerthe, Domaine Perrin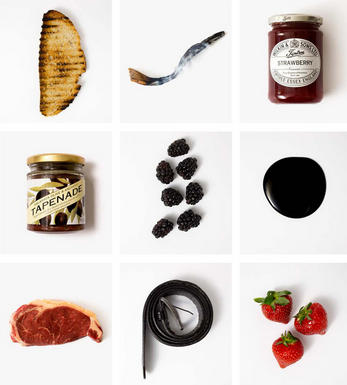 Grenache/Garnacha
Grenache (Noir) is widely grown and comes in a variety of styles. Believed to originate in Spain, it was, in the late 20th century, the most widely planted black grape variety in the world. Today it hovers around seventh in the pecking order. It tends to produce very fruity, rich wines that can range quite widely in their level of tannin.

In many regions – most famously the Southern Rhône, where it complements Syrah and Mourvèdre, among other grapes – it adds backbone and colour to blends, but some of the most notable Châteauneuf du Pape producers (such as Château Rayas) make 100 percent Grenache wines. The grape is a component in many wines of the Languedoc (where you'll also find its lighter-coloured forms, Grenache Gris and Blanc) and is responsible for much southern French rosé – taking the lead in most Provence styles.

Found all over Spain as Garnacha Tinta (spelt Garnaxa in Catalonia), the grape variety is increasingly detailed on wine labels there. Along with Tempranillo, it forms the majority of the blend for Rioja's reds and has been adopted widely in Navarra, where it produces lighter styles of red and rosado (rosé). It can also be found operating under a pseudonym, Cannonau, in Sardinia.



Beyond Europe, Grenache is widely planted in California and Australia, largely thanks to its ability to operate in high temperatures and without much water. Particularly in the Barossa Valley, there are some extraordinary dry-farmed bush vines, some of which are centuries old and produce wines of startling intensity.


Reviews
Customer reviews
Critic reviews
One thing I learned from this blind tasting is that I definitely have a soft spot for Grenache off sandy sites, like this 2015 Chateauneuf du Pape, which is 100% Grenache from Pignan (Nord). Garrigue, cherry and anise mark the nose, while the palate is creamy in texture and the licorice-tinged finish is silky. This complete, all-around effort should drink well for a decade or more.
Joe Czerwinski - 31/10/2017