About this WINE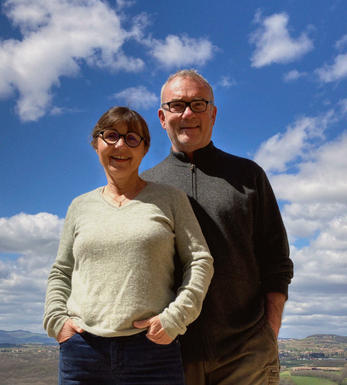 Eric Texier
Eric Texier made the unprecedented leap from nuclear engineer to winemaker in the early 1990s. Although his passion for wine was begat from the wines of Burgundy, he was inspired by an older generation of Rhône producers like Marius Gentaz and Pouchoulin, and felt that a successor was needed. Drawing on their methods of only using natural yeasts and leaving the bunches intact, he developed some of his own ideas and techniques as well. The grapes are grown organically (although the labels don't state this). Maturation is carried out in old demi-muids and sulphur dioxide is never used during vinification, only at bottling. All of these methods, he feels, serve to express the special terroir of these appellations.

And what of the terroirs? Brézème is a tale of two soils, divided by a valley. One, which Eric refers to as the "vrai Côte de Brézème" and likens to Hermitage, is made up of marnes calcaires while the other is more alluvial with galets ronds. There is a unique microclimate here, 300 metres above sea-level with a cooling influence from the Vercors Massif to the east. Some vineyards are classified as Brézème and others not in a seemingly haphazard fashion; the only element that Eric can find in common for the classified vineyards is that they are easier to work. Texier's wines come from 4.2ha here, producing approximately 20,000 bottles (slightly more than St Julien, of which there were 16,000 bottles produced in 2010). St Julien is, curiously, much hotter than Brézème though it is just across the Rhône and 200 metres higher. Eric's Syrah and Roussanne vines are the original local varieties and not clones, which is why the old-vine red and white cuvées are called "Serine" and "Roussette" respectively.

He is the only organic producer both in Brézème and St Julien, and could be seen as a pioneer of both appellations which, while today being just humble Côtes du Rhône, are expected very shortly to have their own appellations.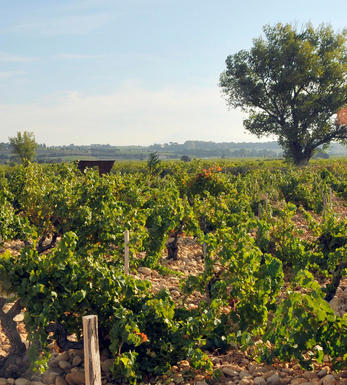 Côtes du Rhône
Côtes du Rhône, located in southern France's Rhône Valley, is one of the country's largest and most well-known wine appellations. The region is renowned for producing a wide range of high-quality wines, with vineyards extending from just south of Lyon in the north to Avignon in the south, covering both banks of the Rhône River.
Côtes du Rhône is celebrated for its wide array of red and white grape varieties. The primary red grape varieties include Grenache, Syrah, Mourvèdre, and Cinsault, while the main white grape varieties consist of Viognier, Marsanne, and Roussanne.
The region is divided into several appellations, each with distinct characteristics and regulations. The hierarchy ranges from the broad Côtes du Rhône appellation to more specific and prestigious sub-appellations like Côtes du Rhône Villages and Crus such as Châteauneuf-du-Pape, Gigondas, and Hermitage.
The region benefits from a diverse terroir, contributing to the different wine styles. The northern part has a continental climate, while the southern portion enjoys a Mediterranean climate, which plays a vital role in grape ripening and flavour development.
The red wines are highly regarded for their rich and robust flavours. They often exhibit notes of dark fruits, herbs, spices, and distinctive peppery quality, especially in the Syrah-dominated wines from the northern Rhône.
The white wines are typically aromatic and elegant, with flavours of stone fruits, floral notes, and hints of mineral complexity.
Côtes du Rhône also produces excellent rosé wines, which are refreshing and perfect for warm weather enjoyment.
Winemaking in Côtes du Rhône has a long history from ancient times. The region preserves a combination of traditional methods and modern techniques, allowing winemakers to express the unique characteristics of their terroir.
Côtes du Rhône wines are versatile and pair well with a wide range of dishes, including roasted meats, hearty stews, grilled vegetables, and cheeses.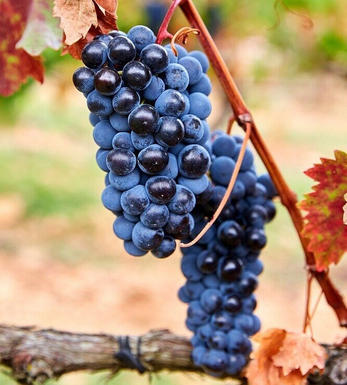 Southern Rhône Blend
The vast majority of wines from the Southern Rhône are blends. There are 5 main black varieties, although others are used and the most famous wine of the region, Châteauneuf du Pape, can be made from as many as 13 different varieties. Grenache is the most important grape in the southern Rhône - it contributes alcohol, warmth and gentle juicy fruit and is an ideal base wine in the blend. Plantings of Syrah in the southern Rhône have risen dramatically in the last decade and it is an increasingly important component in blends. It rarely attains the heights that it does in the North but adds colour, backbone, tannins and soft ripe fruit to the blend.
The much-maligned Carignan has been on the retreat recently but is still included in many blends - the best old vines can add colour, body and spicy fruits. Cinsault is also backtracking but, if yields are restricted, can produce moderately well-coloured wines adding pleasant-light fruit to red and rosé blends. Finally, Mourvèdre, a grape from Bandol on the Mediterranean coast, has recently become an increasingly significant component of Southern Rhône blends - it often struggles to ripen fully but can add acidity, ripe spicy berry fruits and hints of tobacco to blends.