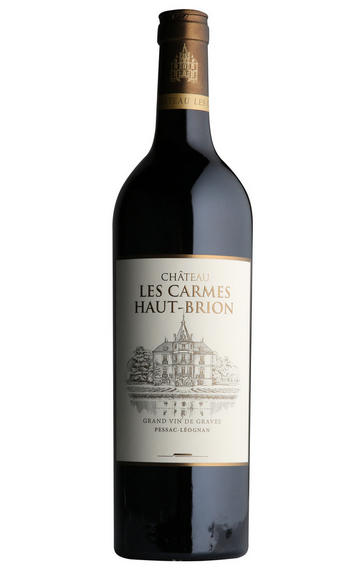 2016 Château les Carmes Haut-Brion, Pessac-Léognan, Bordeaux
Prices start from £2,906.00 per salmanazar (600cl).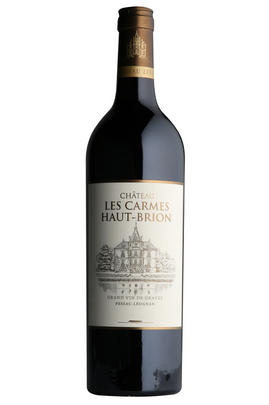 Critics reviews
Subdued power with cassis and blackberry fruits, liqourice root, cocoa beans and a wall of tannins that retains an air of controlled restraint at 6 years old. Maintains momentum and energy through the palate,with a saline lick of crushed rocks on the finish. This is sculpted, moreish, delicious. As with the 2015, a vintage again that Carmes has its own personality, and doesn't follow the pack. New winery, with softer infusion-method for the extraction of flavours and tannins, and 60% stems. Ageing takes place in a mix of 25% new oak, 5% oak casks, and 10% amphoras.
Drink 2025-2044
Jane Anson, janeanson.com (Feb 2022)
The 2016 Les Carmes Haut-Brion is a blend of 41% Cabernet Franc, 39% Merlot and 20% Cabernet Sauvignon aged in 65% new and 35% one-year-old oak for 22 months. This vintage represents one of the largest percentages of Cabernet Franc for this wine. Medium to deep garnet-purple colored, it gives notes of kirsch, black raspberries and black plums with touches of cassis, violets, chocolate box and pencil shavings. The palate is medium-bodied, firm, grainy and lively with loads of layers and a long, well-poised finish.
Lisa Perrotti-Brown - 30/11/2018
Dark crimson. Sumptuous texture if not that much flavour at present. Very round and gorgeous with lovely Graves freshness on the finish. Very glossy and winning. Nicely managed tannins. Drink 2024-2040.
Jancis Robinson - 24th April 2017
Extremely long and erudite with crushed stones, blackberries and blueberries. Hints of fresh herbs. Full-bodied, tight and polished. The balance and beauty are amazing. Salty and minerally. More polished than the 2015. Wait and see. From biodynamic grapes.
James Suckling - April 2017
About this WINE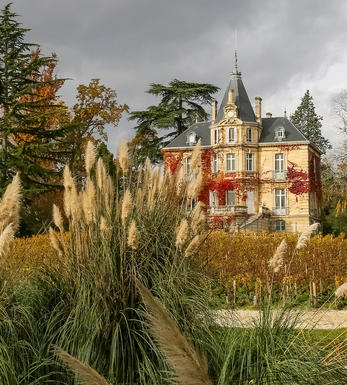 Château les Carmes Haut-Brion
Château les Carmes Haut-Brion is a 10.3-hectare wine estate in Pessac-Léognan on the Left Bank of Bordeaux. The property was established over 400 years ago. It takes its name from the Carmelites, the order of monks that tended it for almost 200 years. Once a little-known neighbour of the world-famous Châteaux Haut-Brion and La Mission Haut-Brion, things have changed rapidly here in recent years and it is today one of Bordeaux's most exciting names. In 2010, the estate was acquired by Patrice Pichet, a French property developer. He quickly enlisted the dynamic Guillaume Pouthier as winemaker and director, and this has been a truly hot property ever since.
The wine here is stylistically unique within Bordeaux. This is in part due to the vineyard: the estate sits just outside the city of Bordeaux, with some limestone soils to complement the more typical gravel and clay. There is a high proportion of old-vine Cabernet Franc, rarely seen to any great extent on the Left Bank. The team has worked very hard to understand the specificities of each plot and sub-plot, enabling them to react to specific needs – but only where necessary.
Guillaume Pouthier is also a serial innovator. He is a proponent of whole-bunch fermentation, which is virtually unheard of in Bordeaux. Extraction, an important winemaking process, is handled differently here too: Guillaume uses a very gentle method of infusion rather than the more typical pumping-over or punching-down. The wines are matured in a combination of new French oak barrels, large oak casks and amphorae.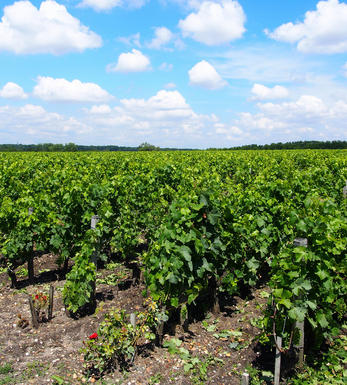 Pessac-Leognan
In 1986 a new communal district was created within Graves, in Bordeaux, based on the districts of Pessac and Léognan, the first of which lies within the suburbs of the city. Essentially this came about through pressure from Pessac-Léognan vignerons, who wished to disassociate themselves from growers with predominately sandy soils further south in Graves.
Pessac-Léognan has the best soils of the region, very similar to those of the Médoc, although the depth of gravel is more variable, and contains all the classed growths of the region. Some of its great names, including Ch. Haut-Brion, even sit serenely and resolutely in Bordeaux's southern urban sprawl.

The climate is milder than to the north of the city and the harvest can occur up to two weeks earlier. This gives the best wines a heady, rich and almost savoury character, laced with notes of tobacco, spice and leather. Further south, the soil is sandier with more clay, and the wines are lighter, fruity and suitable for earlier drinking.
Recommended Châteaux: Ch. Haut-Brion, Ch. la Mission Haut-Brion, Ch. Pape Clément, Ch Haut-Bailly, Domaine de Chevalier, Ch. Larrivet-Haut-Brion, Ch. Carmes Haut-Brion, Ch. La Garde, Villa Bel-Air.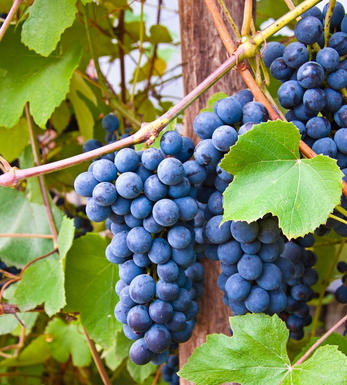 Merlot/Cabernet Franc
Merlot and Cabernet Franc are grape varieties commonly used in Bordeaux-style blends, particularly in the Bordeaux region of France. When these two grapes are blended, they can create a wine that combines the best characteristics of each variety.
Merlot is known for its smoothness, soft tannins, and ripe fruit flavours. It often contributes black cherry, plum, and chocolate flavours to the blend. The grapes are relatively easy to grow and ripen earlier than other Bordeaux varieties, making them versatile for blending.
Cabernet Franc, on the other hand, adds structure, depth, and complexity to the blend. It typically brings aromas of red fruits such as raspberry and strawberry, along with herbal notes like bell pepper and tobacco. These grapes have thinner skins and can be more challenging to cultivate, requiring specific growing conditions to reach their full potential.
When Merlot and Cabernet Franc are combined, the result is a well-balanced wine with various flavours and aromas. The blend often exhibits a Bordeaux wine's medium to full body, along with a smooth texture and moderate tannins. The specific flavour profile can vary depending on the proportions of each grape in the blend and the terroir and winemaking techniques employed.