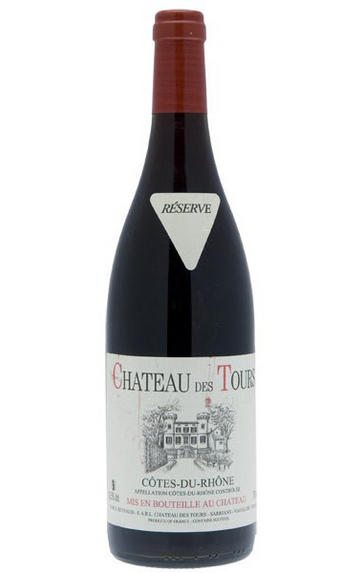 2016 Côtes du Rhône, Réserve, Château des Tours, E. Reynaud, Rhône
Prices start from £189.50 per bottle (75cl).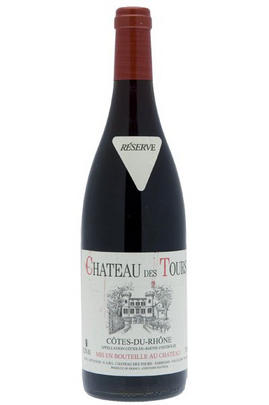 About this WINE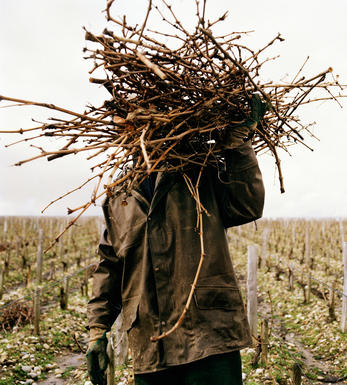 Château des Tours
Château des Tours is situated in the southern part of the Rhône Valley, specifically in the village of Visan. It is known for producing exceptional wines that showcase the unique terroir and express the region's character.
Founded in the 15th century, the winery has a rich history and has been passed down through generations, gaining prominence under the stewardship of Emmanuel Reynaud, a highly respected winemaker who also owned the iconic Châteauneuf-du-Pape estate, Château Rayas. Reynaud's dedication to crafting wines of exceptional quality and his commitment to organic farming practices have played a significant role in establishing Château des Tours as a revered winery.
The estate covers approximately 20 hectares (49 acres) of vineyards planted with various grape varietals that thrive in the Rhône Valley. Syrah, Grenache, Mourvèdre, and Carignan are among the key red grape varieties grown, while white grapes such as Marsanne, Roussanne, and Viognier contribute to the production of white wines.
Château des Tours is known for its traditional winemaking techniques focusing on minimal intervention. The grapes are carefully hand-harvested and sorted to ensure only the highest quality fruit is used. Fermentation occurs in large oak vats or concrete tanks, allowing for gentle extraction and preservation of the fruit's purity. The wines are then aged in a combination of oak barrels and larger casks, contributing to their complexity and ageing potential.
The wines are highly regarded for their elegance, finesse, and the expression of their terroir, often exhibiting ripe fruit flavours, balanced acidity, and silky tannins. The red wines, in particular, showcase the rich, spicy, and earthy characteristics of the Rhône Valley.
The estate has been certified organic since 1997, emphasising the winery's dedication to producing wines that reflect the purity of the land and respect the environment.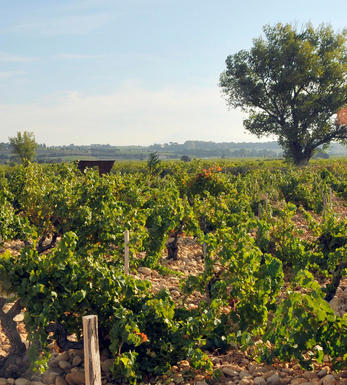 Côtes du Rhône
Côtes du Rhône, located in southern France's Rhône Valley, is one of the country's largest and most well-known wine appellations. The region is renowned for producing a wide range of high-quality wines, with vineyards extending from just south of Lyon in the north to Avignon in the south, covering both banks of the Rhône River.
Côtes du Rhône is celebrated for its wide array of red and white grape varieties. The primary red grape varieties include Grenache, Syrah, Mourvèdre, and Cinsault, while the main white grape varieties consist of Viognier, Marsanne, and Roussanne.
The region is divided into several appellations, each with distinct characteristics and regulations. The hierarchy ranges from the broad Côtes du Rhône appellation to more specific and prestigious sub-appellations like Côtes du Rhône Villages and Crus such as Châteauneuf-du-Pape, Gigondas, and Hermitage.
The region benefits from a diverse terroir, contributing to the different wine styles. The northern part has a continental climate, while the southern portion enjoys a Mediterranean climate, which plays a vital role in grape ripening and flavour development.
The red wines are highly regarded for their rich and robust flavours. They often exhibit notes of dark fruits, herbs, spices, and distinctive peppery quality, especially in the Syrah-dominated wines from the northern Rhône.
The white wines are typically aromatic and elegant, with flavours of stone fruits, floral notes, and hints of mineral complexity.
Côtes du Rhône also produces excellent rosé wines, which are refreshing and perfect for warm weather enjoyment.
Winemaking in Côtes du Rhône has a long history from ancient times. The region preserves a combination of traditional methods and modern techniques, allowing winemakers to express the unique characteristics of their terroir.
Côtes du Rhône wines are versatile and pair well with a wide range of dishes, including roasted meats, hearty stews, grilled vegetables, and cheeses.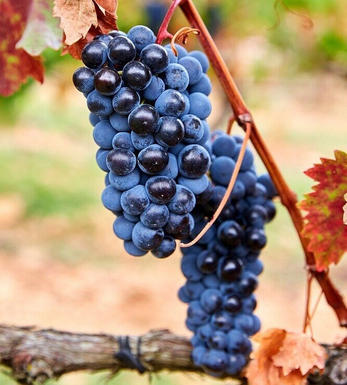 Southern Rhône Blend
The vast majority of wines from the Southern Rhône are blends. There are 5 main black varieties, although others are used and the most famous wine of the region, Châteauneuf du Pape, can be made from as many as 13 different varieties. Grenache is the most important grape in the southern Rhône - it contributes alcohol, warmth and gentle juicy fruit and is an ideal base wine in the blend. Plantings of Syrah in the southern Rhône have risen dramatically in the last decade and it is an increasingly important component in blends. It rarely attains the heights that it does in the North but adds colour, backbone, tannins and soft ripe fruit to the blend.
The much-maligned Carignan has been on the retreat recently but is still included in many blends - the best old vines can add colour, body and spicy fruits. Cinsault is also backtracking but, if yields are restricted, can produce moderately well-coloured wines adding pleasant-light fruit to red and rosé blends. Finally, Mourvèdre, a grape from Bandol on the Mediterranean coast, has recently become an increasingly significant component of Southern Rhône blends - it often struggles to ripen fully but can add acidity, ripe spicy berry fruits and hints of tobacco to blends.