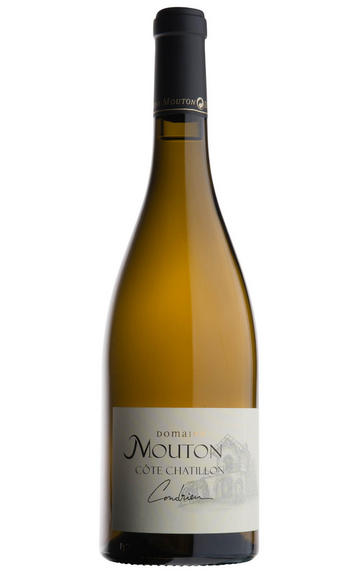 2017 Condrieu, Côte Chatillon, Domaine Mouton, Rhône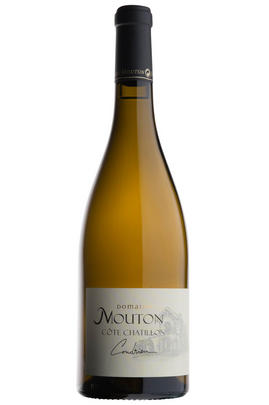 Critics reviews
The medium to full-bodied 2017 Condrieu Cote Chatillon is floral on the nose but with exotic ginger and peppery-spice notes accenting ripe apricots. On the palate, it's medium to full-bodied, with a lush, creamy texture and lingering spice on the harmonious finish. It should drink well for 2-3 years.
Joe Czerwinski - 28/12/2018
About this WINE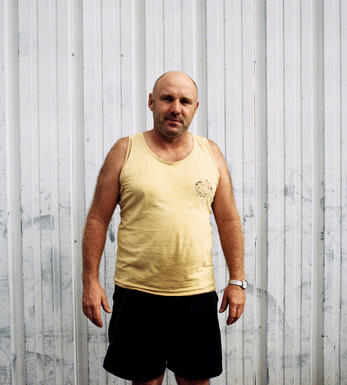 Mouton Père & Fils
Father and son, Jean-Claude and Bryan Mouton own vines which sit high above the village of Condrieu. Their modest winery is located right on the top of the hill, giving a wonderful view over the valley below. They currently farm 3.4 hectares in the appellation, with another 1.5 due to come into use over the next few years. The brilliant Viognier IGP wine contains fruit from 30- to 40-year-old vines but which, at 385-395m, lie just above the Condrieu classification altitude limit of 350m. The two original Condrieu lieux dits cuvées express two quite different terroirs. Côte Bonnette is mainly planted on granite, whilst Côte Chatillon (not available this year) is based on a mixture of clay, limestone and loess. In the winery, minimal new oak is used and the wines are matured in Burgundian barrels with little to no toasting and one concrete egg.
Condrieu was badly hit by the frost in 2021 and as such, there is very little available. Bryan explains that their yields were reduced by 50% this year and consequently we are only able to include two cuvées in this offer, both with limited volumes. Nonetheless, both these wines display a level of finesse and elegance that is wonderful to see from wines with a reputation for weight and richness. These will be gorgeous to drink over the next two to three years.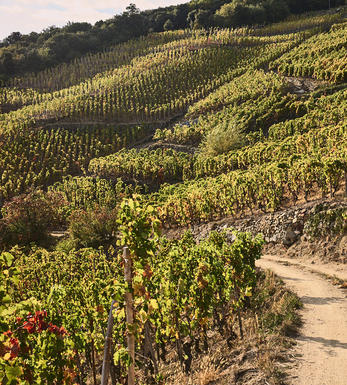 Condrieu
Until you've tasted Viognier grown in Condrieu, you've never truly experienced the grape's majesty. In the same way that winemakers the world over have planted Pinot Noir in the hope of emulating red Burgundy, so too they've planted Viognier in the hope of achieving the unique balance of exotic perfume, weight and freshness for which Condrieu is famed. Few succeed. Traditionally, winemakers here have used relatively inert, large wooden vessels vinification and élevage are in relatively inert, large, wooden vessels, but the new generation of winemakers are increasingly interested in the qualities of new oak.

Plantings have expanded beyond the core of the AOC, around the village itself, to 140 hectares from the low of eight hectares in the 1960s. The vineyards pick up where Côte-Rôtie leaves off, the slope continues, but the schist of the north begins to give way to a little more granite and a topsoil of decomposed mica. Today the appellation is characterised by energy and creativity, and demand for the wines from this diminutive region is soaring.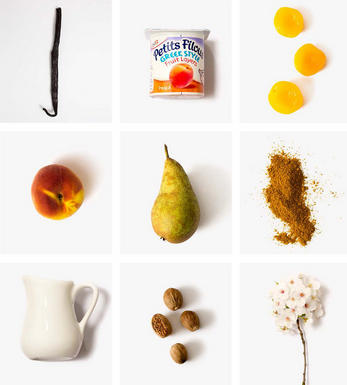 Viognier
A white grape variety originating in the Northern Rhône and which in the last ten years has been increasingly planted in the Southern Rhône and the Languedoc.
It is a poor-yielding grape that is notoriously fickle to grow, being susceptible to a whole gamut of pests and diseases. Crucially it must be picked at optimum ripeness - if harvested too early and under-ripe the resulting wine can be thin, dilute and unbalanced, while if picked too late then the wine will lack the grape's distinctive peach and honeysuckle aroma. It is most successfully grown in the tiny appellations of Château-Grillet and Condrieu where it thrives on the distinctive arzelle granite-rich soils. It is also grown in Côte Rôtie where it lends aromatic richness to the wines when blended with Syrah.
Viognier has been on the charge in the Southern Rhône and the Languedoc throughout the 1990s and is now a key component of many white Côtes du Rhône. In Languedoc and Rousillon it is increasingly being bottled unblended and with notable success with richly fragrant wines redolent of overripe apricots and peaches and selling at a fraction of the price of their Northern Rhône cousins.