2017 Tignanello, Antinori, Tuscany, Italy
Prices start from £675.00 per case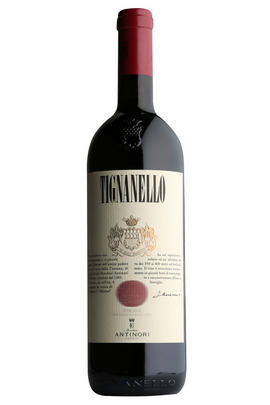 Critics reviews
Antonio Galloni, Vinous
95+/100
The 2017 Tignanello is dense, exotic and flamboyant. Red berry fruit, cherries in liqueur, blood orange, wildflowers and sweet spice are front and centre in this sumptuous, racy Tignanello that is likely to drink beautifully right out of the gate. The Antinori team has done a terrific job with the 2017, a year in which heat and dry weather took with them 30% of the production.
Drink 2022 - 2042
Antonio Galloni, Vinous.com (July 2019)
The Marchesi Antinori 2017 Tignanello (made with Sangiovese and smaller parts of Cabernet Sauvignon and Cabernet Franc) is a dark, exuberant, inviting wine. I tasted my sample after a double decanting and was pleased by the wine's profound nature and the aromas' immediate openness. There is a symphony of dark fruit with black cherry, plum, spice and sweet tobacco.
I am particularly attracted by a distant hint of medicinal or menthol herb that I also discovered in other wines with fruit from the Tignanello estate in 2017. There's a drying mineral note of crushed chalk as well. The heat and dryness of the vintage have added to the aromatic intensity of the wine (yields were reduced by a third), but the mouthfeel is carefully crafted to maintain its softness and smoothness.
Fruit comes from a 57-hectare section of the Tenuta Tignanello from a vineyard 390 meters above sea level with Alberese limestone rock and soils of marine origin. The wine is fermented in conical oak tanks and is aged for up to 16 months in a combination of mostly French and some Hungarian oak, both new and neutral. Some 300,000 bottles were released in April 2020 after one year of bottle age.
Drink 2021 - 2040
Monica Larner, Wine Advocate (June 2020)
A dense really pinpointed red with plums and hazelnuts. Full-bodied and very polished with delicate, creamy tannins and a long, flavorful finish. Shows real finesse for the vintage.
Better after 2023, but already a joy to taste.
James Suckling, jamessuckling.com (July 2020)
About this WINE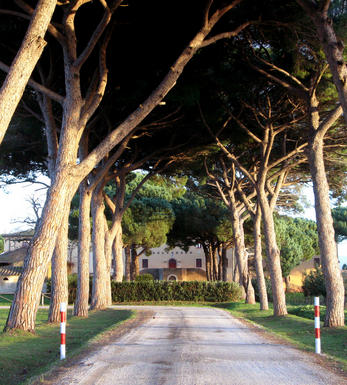 Antinori
Antinori is the most famous name in Italian wine and the influence of Piero Antinori in the last 25 years has been nothing short of revolutionary. Antinori's flagship wine, Tignanello, first appeared in 1971 and caused a sensation by its use of Cabernet Sauvignon in a Sangiovese blend and with its practice of ageing in small French barriques. Antinori was accused of vinous treachery and treason but soon barrique-aged blends of Sangiovese and Cabernet began appearing all across Tuscany.
Solaia is a Cabernet-dominated blend, which, like Tignanello, is from the Santa Cristina estate and is stunningly rich. Tenuta Belvedere is in Bolgheri on the Mediterranean coast .

The Guado al Tasso estate is also part of the small, prestigious Bolgheri DOC zone which has been famous for its Rosé wines since the Seventies: along with the white wines made here, they were awarded the DOC in 1984, which was extended to the reds in 1994. The area is now best-known and admired for its outstanding red wines, the so-called Super-Tuscans. The estate covers over 1,000 hectares, 300 of which are planted with vineyards, and the rest with wheat, sunflowers and olives

Tenuta Guado al Tasso was part of feudal lands of about 4,048 hectares along about 7km of coast and belonged to the Della Gherardesca family, whose roots in this region date back to over 1,200 years ago. In the Thirties the land was inherited by Carlotta della Gherardesca Antinori - mother of Piero Antinori - and her sister, who was married to Mario Incisa della Rocchetta (who took possession of the nearby Tenuta San Guido). There were seven castles on the estate, four of which are still standing, and 86 watchtowers, built 1000 years ago to protect the family from Saracen invaders from the African coast.

There are currently 300 hectares of vineyards at Tenuta Guado al Tasso, situated at an altitude of 45-60m a.s.l. on various types of soil. The varieties planted are Vermentino (a grape variety native to the coastal area of Liguria and northern Tuscany, which has also flourished for many years in Corsica and Sardinia), Sangiovese, Cabernet Sauvignon, Merlot and Syrah. There are also small quantities of other varieties including Cabernet Franc.

Many ideas and resources have been invested in the Guado al Tasso estate, for constant research into improved quality: as a result, a nursery for rooted cuttings was created here in 1994, mainly for the propagation of Vermentino, but also to produce the best possible selections of Sangiovese, Cabernet Sauvignon and Merlot for use in other Antinori estates.

The mitigating influence of the Mediterranean prevents drastic temperature variations and the vines flower and ripen early, thanks to the stable, fairly warm microclimate with its extraordinary light during the final phases of ripening. Thanks to the microclimate of the "Bolgheri amphitheatre", harvesting takes place early here, about two weeks before the Chianti harvest.

The Guado al Tasso estate makes Scalabrone (Bolgheri Rosato DOC) from Sangiovese, Merlot and Syrah, Vermentino di Bolgheri DOC, a monovarietal Vermentino (made for the first time in 1996) and since 1990, the Guado al Tasso Bolgheri DOC Superiore from Cabernet Sauvignon and Merlot grapes.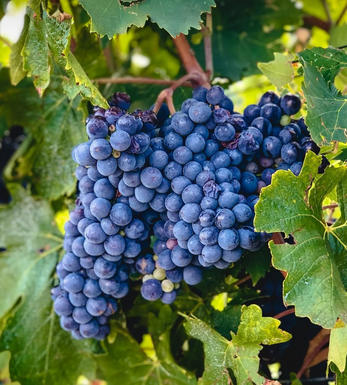 Sangiovese
A black grape widely grown in Central Italy and the main component of Chianti and Vino Nobile di Montepulciano as well as being the sole permitted grape for the famed Brunello di Montalcino.
It is a high yielding, late ripening grape that performs best on well-drained calcareous soils on south-facing hillsides. For years it was blighted by poor clonal selection and massive overcropping - however since the 1980s the quality of Sangiovese-based wines has rocketed upwards and they are now some of the most sought after in the world.
It produces wines with pronounced tannins and acidity, though not always with great depth of colour, and its character can vary from farmyard/leather nuances through to essence of red cherries and plums. In the 1960s the advent of Super Tuscans saw bottlings of 100% Sangiovese wines, as well as the introduction of Sangiovese/Cabernet Sauvignon blends, the most famous being Tignanello.