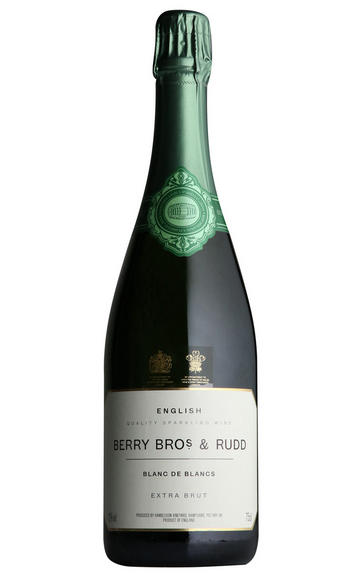 2017 Berry Bros. & Rudd English Sparkling Blanc de Blancs by Hambledon Vineyards, Hampshire, England
Prices start from £35.75 per bottle (75cl).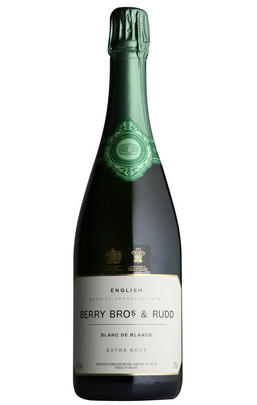 Critics reviews
Made for Berry Bros & Rudd by Hambledon Vineyard in Hampshire (the UK's oldest commercial vineyard), this is a stylish English sparkler. Aromas of freshly baked bread, candied peel, roasted nuts and stone fruit, with hints of meadow grass. Chalk soils lend a mineral core to the clean, crisp and well-rounded palate, with brisk citrus balancing savoury tones and a nip of salinity.
Drink 2023 - 2025
Julie Sheppard, Decanter.com (February 2023)
About this WINE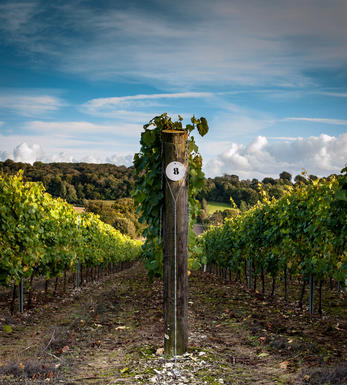 Hambledon Vineyard
Hambledon Vineyard has a long and fascinating history. Not only does the village have the reputation as the cradle of cricket, long before Lord's it seems, but it is also the location of the first English commercial vineyard, courtesy of the Francophile Sir Guy Salisbury Jones. A name familiar to anyone who has ever done any of the WSET wine exams, Sir Guy developed the vineyards in the early fifties. After an uneventful hiatus the vineyard was purchased by Ian Kellett in 1999 and his investments of both patience and capital are now yielding fruit, quite literally, in the form of some of the best located Chardonnay, Pinot Noir and Pinot Meunier grapes in the country.

Hiring the renowned oenologist Hervé Jestin, already a good friend of Berry Bros. & Rudd, through his links to our Rosé Champagne producer, Benoit Marguet, is but one of the qualitative initiatives that have propelled Hambledon back to the top of the vinous tree. Others include the purchase of an extremely expensive Coquard press, the judicious ( and costly ) separation of cuvée and taille after the pressing and also the extensive lees ageing. Equally important and some may say more important is the quality of the vineyards themselves.

Renaissance man Ian is an amateur geologist ( as well as a professional chemist and former City financier) it seems, and has pinpointed the specific chalk type in his three vineyards (Newhaven Chalk formation that developed between the Santonian and Campanian eras of the Upper Cretaceous period , known as the Senonien period in Champagne, in case you were wondering). Many of the emerging English vineyards, it would appear, actually have less chalk than one may think, given the powerful PR machine of association and many, especially those located further to the west, are dominated by green sand and clay.

Free-draining chalk, with its long association with Champagne, is seen as the ideal terroir and Hambledon has it, if you will pardon the expression, in spades. We are delighted to be working with this outstanding English winery. Sparkling wine in England goes from strength to strength, and we are confident that Hambledon will prove to be the finest of them all. Sir Guy would have been very proud.
Simon Field MW, Wine Buyer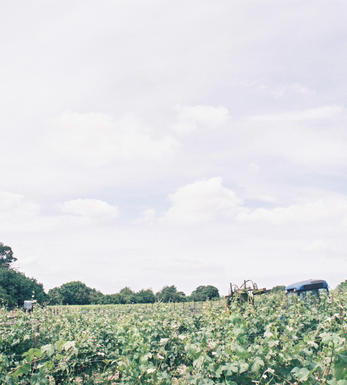 Hampshire
Hampshire is a county in South East England that has become celebrated for its production of English wine, and English sparkling wine in particular.
Leading producers here include Hambledon Vineyard, Exton Park Vineyard and Hattingley Valley. It is also home to Bride Valley Vineyard, founded by the late wine writer Steven Spurrier and his wife, Bella.
Hampshire has long been an important place for Berry Bros. & Rudd: we have offices and warehouses in Basingstoke and Andover.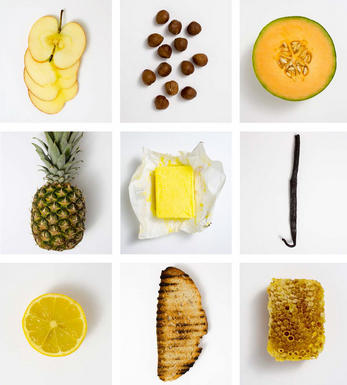 Chardonnay
Chardonnay is often seen as the king of white wine grapes and one of the most widely planted in the world It is suited to a wide variety of soils, though it excels in soils with a high limestone content as found in Champagne, Chablis, and the Côte D`Or.

Burgundy is Chardonnay's spiritual home and the best White Burgundies are dry, rich, honeyed wines with marvellous poise, elegance and balance. They are unquestionably the finest dry white wines in the world. Chardonnay plays a crucial role in the Champagne blend, providing structure and finesse, and is the sole grape in Blanc de Blancs.
It is quantitatively important in California and Australia, is widely planted in Chile and South Africa, and is the second most widely planted grape in New Zealand. In warm climates Chardonnay has a tendency to develop very high sugar levels during the final stages of ripening and this can occur at the expense of acidity. Late picking is a common problem and can result in blowsy and flabby wines that lack structure and definition.

Recently in the New World, we have seen a move towards more elegant, better- balanced and less oak-driven Chardonnays, and this is to be welcomed.