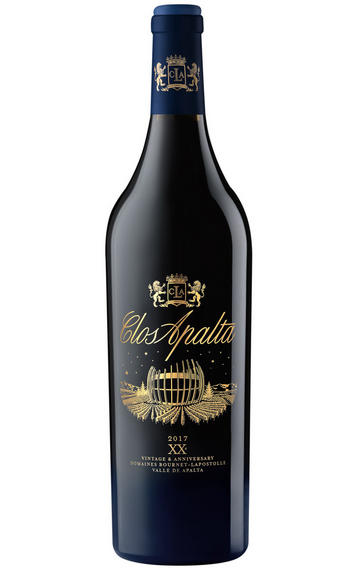 2017 Clos Apalta, Colchagua Valley, Casa Lapostolle, Chile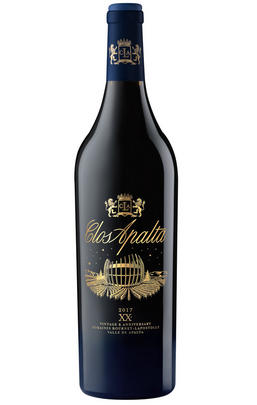 About this WINE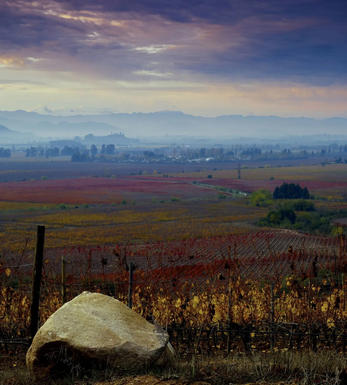 Casa Lapostolle
Casa Lapostolle was established in 1994 and is already one of Chile's leading wine producers. It is owned by the Marnier-Lapostolle family, producers of the famous Grand-Marnier liqueur, and is managed by Alexandra Marnier-Lapostolle. The operation is located in the Colchagua valley in the Rapel district and the company now has over 500 hectares of vineyards at its disposal.

The wines, unsurprisingly, marry the natural benevolence for which Chile is so famous, with an elegance and subtlety, which has been nurtured by Bordelais wine-making guru, Michel Rolland. The elegance and complexity is underlined by blending; their Cab. Sauvignon contains 15% Malbec that refines the tannic structure and adds a savoury backdrop to the generous fruit.
Casa Lapostolle is most renowned for the outstanding quality of its Merlot. This is Michel Roland's signature grape and is also the most successfully grown grape in the Colchagua valley. The Merlot Cuvée Alexande is a rich, dense and opulent wine that is packed with succulent, ripe, black fruits with hints of chocolate and Asian spices.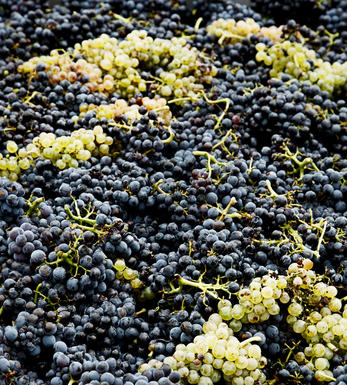 Cab.Sauvignon & Carmenère
Carménère is considered as an ideal blending partner with Cabernet Sauvignon, as well as with other Bordeaux varieties (Merlot and Cab. Franc)

Carmenère
Chile is the bastion of the Carmenère grape today but during the early19th century it was one of the most widely cultivated grape varieties in the Médoc and Graves regions of Bordeaux where it dominated as blending partner of Cabernet Franc. However its susceptibility to the twin evils of phylloxera and oidium led to growers uprooting it in the 1860s and replacing it with better yielding grape varieties such as Merlot.

It was first introduced in Chile (where it is also known as Grand Vidure) in the 19th-Century where it thrived on the country's phylloxera-free vineyards, as most of its vines are planted on native rootstock. For a long time it stayed in obscurity, as it was mixed with Merlot plantings in the vineyards but now is being identified, vinified and labelled separately.

In Chile it is typically blended with Cabernet Sauvignon and Merlot, imparting succulent and luxurious fuitness. Many of the country's flagship wines incorporate judicious proportions of Carmenère in blends; Almaviva, Neyen, Sena. It is increasingly being bottled as a single varietal wine. Carmen and De Martino were two of the first wineries to champion the grape as the signature varietal of Chile.

Carmenère wines are deeply coloured and are usually well structured with smooth, well-rounded tannins, and ripe berry fruit flavours. Cooler climate regions, like the coastal Limari in Chile, produce an earthy, leaner, more elegant style with crunch red fruit and green pepper flavours. Warmer climates, like in Maipo, give concentrated, heady wines, inky-coloured and with opulent notes of dark chocolate, soy sauce and black pepper.

Cabernet Sauvignon
It is the most famous red wine grape in the world and one of the most widely planted.
It is adaptable to a wide range of soils, although it performs particularly well on well-drained, low-fertile soils. It has small, dusty, black-blue berries with thick skins that produce deeply coloured, full-bodied wines with notable tannins. Its spiritual home is the Médoc and Graves regions of Bordeaux where it thrives on the well-drained gravel-rich soils producing tannic wines with piercing blackcurrant fruits that develop complex cedarwood and cigar box nuances when fully mature.
Reviews
Customer reviews
Critic reviews
The 2017 Clos Apalta is the 20th vintage of this wine that was produced with a blend of 48% Carmenere, 26% Cabernet Sauvignon, 25% Merlot and 1% Petit Verdot from organic and biodynamic certified vineyards on granite soils. It fermented with indigenous yeasts for four to five weeks, with manual punch-down of the cap, mostly in 7,500-liter French oak vats and 18% in new French barrique. Malolactic was in new French oak barrels, and the élevage lasted for 27 months in 85% new barrels and 15% second use. This is always a powerful, big and ripe wine that is regularly 15% alcohol, reflecting a warm and ripe place. The 2017 is no exception, perhaps a riper and more powerful wine than the 2016. It's still very young and marked by the élevage, with abundant balsamic aromas and notes from the wood—spice and smoke with an ashy touch. It seems quite marked by the character of the Carmenere. The tannins are quite round and polished, and the flavors are pungent and powerful. It's a full-bodied wine to age in in bottle and enjoy in its 10th birthday with powerful food. 90,000 bottles produced. It was bottled in September 2019.
Luis Gutiérrez, The Wine Advocate
What a stunning nose of crushed berries, fresh flowers, sandalwood and light vineyard dust. Black olives, too. Very complex. Full-bodied with a beautiful, dense palate of blackberries, chocolate, walnuts and cigar box. Fantastic length and composure. The tannin just rolls over the palate. Very structured. The most classically structured wine ever from here. Goes on for minutes. Outrageous and so polished. A blend of 48% carmenere, 26% cabernet sauvignon, 25% merlot and 1% petit verdot. Try after 2025.
James Suckling