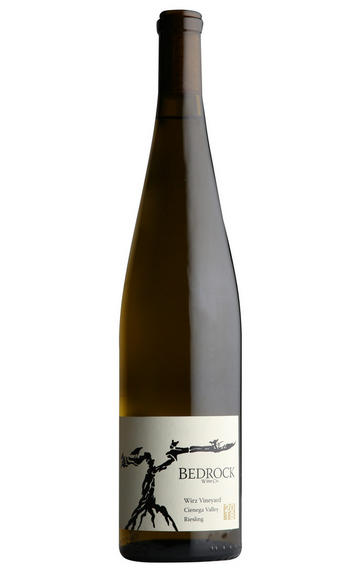 2018 Bedrock Wine Co., Wirz Riesling, Cienega Valley, Central Coast, USA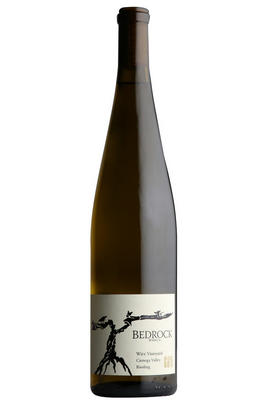 About this WINE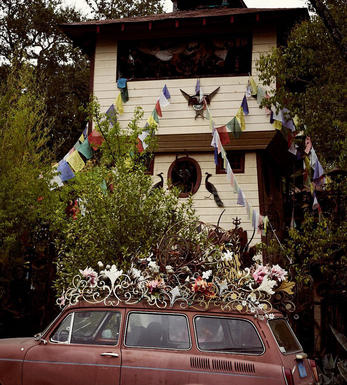 Bedrock Wine Co.
Bedrock Wine Co. was started in 2007 by owner and winemaker Morgan Twain-Peterson MW (son of the legendary Joel Peterson who founded Ravenswood Winery), and later joined by his business partner Chris Cottrell, this winery based in Sonoma is producing some of the most exciting wines coming out of the states currently.

Heavily focused on fruit from old vineyard plantings (late 19th century) and field blends, the fruit used is sourced from both their own vineyards and bought from around California (including interesting areas like Contra Costa County AVA, Amador County AVA & Cienega Valley AVA).

Over a number of years, Morgan has been able to forge some extraordinary relationships that has enabled him to gain access to some of the best quality vineyards in California (they buy Zinfandel fruit from renowned Pagani Ranch) and they sell their fruit to high profile wineries, including the meticulous Ridge Vineyards.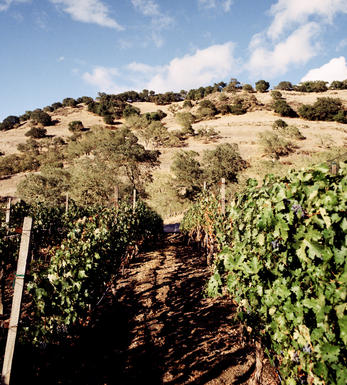 California
While many North American states make wine, it's California (along with Washington State and Oregon) that drives the fine wine (vitis vinifera) industry.
In 2005 California alone accounted for 200,000 hectares of vinous vines (as opposed to those grown for jelly or raisins), well in excess of Washington's 12,150 hectares and Oregon's 5,500 hectares. California's Napa Valley is acknowledged to be the world's second-best source of Cabernet Sauvignon/Bordeaux blends and Chardonnays (in Carneros), while its Santa Barbara and Sonoma Counties are home to world-class Pinot Noir and Chardonnay. Top-notch Zinfandel is also grown in Sonoma County.
The Californian wine industry was born in the south on the back of 18th century Spanish missionaries, and it consolidated in the north following the 1849 Gold Rush. Soon after, vitis vinifera varieties including Zinfandel made their appearance, edging out the inferior Mission grape. French and German immigrants (Krug, Schram, Beringer) helped develop the industry initially in Sonoma and then Napa, before fanning out to the Santa Cruz Mountains, south of the Bay area.
Cabernet Sauvignon was first produced as a wine in Sonoma in the late 19th century, at a time when many of Napa's reds were made from Rhône varieties and Zinfandel. The viticultural boom was accelerated by the transnational railway but was then literally stopped in its tracks by Phylloxera during the 1890s. However, as with Europe, a negative was turned into a positive as the disease allowed the industry to effect many viticultural improvements (varieties, vine densities, trellising). Prohibition threatened to further derail the industry further, were it not for an unprecedented demand for grapes for home winemaking, as well as for sacramental wine.

Despite the Repeal in 1933, the Fine Wine (ie Napa) industry didn't recover until the 1960s, when the likes of Chateau Montelena, Heitz, Robert Mondavi and Paul Draper made their move. In 1976, several of Napa's wines outshone their French counterparts in a blind tasting known as 'The Judgement of Paris'. Such success was short-lived however, as the industry was hit first by the oil crisis, then by the re-emergence of Phylloxera during the late 1980s; the fad for White Zinfandel was an additional setback.

The modern era continues to see an insatiable appetite for Napa wineries, pushing the price of land beyond even the reach of the Silicon Valley techies, piling even more pressure on winemakers to hit 100 points and so justify their fee and the $150-per-bottle price tags.

Californian viticulture is made possible thanks to the presence of the Pacific Ocean, its cool Humboldt Current tempering the summer heat through cyclical onshore breezes and rolling fog, so extending the ripening time of the grapes.

Additionally, to the east of San Francisco the 5,000-metre-tall Sierra Nevada mountain range triggers precipitation, which in turn feeds Central Coast irrigation channels. While the Winkler scale of heat summation points to regional differences, it appears to ignore the subtleties of terroir.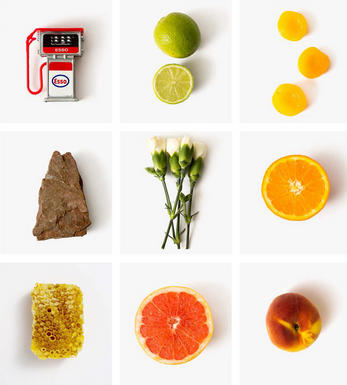 Riesling
Riesling's twin peaks are its intense perfume and its piercing crisp acidity which it manages to retain even at high ripeness levels.
In Germany, Riesling constitutes around 20% of total plantings, yet it is responsible for all its greatest wines. It is planted widely on well-drained, south-facing slate-rich slopes, with the greatest wines coming from the best slopes in the best villages. It produces delicate, racy, nervy and stylish wines that cover a wide spectrum of flavours from steely and bone dry with beautifully scented fruits of apples,apricots, and sometimes peaches, through to the exotically sweet flavours of the great sweet wines.
It is also an important variety in Alsace where it produces slightly earthier, weightier and fuller wines than in Germany. The dry Rieslings can be austere and steely with hints of honey while the Vendages Tardives and Sélection de Grains Nobles are some of the greatest sweet wines in the world.
It is thanks to the New World that Riesling is enjoying a marked renaissance. In Australia the grape has developed a formidable reputation, delivering lime-sherbet fireworks amid the continental climate of Clare Valley an hour's drive north of Adelaide, while Barossa's Eden Valley is cooler still, producing restrained stony lime examples from the elevated granitic landscape; Tasmania is fast becoming their third Riesling mine, combining cool temperatures with high UV levels to deliver stunning prototypes.
New Zealand shares a similar climate, with Riesling and Pinot Gris neck to neck in their bid to be the next big thing after Sauvignon Blanc; perfectly suited is the South Island's Central Otago, with its granitic soils and continental climate, and the pebbly Brightwater area near Nelson. While Australia's Rieslings tend to be full-bodied & dry, the Kiwis are more inclined to be lighter bodied, more ethereal and sometimes off-dry; Alsace plays Mosel if you like.