About this WINE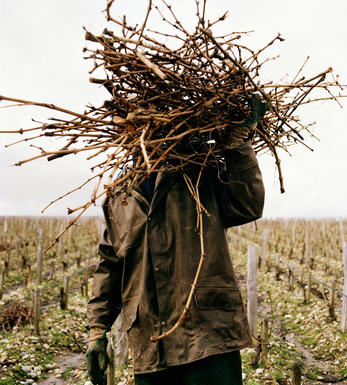 Torres
Torres is Spain's largest family-owned producer of wine and Spanish brandy. The Torres family owns more than 2,200 acres of vineyards in Penedes in North East Spain, as well as properties in Chile and California.
The present company was founded on 1870 with the fruits of a chance investment by Jaime Torres in a Cuban Oil company. A winery was established at Vilafranca del Penedes near Barcelona and its wines were shipped to Cuba by the Torres Fleet. Juan Torres (nephew and heir to Jaime Torres) expanded the business within Spain quite considerably and left the family business to his son Miguel in 1932. After confiscation, disruption and even winery destruction during the Spanish Civil War, Miguel rebuilt the business and as early as the 1950's decided to concentrate on selling wine in bottle rather than in bulk.
In 1959, Miguel's son Miguel A. Torres went to study in Dijon. This rapidly resulted in in experimental plantings of vine varieties imported from France and Germany, as well as also introducing the trellis system . In 1991 Miguel A. Torres became president of the company with particular responsibilities for wine-making. He is also one of Spain's most prolific wine writers and runs the 220-ha estate near Churico in Chile, which he established in 1978. His sister, Marimar manages the 56-ha vineyard in Sonoma, California.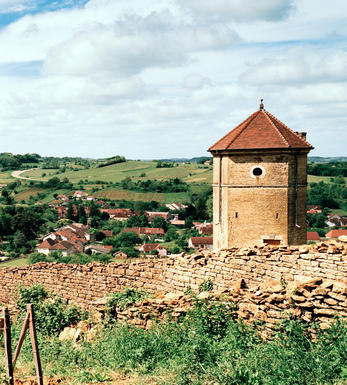 Jura
An hour's drive east of Beaune lies the 1,450-hectare Jura umbrella appellation, comprising the Arbois, Arbois-Papillon, Côtes du Jura, Chateau-Chalon and L'Etoile viticultural zones.

Of these, Château-Chalon is the smallest at 690 hectares, and focuses exclusively on making Vin Jaune, the prized sweet wine that was first made in the 14th century. L'Étoile produces a variety of styles, meanwhile, mainly oxidative Chardonnay as well as Vin Jaune and Vin de Paille.
The area is dramatically beautiful, as much for its sub-alpine landscape as for its remarkable wines, which draw on an essentially continental climate, a multi-faceted and varied terroir (limestone crowns over blue, red and grey marl), and indigenous varietals of Savagnin, Trousseau and Poulsard, alongside Chardonnay and Pinot Noir.
In a style not dissimilar to Sherry, a flor or voile yeast is encouraged to grow on all good Savagnins which effectievly start out as a Vin Jaune, before being pulled after a few years in cask, undisturbed, to be bottled as Côtes du Jura (often blended with some Chardonnay).

Vin Jaune itself requires six years and three months to graduate, again non ouillés (not topped up), before being bottled in the traditional 62cl Clavelin, with the Château-Chalon appellation the finest source.
The red Poulsard and Trousseau make fascinating dry wines, yet also are blended together with Savagnin when making the delicious Vin de Paille, which demands low yields of 20 hl/ha, and at least six weeks shrivelling on straw mats, followed by three years in cask before bottling.

Macvin is a largely sweet-wine-making appellation that sources its grapes from all over the Jura region. Macvin wines are produced by stopping the fermentation with the addition of the local spirit.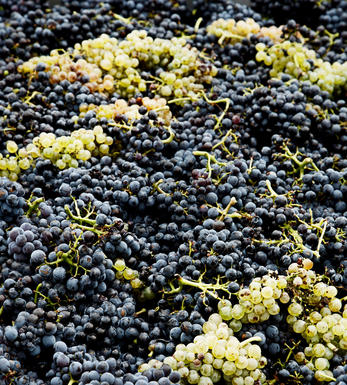 Savagnin
Savagnin is a high-quality white-wine grape cultivated almost exclusively in the Jura in eastern France. It is cultivated to a limited extent throughout the Jura vineyards (usually on the poorest marls soils on west-facing slopes) and may be included in any of the region's white wine appellations.

However it is most widely used but is usually in practice reserved for the Jura's extraordinary vin jaune. The Jura's most renowned wine undergoes a process similar to sherry, whereby a film of yeast covers the surface, thereby preventing oxidation but allowing evaporation and the subsequent concentration of the wine. The result is a "sherry-like" wine with a delicate, nutty richness.
Renowned ampelographer Pierre Galet maintains that Savagnin is identical to the Traminer which was once grown widely in Germany, Alsace, Hungary, and Austria, and that Gewürztraminer is the pink-berried musqué mutation of Savagnin.