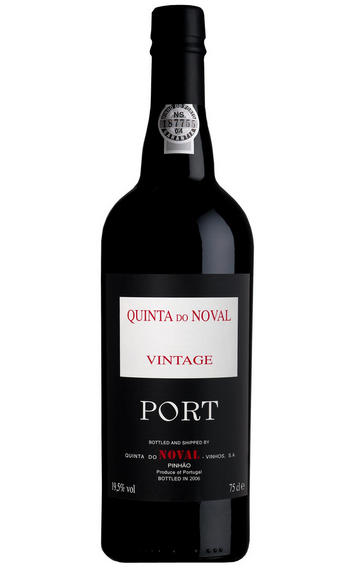 2018 Quinta do Noval, Port, Portugal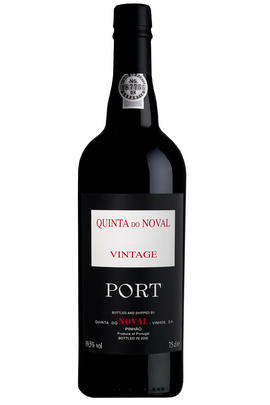 About this WINE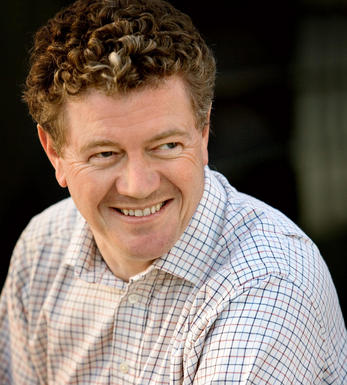 Quinta do Noval
Quinta do Noval was first owned, for more than a century, by the Rebello Valente family who were given it by the Marquês do Pombal, Portugal's Prime Minister. It was later owned by the Van Zeller family who had to rebuild following a catastrophic fire in 1981. Finally Quinta do Noval was sold to AXA insurance group in May 1993.
Quinta do Noval is one of the most evocative of names and the maker of the most famous of all Vintage Ports - Naçional.
The scourge of European vineyards in the late 19th century, the phylloxera aphid was thwarted at Noval's best vineyard by intense fumigation and, rather than grafting the vines on to American root-stocks, which was the usual practice, they managed to survive using Portuguese stock - hence "Naçional".
Noval made its reputation with the declaration of 1931. Due to world recession and vast shipment of 27's, it was one of only three shippers declared in 1931. Noval introduced the first stenciled bottles and in 1958 the first house to introduce a Late Bottled Vintage.

The Quinta do Noval itself lies perfectly situated along a steep hillside in the heart of the Douro Valley where the vines flourish and produce the highest-grade fruit.

Noval today appears to be thriving under the ownership of insurance group AXA with Managing Director Christian Seely, ensuring that their Vintage Port remains one of the most sought-after wines. AXA is a group which already includes a string of leading Bordeaux châteaux.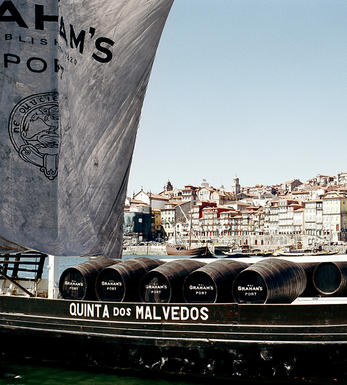 Vintage Port
Vintage Port accounts for only a small percentage of the total Port production - which includes Tawny, Ruby, Late Bottled Vintage, Single Quinta Vintage styles, among others - but is the finest, longest-lived and most expensive style that is produced. The best are as good as any wine in existence.
With the exception of legendary vineyards like Quinta do Noval Nacional and Quinta do Vesuvio, Vintage Port is made from a blend of wines from a producer's finest plots. It is aged for around 18 months in wooden casks before bottling; from then on the watch-word is patience. At least 15 years ageing – and for the top wines it will be significantly longer – is required before the tannins, spirit and fruit are fully integrated. Indeed, the finest examples can last well over 50 years.
Vintage Port is only made in exceptional years (normally around three times per decade) with considerable stylistic variation between different years and shippers. However, they all share a sweet, warming, spicy richness, power and complexity. In other good but not great vintages, many shippers produce a Single Quinta Vintage Port from their finest vineyard. These are made in the same way and have the same style as Vintage Port but tend to mature faster and are less profound. All Vintage Port throws a sediment as it matures, and thus requires decanting.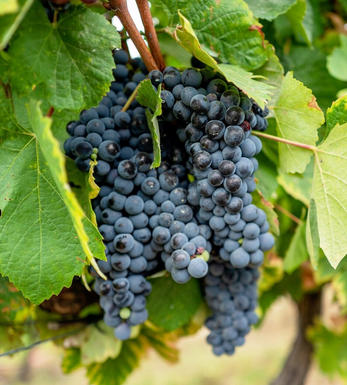 Port Blend
There are around 40 different grape varieties permitted in the production of Port - however the vast majority of Ports are produced from a blend of 5 grapes - Touriga Nacional, Touriga Francesca, Tinta Barroca, Tinta Roriz, and Tinto Cão.
Touriga Nacional produces small, dark-skinned grapes that produce opaque black wines of great extract and high tannins - it gives grip, body, and structure to the blend.
Touriga Franca has a thinner skin and consequently produces wines lighter in colour and tannins than Touriga Nacional. It contributes fruit, aroma, suppleness and roundness.
Tinta Roriz is the Portuguese name for Tempranillo and its high sugar content and low acidity contribute colour and fruit.
Tinta Barroca which is normally grown at highish altitudes and on north-facing slopes, is prized for producing wines of delicacy, finesse and with smooth, velvety fruit. It brings elegance and sweet, ripe fruit to the final blend.
Finally Tinto Cão produces fine and complex wines, though it is probably the least important of the 5 grapes as its painfully small yields have reduced plantings to almost insignificant levels.
Reviews
Customer reviews
Neal Martin, Vinous
95/100
Critic reviews
Neal Martin, Vinous
95/100
The 2018 Quinta do Noval is exuberant and calls out for attention on the nose: black plums, sage, cloves and potent scents of fireside hearth. Lovely definition here and very focused. The palate is medium-bodied with finely chiseled tannins, smooth and disarmingly harmonious. It fans out with confidence and delivers Oriental spices, hoisin, tobacco and black pepper on the very persistent finish. This is a superb Quinta do Noval.
Neal Martin, vinous.com (June 2020)
Not the most purple colour, though it is certainly concentrated … far from the most youthful looking. Vital, peppery nose with real attack. Lovely, seductive breadth on the palate – beautiful balance. Perhaps not the most ambitious and longest lived of Noval's vintage ports but it's pretty perfect in its youth. Spookily so really, for a wine style that is traditionally going strong after many decades in bottle. I'm scoring it on current impression and know that it may fail the classicist's test. Some may criticise this for being a bit of wimp by vintage port standards. I wonder whether it should have been released as a Silval?
Jancis Robinson MW, jancisrobinson.com (June 2020)
No percentages here but a blend of Touriga Nacional, Touriga Francesa, Tinto Cão and Sousão, picked over a long period from 5th September to 13th October: lovely deep, dark colour; dense, ripe, bold fruit (a touch hot country) on the nose; lovely super-ripe blackberry / cassis fruit initially, wonderful freshness, vitality and verve, backed by broad, ripe tannins and a long powerful finish. This has it all! 1600 cases in total, representing 7% of Noval's production.
Richard Mayson