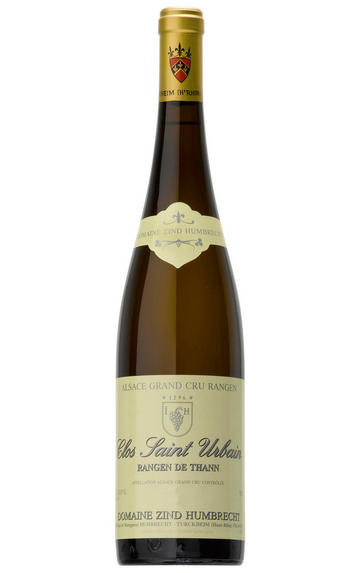 2018 Riesling, Clos Saint Urbain, Rangen de Thann, Grand Cru, DomaineZind-Humbrecht, Alsace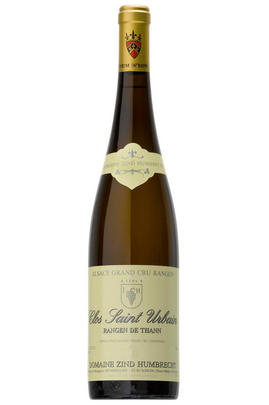 About this WINE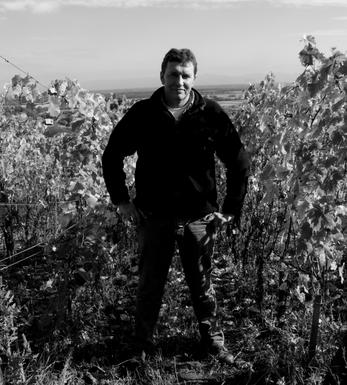 Domaine Zind Humbrecht
The wines of Olivier Humbrecht M.W. need little introduction, possessing great depth, exactitude as well as generosity…like the man himself.

The Humbrecht family viticultural roots can be traced back to The Thirty Years War of 1620. Today they own forty hectares across five villages in the Haut-Rhin, the southern half of the picturesque vineyards overlapping the Vosges foothills, treasured for its idyllic climate, tapestry of terroirs as much for its half-timbered houses.

The domaine has vines in 4 Grands Crus - Rangen (Thann) 5.5 ha, Brand (Turckheim) 2.4 ha, Hengst (Wintzenheim) 1.4 ha, Goldert (Gueberschwihr) 0.9 ha as well as Single Vineyards; Rotenberg (Wintzenheim) 1.8 ha, Clos Häuserer (Wintzenheim) 1.2 ha, Herrenweg (Turkheim) 11.5 ha, Clos Jebsal (Turkheim) 1.3 ha, Heimbourg (Turkheim) 4 ha and Clos Windsbuhl (Hunawihr) 5.2 ha.

Olivier has arguably overseen the most notable improvements in the estate's illustrious history: a new cellar in 1992 while retaining the traditional 'foudre' oval barrels; initiating biodynamic practices in 1997 (certified in 2002); and the buying of a horse in 2006 to plough the vineyards!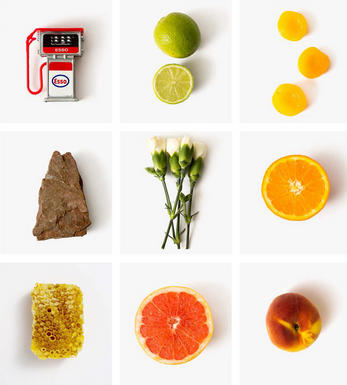 Riesling
Riesling's twin peaks are its intense perfume and its piercing crisp acidity which it manages to retain even at high ripeness levels.
In Germany, Riesling constitutes around 20% of total plantings, yet it is responsible for all its greatest wines. It is planted widely on well-drained, south-facing slate-rich slopes, with the greatest wines coming from the best slopes in the best villages. It produces delicate, racy, nervy and stylish wines that cover a wide spectrum of flavours from steely and bone dry with beautifully scented fruits of apples,apricots, and sometimes peaches, through to the exotically sweet flavours of the great sweet wines.
It is also an important variety in Alsace where it produces slightly earthier, weightier and fuller wines than in Germany. The dry Rieslings can be austere and steely with hints of honey while the Vendages Tardives and Sélection de Grains Nobles are some of the greatest sweet wines in the world.
It is thanks to the New World that Riesling is enjoying a marked renaissance. In Australia the grape has developed a formidable reputation, delivering lime-sherbet fireworks amid the continental climate of Clare Valley an hour's drive north of Adelaide, while Barossa's Eden Valley is cooler still, producing restrained stony lime examples from the elevated granitic landscape; Tasmania is fast becoming their third Riesling mine, combining cool temperatures with high UV levels to deliver stunning prototypes.
New Zealand shares a similar climate, with Riesling and Pinot Gris neck to neck in their bid to be the next big thing after Sauvignon Blanc; perfectly suited is the South Island's Central Otago, with its granitic soils and continental climate, and the pebbly Brightwater area near Nelson. While Australia's Rieslings tend to be full-bodied & dry, the Kiwis are more inclined to be lighter bodied, more ethereal and sometimes off-dry; Alsace plays Mosel if you like.