About this WINE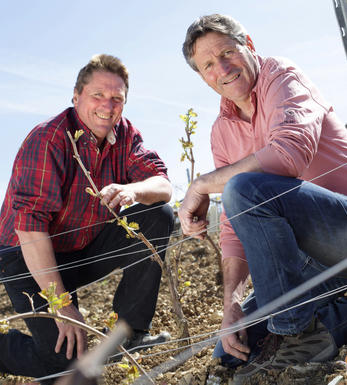 Didier & Pascal Picq
Brothers Didier and Pascal Picq head up this domaine, based in Chichée, just south of the town of Chablis. Didier is in charge of winemaking, while his brother Pascal looks after the vineyards. Their father Gilbert retired in 1976, but the domaine still proudly bears his name.
About the domaine
The Picq family have farmed the land around the hamlet of Chichée for generations, with the single ambition of transmitting their distinctive terroir faithfully. For the two brothers – who have been at the helm for over 40 years – this has meant respecting the soil, controlling yields, preserving older vines, using natural yeast, vinifying without oak and applying only light filtration.
The domaine produces up to six different cuvées each year, all of which are fermented and aged in stainless steel; no oak is used. The result is opulent, generously flavoured Chablis, with notes of honey, citrus pith and white pepper. The exception is the Premier Cru Vaucoupin, which has a steely, mineral concentration requiring some age to bring out its full potential.
In the vineyard
As well as its small holdings in two premiers crus, the domaine has some old vines in well-sited village parcels around the hamlet of Chichée. The range of soils include pure Kimmeridgian limestone, and a blend of limestone and marl each of which imparts its own character to the wine. To control yields, they prune severely in winter and de-bud twice in spring.
In the winery
The domaine produces a number of cuvées: a Chablis blended from 12 different plots, a vielle vigne bottling from a tiny plot of 60-to-70-year-old vines, and two premier cru bottlings, Vosgros and Vaucoupin.
All wines are fermented with indigenous yeasts, and only stainless steel is used for fermentation and aging, even for the two premiers crus. All wines undergo full malolactic fermentation; no fining is applied, and only a light filtration before late bottling.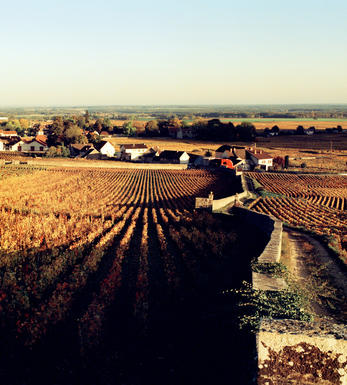 Burgundy
Burgundy never quite achieved its political ambitions of being a kingdom in its own right, but for many, the region produces some of the most regal red and white wines in the world.
In Burgundy there are 100 different appellations, numerous individual vineyards and more than 3,000 individual producers. Around 15 million cases are produced annually from 26,500ha of vines in Burgundy, which is usually sub-divided into five regions: Chablis in the Yonne department; the Côte de Nuits and Côte de Beaune in the department of the Côte d'Or; and the Chalonnais and Mâconnais in the Saone-et-Loire.
The world's most famous white wine grape may have originated in Burgundy, where there's a village called Chardonnay (near Mâcon). This marvellous, full-bodied grape responds well to barrel ageing and can produce wines of great complexity that can age for decades. More often than not though, in recent times, the wines are better enjoyed in their youth. The simpler white wines of Chablis to the north, and the Mâconnais in the south, are usually made in stainless steel to preserve freshness.

The heartland for white Burgundy is the Côte de Beaune with its three great villages, Meursault, Puligny-Montrachet and Chassagne-Montrachet. Here the vineyard classification system really comes into its own. On the flattest land, the wines will be classed only as generic Bourgogne Blanc; as the slope begins to rise, the wines are designated by the name of their village. At mid-slope, the finest vineyards (whose wines are bottled separately) are categorised as Premier Cru (eg Les Charmes) or Grand Cru (Le Montrachet).

Though attractive wines can be found in the Côte Chalonnais (Mercurey, Givry), the great red wines of Burgundy are found in the Côte d'Or. The line of magical villages which constitutes the Côte de Nuits, Gevrey-Chambertin, Morey-St Denis, Chambolle-Musigny, Vougeot, Vosne-Romanée and Nuits-St Georges is practically a roll call of great names. The Côte de Beaune competes through such gems as Volnay and Pommard, which are adjacent yet contrasting villages: lacy elegance for the wines of Volnay, while sturdy and more structured in those from Pommard.
Whereas Burgundy used to be considered a veritable minefield because of the complexity of choice, these days it is more of a playground for the adventurous wine lover, thanks to the vast increase in number of quality-conscious, properly-trained producers.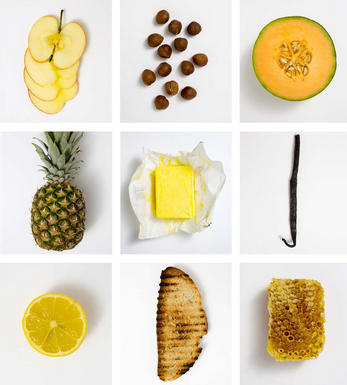 Chardonnay
Chardonnay is the "Big Daddy" of white wine grapes and one of the most widely planted in the world. It is suited to a wide variety of soils, though it excels in soils with a high limestone content as found in Champagne, Chablis, and the Côte D`Or.

Burgundy is Chardonnay's spiritual home and the best White Burgundies are dry, rich, honeyed wines with marvellous poise, elegance and balance. They are unquestionably the finest dry white wines in the world. Chardonnay plays a crucial role in the Champagne blend, providing structure and finesse, and is the sole grape in Blanc de Blancs.
It is quantitatively important in California and Australia, is widely planted in Chile and South Africa, and is the second most widely planted grape in New Zealand. In warm climates Chardonnay has a tendency to develop very high sugar levels during the final stages of ripening and this can occur at the expense of acidity. Late picking is a common problem and can result in blowsy and flabby wines that lack structure and definition.

Recently in the New World, we have seen a move towards more elegant, better- balanced and less oak-driven Chardonnays, and this is to be welcomed.