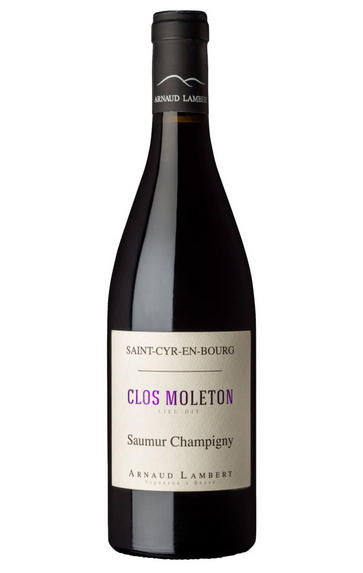 2019 Saumur-Champigny, Clos Moleton, Arnaud Lambert, Loire
Prices start from £260.00 per case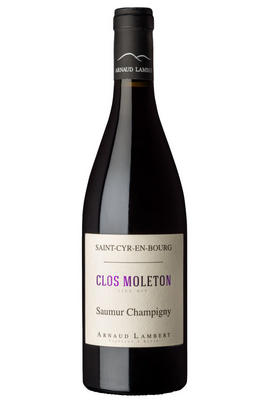 Critics reviews
Rebecca Gibb MW, Vinous
95/100
The 2019 is a ripe yet balanced style offering the light- to medium-weight style that is so classic of Saumur-Champigny. Clos Moleton is a terroir made of clay over limestone. The silken, soft, roundness of clay shows on the mid-palate, but the limestone bedrock is just 60cm below the surface. 
The tannins provide a mass of finely textured chalkiness. Young, primary in style with a fine line of acidity that acts like an arrow through the mouth carrying the black cherry, raspberry, olive tapenade and rosemary-like fragrance on and on. Far too young to drink; give this at least five years but based on this site's history, best consumed at 8-20 years.
Drink 2024 - 2039
Rebecca Gibb MW, Vinous.com (June 2022)
Certified organic.
Deep, bright crimson. Ripe but fresh with a mix of dark- and red-fruit notes. Suave and smooth on the palate but structured and long at the same time. Clean and well-balanced. It's delicious now, but there's more to come.
Drink 2023 - 2032
James Lawther MW, JancisRobinson.com (June 2023)
About this WINE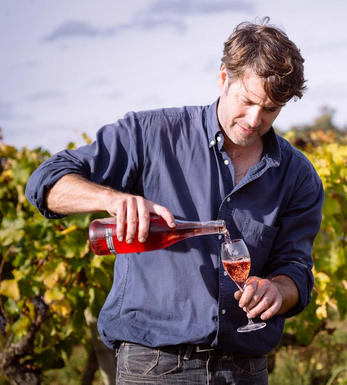 Domaine Arnaud Lambert
Domaine Arnaud Lambert is located in the Anjou region, specifically in the village of Saint-Cyr-en-Bourg. The estate's substantial 50-hectare holdings are situated in Saint-Cyr and Brézé, in the appellations of Saumur and Saumur-Champigny.
Arnaud Lambert began working on the family vineyards in 2005 and decided in 2009 to transition them to organic and biodynamic farming practices. His focus is always on quality, and he firmly believes that these methods enhance the quality of the grapes and help to express the true essence of the terroir in his wines.
Today, the estate is certified organic and biodynamic, reflecting its commitment to sustainable viticulture and respect for the environment. Arnaud is also innovating in the vineyard, no longer trimming his vines but instead using tressage (a technique of folding the foliage) to help manage the effects of warmer and drier summers.
The domaine has a wide array of single vineyard cuvées, each expressing its character through careful and considered winemaking. For instance, Arnaud uses yeasts that he has selected from their indigenous populations to have greater precision with fermentations. He is also a strong advocate of the need for extended ageing in oak barrels for his top wines to avoid reinforcing Cabernet Franc's austerity. His key focus is to make wines that retain freshness and purity in the face of a changing climate.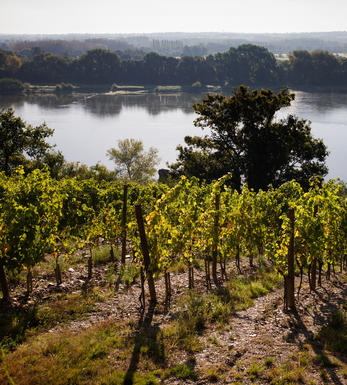 Saumur-Champigny
The Saumur-Champigny wine region is located in the Loire Valley of France, specifically within the Anjou-Saumur area. It is renowned for producing high-quality red wines from Cabernet Franc and has held the prestigious designation of an Appellation d'Origine Contrôlée (AOC) since 1957.
Geographically, the region is situated on the banks of the Loire River, characterized by a diverse terroir that contributes to the unique characteristics of its wines. The vines benefit from a temperate climate influenced by the river, with warm summers and mild winters. The surrounding landscape features limestone slopes and a mix of clay, gravel, and sand soils, providing excellent drainage and ideal conditions for grape cultivation.
The dominant grape variety in Saumur-Champigny is Cabernet Franc, known locally as "Breton." It thrives in the region's terroir and produces red wines renowned for their elegance, finesse, and aromatic complexity. Cabernet Franc from Saumur-Champigny is typically characterized by its vibrant red fruit flavors, including raspberry, red currant, and cherry, along with herbal and floral notes such as violet and graphite.
Winemaking in Saumur-Champigny emphasizes the expression of the grape variety and the unique terroir. Vineyard practices include meticulous grape selection, manual harvesting, and sustainable viticultural techniques. Many producers are also adopting organic and biodynamic farming methods to enhance the quality and authenticity of the wines.
Saumur-Champigny wines are typically aged in various vessels, including stainless steel tanks, oak barrels, or a combination, depending on the winemaker's preferences. The aging process allows the wines to develop further complexity and refine their structure.
These red wines are celebrated for versatility, making them suitable for immediate consumption and aging, and they pair well with various dishes, including roasted meats, game, charcuterie, and cheeses.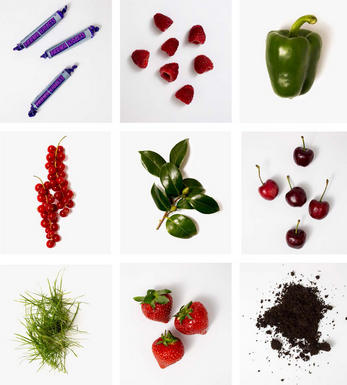 Cabernet Franc
Cabernet Franc is widely planted in Bordeaux and is the most important black grape grown in the Loire. In the Médoc it may constitute up to 15% of a typical vineyard - it is always blended with Cabernet Sauvignon and Merlot and is used to add bouquet and complexity to the wines. It is more widely used in St.Emilion where it adapts well to the cooler and moister clay soils - Cheval Blanc is the most famous Cabernet Franc wine in the world, with the final blend consisting of up to 65% of the grape.
Cabernet Franc thrives in the Loire where the cooler growing conditions serve to accentuate the grape's herbaceous, grassy, lead pencil aromas. The best wines come from the tuffeaux limestone slopes of Chinon and Bourgeil where growers such as Jacky Blot produce intense well-structured wines that possess excellent cellaring potential.