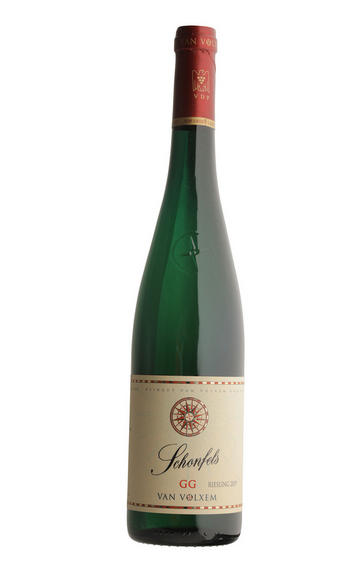 2019 Riesling, Schonfels, Grosses Gewächs, Van Volxem, Mosel, Germany
Prices start from £33.50 per bottle (75cl).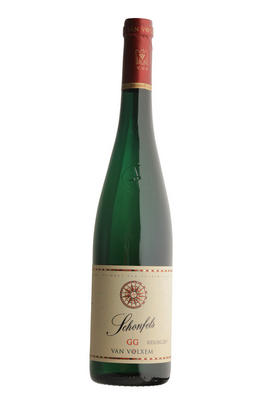 Critics reviews
One could almost call the Schonfels the fruity one of Van Volxem's Grosse Gewächse, as certainly on the nose yellow fruit gets the better of herbal or mineral aromas. This does not mean that it is one dimensional, as certainly rocky and stony nuances stake their mineral claim on the palate, yet there still remains enough room for stone and citrus fruit to express themselves.
Drink 2021 - 2029
Jancis Robinson MW, jancisrobinson.com (October 2020)
About this WINE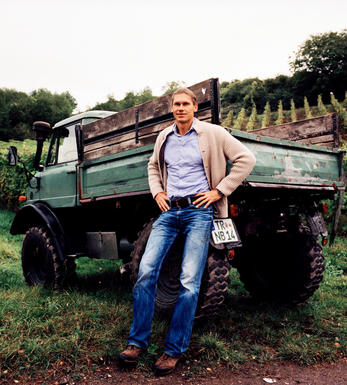 Van Volxem
Van Volxem is located at the centre of Wiltingen, the most celebrated commune of the Saar Valley. Rising in the Vosges Mountains and joining the more famous Mosel near Trier, the Saar river is home to some of the finest and most dramatic slate vineyards in Germany.

Located on the site of a Jesuit monastery, Van Volxem has been restored to its former glories by the investment, initiative and flair of Roman Niewodniczanski. Standing tall at 2.4 metres (not far off 7 feet, I reckon) and not without lofty ambitions, Roman is determined to make this the finest property in Germany. Ambitious indeed, and thus far he's threating to fulfil this ambition. Eschewing the constraints of the Prädikat system, Roman is making late-harvest, low-yield vins de terroir, and making them very well indeed.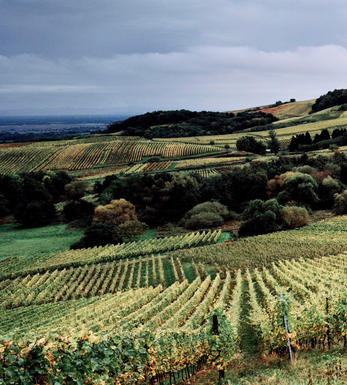 Mosel
In a piece of rebranding, 1st August 2007 saw the Mosel-Saar-Ruwer wine region officially renamed 'Mosel'. Despite this earth-shattering change the wine region remains one of - if not the – finest terroirs for Riesling in the world. With more than 6,400 wine growers cultivating 88 million vines across 10,400 ha of vineyards, this is Germany's third largest wine region in terms of production, but without doubt its most prestigious. Of the varieties grown here, 58% is Riesling, 18% is Müller-Thurgau, 8% the local Elbling and 7% Kerner. The rest is other German crossings.
With its steep, slate vineyards and tight hairpin bends, the Mosel River extends from the ancient Roman city of Trier to Koblenz where it joins the River Rhein. It meanders nearly 250 km to cover about half that distance as the crow flies. The river is split into three sections: the Upper, Middle and Lower Mosel. The Upper Mosel, which begins on the French and Luxembourg border, includes the River Saar and Ruwer tributaries and is centered around Trier. Here the wines are characterised by their intense fruitiness, high acidity and low alcohol content (6%-9%).
The Middle Mosel begins at the village of Zell and extends to just north of Schweich, passing the famous villages of Bernkastel and Piesport. Here more than anywhere else, the slate-based soils bestow the wines with a lovely minerality. The Middle Mosel produces the finest, most complete examples of Riesling; in some cases the wines from here can age for more than 50 years. The Lower Mosel covers the region south of Koblenz down to Alf, next to Zell.
To add to their charm, intense fruit flavours and minerality, Mosel Rieslings often have a slight hint of effervescence giving them extra vitality. Most Kabinetts are at their best when young but the late and selectively harvested styles from Spätlesen upwards definitely benefit from ageing. The Mosel is also well known for its exceptional sweet wine Eiswein with a wonderful acidity balancing the intensely concentrated sugars from the frozen grapes.
With some vines planted at an astounding 70 degree gradient, mechanical harvesting is clearly impractical here. Indeed nearly seven times more man-hours are needed in the Mosel over the course of a season than in flatter regions like the Médoc. Given such production costs, prices here remain surprisingly fair.
Recommended Producers: Dr Loosen, Selbach-Oster, Van Volxem, Weingut Heymann-Löwenstein, Weingut Merkelbach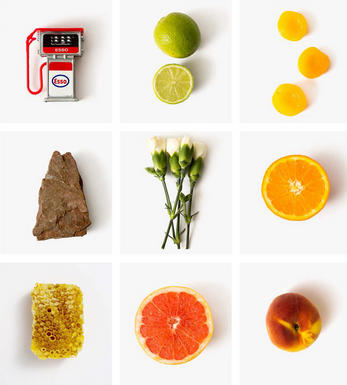 Riesling
Riesling's twin peaks are its intense perfume and its piercing crisp acidity which it manages to retain even at high ripeness levels.
In Germany, Riesling constitutes around 20% of total plantings, yet it is responsible for all its greatest wines. It is planted widely on well-drained, south-facing slate-rich slopes, with the greatest wines coming from the best slopes in the best villages. It produces delicate, racy, nervy and stylish wines that cover a wide spectrum of flavours from steely and bone dry with beautifully scented fruits of apples,apricots, and sometimes peaches, through to the exotically sweet flavours of the great sweet wines.
It is also an important variety in Alsace where it produces slightly earthier, weightier and fuller wines than in Germany. The dry Rieslings can be austere and steely with hints of honey while the Vendages Tardives and Sélection de Grains Nobles are some of the greatest sweet wines in the world.
It is thanks to the New World that Riesling is enjoying a marked renaissance. In Australia the grape has developed a formidable reputation, delivering lime-sherbet fireworks amid the continental climate of Clare Valley an hour's drive north of Adelaide, while Barossa's Eden Valley is cooler still, producing restrained stony lime examples from the elevated granitic landscape; Tasmania is fast becoming their third Riesling mine, combining cool temperatures with high UV levels to deliver stunning prototypes.
New Zealand shares a similar climate, with Riesling and Pinot Gris neck to neck in their bid to be the next big thing after Sauvignon Blanc; perfectly suited is the South Island's Central Otago, with its granitic soils and continental climate, and the pebbly Brightwater area near Nelson. While Australia's Rieslings tend to be full-bodied & dry, the Kiwis are more inclined to be lighter bodied, more ethereal and sometimes off-dry; Alsace plays Mosel if you like.