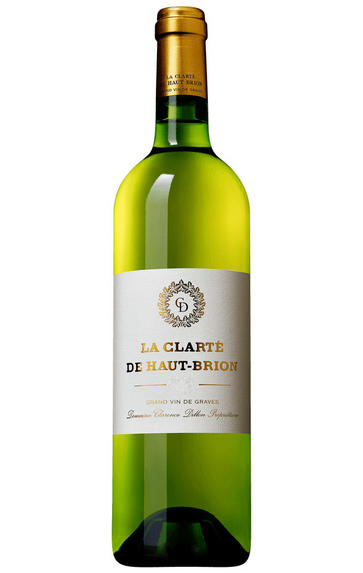 2020 La Clarté de Haut-Brion, Graves, Bordeaux
Prices start from £92.50 per bottle (75cl).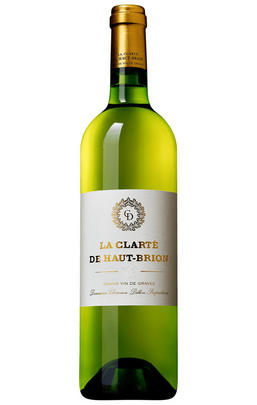 Critics reviews
Neal Martin, Vinous
89-91/100
The 2020 La Clarté de Haut-Brion has a light nose of apple orchard, freshly sliced pear and light crushed rock scents, although I would have liked to see more intensity. The palate is well balanced with a fine bead of acidity, and quite saline, displaying a welcome touch of bitter lemon toward the finish. This should give a decade of drinking pleasure.

Drink from 2023 to 2033

Neal Martin, Vinous (May 2021)
Antonio Galloni, Vinous
90-92/100
The 2020 La Clarté de Haut-Brion is airy, bright and gracious, all of which make it an excellent choice for drinking now and over the next handful of years. Citrus peel, white flowers, mint, sage and green apple are all laced together in this breezy, charming white.

Drink from 2025 to 2035

Antonio Galloni, Vinous (June 2021)
Powerfully rich with excellent weight through the mid palate. Silky in texture, seductive but balanced by an enjoyable touch of green apple and steel through the close of play. Harvest from 19th to 28th August.

Drink 2023 - 2027

Jane Anson, Decanter.com (May 2021)
The 2020 La Clarté de Haut-Brion is a blend of 74.8% Sémillon and 25.2% Sauvignon Blanc, harvested from 19th to 28th August, with an estimated alcohol of 13.4%. It opens with intense notes of fresh pineapple, white peaches and lemon curd with suggestions of honeysuckle, paraffin wax and chalk dust. The medium to full-bodied palate delivers bags of juicy peaches and citrus flavors, accented by tropical fruit opulence and supported with refreshing acidity, finishing with a spicy kick.

Drink 2023 - 2031

Lisa Perrotti-Brown MW, Wine Advocate (May 2021)
Jancis Robinson MW
16.5+/20
Cask sample taken 12 April. 74.8% Sémillon, 25.2% Sauvignon Blanc picked 19 to 28 August. Estimated alcohol 13.4%. Very dense and limpid and immediately offering so much more than the other dry whites from this appellation. Smoky minerality and an amazing floral freshness. White blossom? Then it's surprisingly lightweight on the palate (after that dense nose). This really races along. Sort of like a Victorian child with a hoop, to venture in to Tam territory. Already lots of fun to drink, with low astringency and good fruit/acid balance. Though not especially persistent.

Drink 2023 - 2025

Jancis Robinson MW, jancisrobinson.com (April 2021)
Very structured second wine with density and freshness. It's full-bodied and creamy with a flavorful, lightly chewy palate. About 75% semillon, the rest sauvignon.

James Suckling, jamessuckling.com (April 2021)
Michael Schuster
90-92/100
Pale, cloudy; slightly reduced and fairly closed; full and supple; dry, broad, and very Semillon in style, guava and melon core-flavor, pure, with a nice concentration, good length across the palate, if not the vitality and "race" of a vintage like the 2017 or 2014, for example, and with nice aromatic persistence. You do taste the vintage here, at least in this locale and with these winemaking choices. It's good, and it is nicely balanced, but it lacks a bit of tension and drive. To drink relatively young. 

Drink 2023 - 2030

Michael Schuster, The World of Fine Wine (May 2021)
About this WINE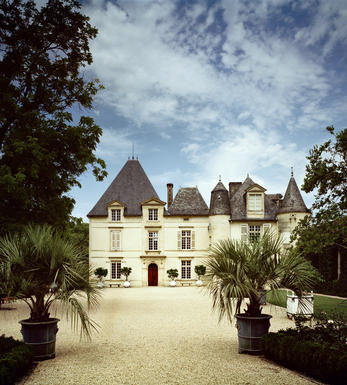 Chateau Haut-Brion
The only property from outside the Médoc to be included in the 1855 Classification, Haut-Brion's viticultural history can be traced back further than its Médoc First Growth counterparts. Samuel Pepys even mentions it in his diaries. Situated in what is now Pessac-Léognan, the property finds itself now in the suburbs of the ever-encroaching city of Bordeaux.

After falling into a state of disrepair the estate was purchased in 1935 by Clarence Dillon, an American financier, since when it has enjoyed a steady and continual resurgence to a position of pre-eminence. Dillon's great-grandson, Prince Robert of Luxembourg, now runs the estate, but a key influence in the reputation which Haut-Brion enjoys today is the Delmas family. George Delmas was manager and wine-maker until 1960, when his son Jean-Bernard took over. Jean- Bernard was a visionary figure, responsible for a number of important innovations, and on his retirement in 2003 his son Jean-Philippe took over as Directeur Générale.

The vineyard is planted to 40% Cabernet Sauvignon, 37% Merlot and 18% Cabernet Franc. A stunning white wine is also made, from a part of the vineyard which is 63% Semillon and 37% Sauvignon Blanc. Production is smaller than at the other First Growth Wines, totalling about 20,000 cases, shared between the Grand Vin and a second wine, formerly called Bahans-Haut-Brion but changed in 2007 to Clarence de Haut-Brion in recognition of Clarence Dillon. Production of Haut Brion Blanc is minute, less than 800 cases in most years.

Beginning with the 2009 vintage a new white wine was introduced in the place of Clarence: La Clarté de Haut-Brion, the offspring of Domaine Clarence Dillon's two prestigious white wines: Château Haut-Brion Blanc and Château La Mission Haut-Brion Blanc.

Fermentation of the red wines takes place in stainless steel vats, after which the wine will spend 22 months, sometimes more, in new oak barrels before being bottled unfiltered. For the white wine fermentation takes place in new oak barrels, after which the wine spends a further year to 15 months on its lees in barrel before bottling. The white wine is truly sensational, equivalent in class to a top-flight White Burgundy Grand Cru, but its scarcity means that it is rarely seen.

The red wine is no less extraordinary; at its best it displays text-book Graves characteristics of cigar-box, curranty fruit, earth, smoky spice and cassis. The high Merlot content, compared to the Médoc First Growths, gives it a voluptuous edge, but does not in any way detract from its ability to age.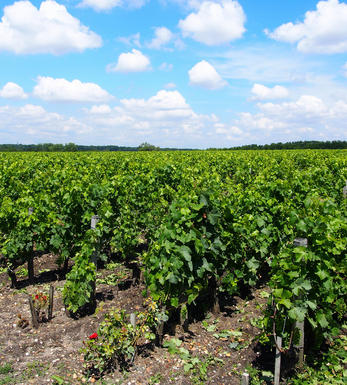 Pessac-Leognan
In 1986 a new communal district was created within Graves, in Bordeaux, based on the districts of Pessac and Léognan, the first of which lies within the suburbs of the city. Essentially this came about through pressure from Pessac-Léognan vignerons, who wished to disassociate themselves from growers with predominately sandy soils further south in Graves.
Pessac-Léognan has the best soils of the region, very similar to those of the Médoc, although the depth of gravel is more variable, and contains all the classed growths of the region. Some of its great names, including Ch. Haut-Brion, even sit serenely and resolutely in Bordeaux's southern urban sprawl.

The climate is milder than to the north of the city and the harvest can occur up to two weeks earlier. This gives the best wines a heady, rich and almost savoury character, laced with notes of tobacco, spice and leather. Further south, the soil is sandier with more clay, and the wines are lighter, fruity and suitable for earlier drinking.
Recommended Châteaux: Ch. Haut-Brion, Ch. la Mission Haut-Brion, Ch. Pape Clément, Ch Haut-Bailly, Domaine de Chevalier, Ch. Larrivet-Haut-Brion, Ch. Carmes Haut-Brion, Ch. La Garde, Villa Bel-Air.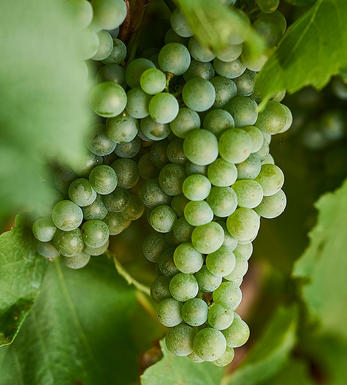 Sauvignon Blanc & Sémillon
The blend used for White Graves and Sauternes and rarely encountered outside France. In the great dry whites of Graves, Sauvignon Blanc tends to predominate in the blend, although properties such as Smith Haut Lafite use 100% Sauvignon Blanc while others such as Laville Haut Brion have as much as 60% Sémillon in their final blends. Sauvignon Blanc wines can lose their freshness and fruit after a couple of years in bottle - if blended with Sémillon, then the latter bolsters the wine when the initial fruit from the Sauvignon fades. Ultimately Sauvignon Blanc gives the wine its aroma and raciness while Sémillon gives it backbone and longevity.
In Sauternes, Sémillon is dominant, with Sauvignon Blanc playing a supporting role - it is generally harvested about 10 days before Sémillon and the botrytis concentrates its sweetness and dampens Sauvignon Blanc`s naturally pungent aroma. It contributes acidity, zip and freshness to Sauternes and is an important component of the blend.