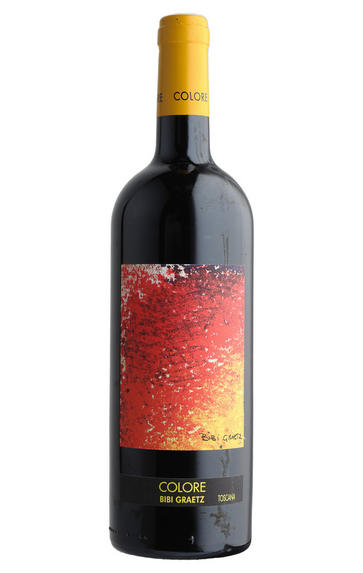 2020 Colore, Bibi Graetz, Tuscany, Italy
Prices start from £500.00 per case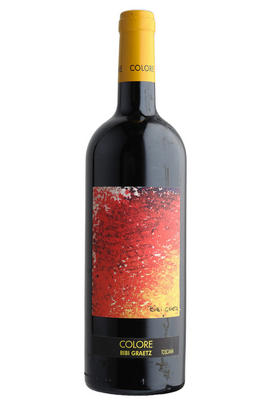 Critics reviews
A reliably brilliant Colore, full of life, generosity and pleasure. This is perfumed and nuanced, plenty of sage, liqourice root, white pepper, dried roses and campfire soot, against a pristine set of raspberry, damson and fresher redcurrant and greengage fruits. Concentration builds slowly through the palate to show slightly higher tannic grip that Testamatta - although one of the things I enjoy about the Graetz wines is that both Testamatta and Colore have their distinct characters, but it is never clear which one is the 'better' wine. Colore comes from the oldest vineyards of Sangiovese that stretch from 80 to 130 years old, harvested slowly and methodically by going up to eight times through the rows to ensure the right level of maturity before picking - obsessional winemaking that bears results in the glass.

Drink 2024 to 2038

Jane Anson, Inside Bordeaux (August 2022)
The Bibi Graetz 2020 Colore is a pure expression of Sangiovese all sourced from old vines that are carefully selected in various parts of Tuscany. Much of the fruit comes from a high elevation and cool site in Lamole, or from 70-year-old vines in Bagno a Ripoli or Vincigliata near Fiesole. A small percentage of old vines in Olmo is also used.
Bibi has a preference for old vines, and you can taste the lovely depth and complexity that comes through in the Colore. Compared to his other wine Testamatta, this wine has seen fewer stylistic changes over the years, and the goal has always been elegance and finesse. Colore boasts a pretty luminous quality with dark fruit aromas and wild berry. There are hints of licorice and mint as well. Mineral flavors and bright acidity are what set Colore apart.
Drink 2023 - 2045
Monica Larner, Wine Advocate (June 2022)
The subtlety and perfumed nature of this wine is enchanting, offering flowers, orange peel and cherries. Wonderful ripe strawberries, too. Full-bodied, but not over the top, with tannins that are polished and run the length of the wine. It's tight, but gives you every indication of a terrific wine. You want to drink it now, and you probably should do, because it's so alluring. Yet it will age beautifully as well.
Drink or hold
James Suckling, JamesSuckling.com (July 2022)
Bright and lively on the palate, such beautifully expressed raspberry and red cherry fruit flavours alongside high-shining acidity that is so clean and precise. A supremely joyful expression with hints of caramelised strawberries and fresh mint. So sharp but so well defined with a clarity to the palate that is gorgeous. Really delivers a sophisticated, charming, characterful wine that is balanced, easy to enjoy with plenty of life.
A more structured and perhaps harder to understand wine than Testamatta this year, but both have their own lovely personalities. This is so complete and abundant, muscular but controlled and full of complexity and detail - there's weight and density without heaviness. A sensational wine. Ageing 12 months in 500l French oak barrels.
Drink 2025 - 2040
Georgina Hindle, Decanter.com (August 2022)
The Wine Independent
96/100
The 2020 Bibi Graetz Colore has beautiful, appetising aromas of savory wild herbs, wild-flowers and Mediterranean shrub with a light peppery note and on standing there is an aroma of strawberries warmed in the sun. The palate is round and soft, then mouth-wateringly fresh, then it finishes with savory, salty tannins. What I love is that the flavours are clearly delineated and remind me of Sangiovese and the Tuscan landscape with bitter cherry, light sea salt, iron tonic and wild herb notes. The flavors are quite fragile but persistent, the texture is fine and silky and there is a lot of savory, mineral tension in this wine.

Drink 2023 to 2042

Susan Hulme , The Wine Independent (January 2023)
About this WINE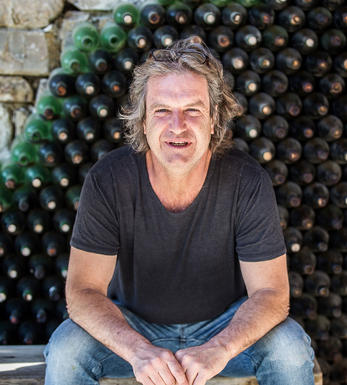 Bibi Graetz
Born in 1973 in Florence, Italy, Bibi Graetz comes from a family of artists, which profoundly influenced his winemaking philosophy. He studied art and sculpting before eventually turning his passion to winemaking, which he considers an art form in itself.
In the late 1990s, Bibi Graetz started his journey in winemaking by acquiring vineyards in the hills of Fiesole, near Florence, Tuscany. These vineyards, some more than 200 years old, became the foundation for his winery, Azienda Agricola Testamatta, which translates to "Crazy Head Farm."
One of Graetz's fundamental principles is to work with traditional Tuscan grape varieties, such as Sangiovese, Colorino, and Canaiolo, but with a contemporary and artistic approach. He believes in organic and biodynamic farming practices, respecting the land's natural balance and allowing the terroir to express itself in his wines.
Bibi Graetz's winemaking style is characterised by small production, meticulous attention to detail, and an experimental spirit. He embraces minimal intervention during winemaking, preferring to let the grapes speak for themselves. The result is wines with a distinct sense of place, displaying the unique flavours and characteristics of the Tuscan terroir.
His wines have gained widespread recognition and critical acclaim for their exceptional quality and distinctive character. Some of his most famous wines include "Colore," a complex and age-worthy red blend, and the "Testamatta" series, which includes "Testamatta" and "Testamatta Rosso," showcasing his commitment to crafting exceptional Sangiovese wines.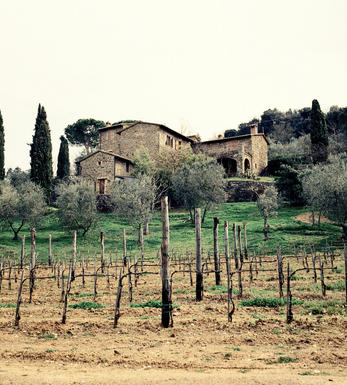 IGT Tuscany
IGT (Indicazione Geografica Tipica) Tuscany is a wine classification from Italy's Tuscany region. It is one of the official wine classifications recognized by the Italian government. IGT is a step below the highest classification, DOCG (Denominazione di Origine Controllata e Garantita), and above the DOC (Denominazione di Origine Controllata) level.
The IGT classification was introduced in 1992 to allow winemakers more flexibility in grape varieties and employ winemaking techniques while still ensuring a certain level of quality and geographical indication. This classification gives winemakers more freedom to experiment and innovate, deviating from the strict regulations of the DOC and DOCG classifications.
IGT Tuscany wines can be produced throughout the entire region of Tuscany, encompassing various sub-regions and terroirs within the area. This classification allows winemakers to use traditional Tuscan grape varieties, such as Sangiovese, and non-traditional grape varieties, including international ones like Cabernet Sauvignon, Merlot, Syrah, and others.
The IGT Tuscany classification gives winemakers the flexibility to create wines that showcase the unique characteristics of their specific vineyards and winemaking styles. It allows for experimentation with blending different grape varieties, using innovative winemaking techniques, and exploring new regional vineyard sites.
IGT Tuscany wines can vary greatly, from traditional and terroir-driven expressions to more modern and international styles. This classification has played a significant role in developing Super Tuscan wines, often IGT designated and known for their high quality and international recognition.
Overall, IGT Tuscany provides a platform for winemakers in the region to express their creativity and produce wines that reflect their unique vision while maintaining a connection to the rich heritage and traditions of winemaking in Tuscany.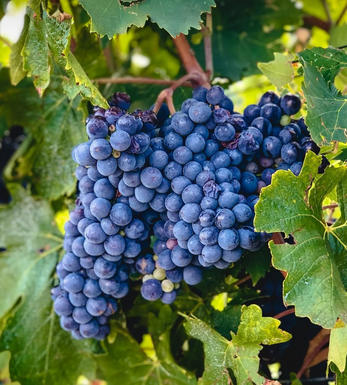 Sangiovese
A black grape widely grown in Central Italy and the main component of Chianti and Vino Nobile di Montepulciano as well as being the sole permitted grape for the famed Brunello di Montalcino.
It is a high yielding, late ripening grape that performs best on well-drained calcareous soils on south-facing hillsides. For years it was blighted by poor clonal selection and massive overcropping - however since the 1980s the quality of Sangiovese-based wines has rocketed upwards and they are now some of the most sought after in the world.
It produces wines with pronounced tannins and acidity, though not always with great depth of colour, and its character can vary from farmyard/leather nuances through to essence of red cherries and plums. In the 1960s the advent of Super Tuscans saw bottlings of 100% Sangiovese wines, as well as the introduction of Sangiovese/Cabernet Sauvignon blends, the most famous being Tignanello.