 2021 Pinot Gris, Estate, Hugel, Alsace Critics reviews
A charming dry pinot gris that has a striking hint of copper color. Ripe, generous and juicy with just a touch of tannin that helps anchor the richness. Almost silky finish with hints of toasted almonds and smoke. Drink or hold.
James Suckling, JamesSuckling.com 
The 2021 Pinot Gris Estate was harvested mainly from the Pflostig site, with just 6,000 bottles produced. Exceptionally, this spends a little time in five-year-old pièce that were used for Pinot Noir. The nose has subtle smoke alongside faint hints of russet pear. The palate shows juicy yellow pear fruit and a fair amount of creaminess alongside a pithy pear peel structure. This packs a punch and is a full-bodied wine with much power that easily accommodates its 8.5 g/L of residual sugar. (Dry).
Drink 2023-2040
Anne Krebiehl MW, Vinous
About this WINE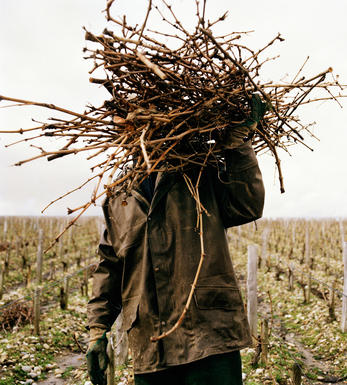 Hugel et Fils
Now run by the 13th generation, Hugel is one of the oldest family estates in Alsace. Hugel enjoys a well-earned reputation for its wines at every level, but particularly for its dry Grand Cru Riesling and the sweet late-harvest and botrytised styles.
About the producer
Hugel was founded in Riquewihr in 1639 by Hans Ulrich Hugel. It has remained in the family ever since. The modern era here began in 1902 when Frédéric Emile Hugel moved the business to premises in the centre of the village. He was a true pioneer of Alsace wines, responsible for obtaining official recognition for the late-harvest Vendange Tardive and botrytised Sélection de Grains Nobles wines. The domaine continues to make some of the finest examples of these styles.
The family makes wine using fruit from its own vineyards and from local growers with whom they have long-term contracts. The range includes wines from all the regional varieties, though as with most top Alsatian producers, it is Hugel's Rieslings which are most highly prized.
In the vineyard
The Hugel family's vineyards cover more than 25 hectares, exclusively in Riquewihr, almost half of which are classified as Grand Cru. The vineyards, whose average vine age is at least 30 years, are managed organically. Yields are rigorously controlled by trellising methods, canopy management and thinning of excess bunches. Harvest is done by hand, where careful selection also manages yields.
As well as farming their own estate, the family purchase grapes from growers under long-term contract, farming more than 100 hectares. This enables Hugel to use fruit from a dozen of the best villages in the surrounding areas.
In the winery
Grapes are inspected and sorted on arrival to the winery, and presses are filled by gravity. Both stainless-steel tanks and oak foudres are used for maturation, varying depending on the grape variety and quality level.
Hugel divide their extensive range into four levels: Famille Hugel Classics, made from purchased fruit; Famille Hugel Estate, made exclusively from estate-grown grapes; Hugel Tradition and Famille Hugel Grossi Laüe (formerly Hugel Jubilee), both using a combination of purchased and estate grapes, from the most favoured sites in the portfolio.
The range also includes separate categories for their Vendange Tardive and Sélection de Grains Nobles wines, Gentil (a blend of regional varieties) and a wine from Grand Cru Schoenenbourg called Riesling Schoelhammer, launched in 2007.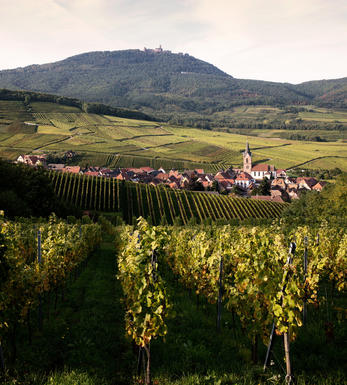 AOC Alsace
In Alsace, the wines generally take their name from the grape variety from which they are made, and not from their terroir.

AOC Alsace wines must be made from one of the eight permitted grape varieties in the appellation, namely Riesling, Gewürztraminer, Pinot Gris, Pinot Noir, Pinot Blanc, Muscat, Chasselas and Sylvaner. The wine label may also display the terms 'Edelzwicker' or 'Gentil' (for a blend of several white wine varietals), or a geographical indication such as the name of the village or vineyard.
In exceptional years, AOC Alsace (as well as AOC Alsace Grand Cru) wines may be promoted to one of two specific classifications: Vendanges Tardives or Sélection de Grains Nobles which apply to rare, naturally rich and sweet late-harvest wines.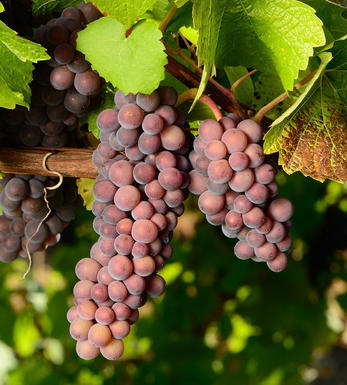 Pinot Gris/Pinot Grigio
A first class grape variety grown in Alsace, where it is known as Tokay Pinot Gris, and in Italy, where it is called Pinot Grigio. In Alsace it is best suited to the deep, clay rich soils found in the north of the region where it produces richly honeyed, dry whites as well as superb sweet late harvest wines. At its best it combines the heady perfume and rich aroma of Gewürztraminer with the acidity one associates with Riesling. It ages very well, developing rich buttery characteristics.
In Northern Italy Pinot Grigio produces many thin undistinguished dry whites. However it comes into its own in Friuli-Venezia and the Alto Adige, where leading producers such as Alvaro Pecorari of Lis Neris produce marvellously rounded, elegant, and mineral laden examples. Pinot Gris is now grown with notable success in Oregon in the USA and in New Zealand.