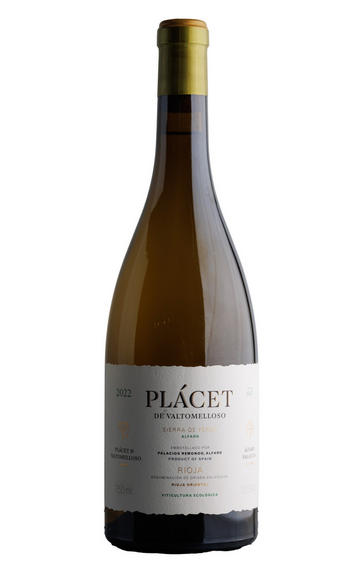 2022 Plácet, Valtomelloso, Palacios Remondo, Rioja, Spain
Prices start from £25.50 per bottle (75cl).
About this WINE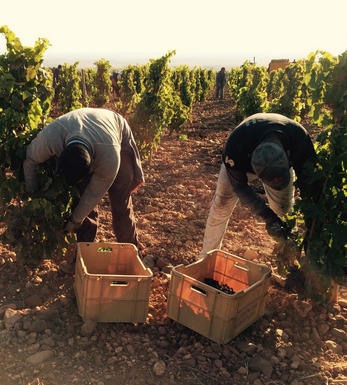 Bodegas Palacios Remondo
Bodegas Palacios Remondo is based in Alfaro in the Rioja Oriental. This old family firm has been revitalised by the arrival of Alvaro Palacios who has already made his name, starting from scratch, with his extraordinary Priorat wines.
He has since returned to the family property in Rioja Oriental, and in a very short space of time, has decreased production by 60% and increased quality by a far higher factor. The most Southerly of the Rioja vineyards, Oriental centres on the rich silty soils of the River Ebro, its best vineyards, such as this, at quite considerable altitude (550 metres).
Placet is a beautifully refined, balanced, lightly perfumed white Rioja - made in oak but without the influence of new wood. The reds offer a range of options across different price ranges. The Vendimia is exuberantly juicy, for immediate consumption.
The Crianza La Montesa has a glossy feel to an otherwise traditional style. A 90-hectare plot with vines up to 550 metres of altitude, Montesa is fermented in large oak vats then aged for 10 months in French barriques, 50% of which are new. The make-up of the blend varies according to the vintage; despite the majority shareholding, as one might expect, of Tempranillo and Garnacha, each year there is correspondingly more Mazuelo and Graciano, both adding interest. The wine has complex flavours with spice and tapenade, tar and licorice in addition to the blackberry, cassis and loganberry which are the classic hallmarks of Tempranillo .
The flagship however is Propriedad, a wonderful example of modern winemaking, using new French oak yet really letting both the fruit and the terroir express themselves.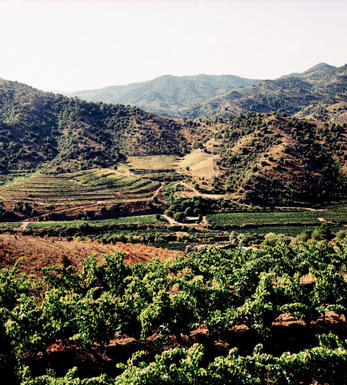 Rioja
Rioja is known primarily for its reds although it also makes white wines from the Viura and Malvasia grapes and rosés mainly from Garnacha. Most wineries (bodegas) have their own distinct red wine formula, but are normally a combination of Tempranillo, Garnacha and sometimes Graciano. Other red varieties recently approved into the Denominación de Origen Calificada (DOCa) regulations are the little-known Maturana Tinta, Maturana Parda, and Monastel (not to be confused with Monastrell). The most important of these by far is the king of native Spanish varieties, Tempranillo, which imbues the wines with complex and concentrated fruit flavours.
The Garnacha, meanwhile, bestows its wines with warm, ripe fruit and adds an alcohol punch. Graciano is an améliorateur grape (one that is added, often in small proportions, to add a little something to the final blend) and is found mainly in Reserva and Gran Reserva wines, albeit in small quantities (two to five percent), adding freshness and aroma, and enhancing the wines' ageing potential.

Crianza wines are aged for one year in oak followed by maturation for one year in bottle before being released for sale. Reservas must undergo a minimum of three years' ageing before release, at least one of which should be in oak casks. Finally, Gran Reservas, which are only produced in the finest vintages, must spend at least five years maturing, of which at least two must be in oak.

Geographically, Rioja is divided in to three districts: Alavesa, Alta and Baja. Rioja Alavesa lies in the northwest of the La Rioja region in the Basque province of Álava. Along with Rioja Alta, it is the heartland of the Tempranillo grape. Rioja Alta, to the north-west and south of the Ebro River in the province of La Rioja, stretches as far as the city of Logroño. Elegance and poise is the hallmark of wines made here with Rioja Alta Tempranillo. Mazuelo (Carignan) is occasionally added to wines from this area to provide tannins and colour. Rioja Baja, located to the south-east, is the hottest of the three districts and specialises in Garnacha.
Rioja has witnessed a broad stylistic evolution over the years. The classic Riojas pioneered by Murrieta and Riscal in the 19thcentury were distinguished by long oak-barrel-ageing whereas the modern style, represented by Marqués de Cáceres since 1970, showcases the fruit and freshness of Tempranillo, keeping oak ageing to the legal minimum. The post-modern school that emerged in the late 1990s from producers like Palacios Remondo and Finca Allende concentrate on making wines from old vines or specific vineyard plots to accentuate the terroir, and using larger proportions of minority varietals such as Graciano.
The alta expression wines, pioneered by Finca Allende (among others) and later taken up by almost every other producer in Rioja, represent the newest flagship category in Rioja. Alongside the traditional Gran Reservas, alta expression wines are limited production and come from low-yielding vines, often from a single vineyard, and are hand-picked. Excellent examples of this style are Artadi's Pagos Viejos and El Pison.
However, modernisation has not held back the continuation of successful traditional styles as well. Happily long-established houses such La Rioja Alta, CVNE and Marques de Vargas continue to make graceful, old style wines better than ever before.
White Rioja is typically produced by the Viura grape which must comprise at least 51 percent of the blend; the rest can be made up by other, recently-authorised varieties, namely Sauvignon Blanc, Chardonnay and Verdejo, as well as the native Maturana Blanca, Tempranillo Blanco, and Turruntés (not to be mistaken for Torrontés).
Recommended Producers:
Finca Allende, Amezola de la Mora, Artadi, CVNE, Marqués de Vargas, Palacios Remondo, La Rioja Alta, Murrieta.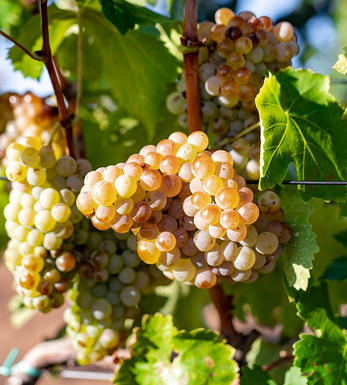 Viura
Viura is a synonym for Macabeo and is the most widely planted white grape variety in Rioja. It is a fairly straightforward grape to cultivate, although it is susceptible to disease and in particular to downy mildew and grey rot. It is a generous-yielding grape and in Rioja it tends to be blended with approximately 5% Malvasia to produce classic white Riojas. In Rioja Alvesa it is often blended with Tempranillo to produce high quality Red Riojas.
In the wrong hands, Viura can produce rather neutral tasting wines. However skilled winemakers manage to preserve the grape`s natural aromatic freshness and produce wines that are enhanced by oak maturation rather than overwhelmed. Marqués de Cáceres and Herencia Remondo are widely recognised as two of the finest exponents of Viura in Rioja.