About this WINE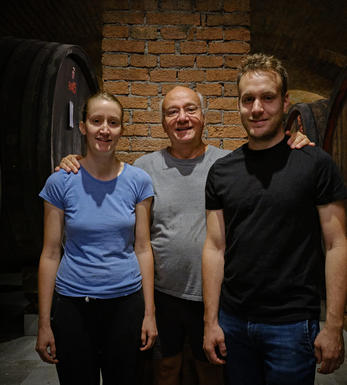 Marcarini
Few views in Barolo can compete with the one from Marcarini's terrace in La Morra. Encompassing most of the region's communes and vineyards, one only has to look south-east to see Barolo's modest size, cradled in the Italian Alps. It is fitting that Marcarini occupies this prime location; the winery is built underneath La Morra's medieval watchtower, a signpost to the Marchetti family cantina that's visible across the region.
Over time, Podere Marcarini has become one of the region's leading names and in many ways represents both its traditions and future. Owner Manuel Marchetti implements long fermentations, macerations, and ageing in large ancient botti. Marcarini's wines remains traditional, but we're finding a new zip and lift of energy for this historic cantina. Manuel's children Elisa and Andrea now play an active role, focusing on the health of the vineyards, viticultural processes, and improvements in the cellar.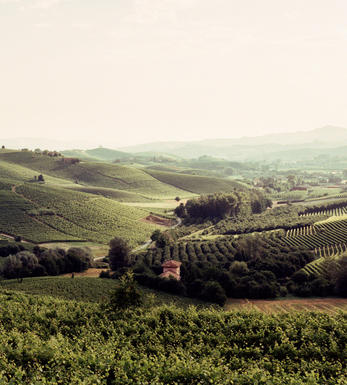 Barolo
Located due south of Alba and the River Tanaro, Barolo is Piedmont's most famous wine DOCG (Denominazione di Origine Controllata e Garantita), renowned for producing Italy's finest red wines from 100 percent Nebbiolo.
Its red wines were originally sweet, but in 1840 the then extant Italian monarchy, the House of Savoy, ordered them to be altered to a dry style. This project was realised by French oenologist Louis Oudart, whose experience with Pinot Noir had convinced him of Nebbiolo's potential. The Barolo appellation was formalised in 1966 at around 1,700 hectares – only a tenth of the size of Burgundy, but almost three times as big as neighbouring Barbaresco.
Upgraded to DOCG status in 1980, Barolo comprises two distinct soil types: the first is a Tortonian sandy marl that produces a more feminine style of wine and can be found in the villages of Barolo, La Morra, Cherasco, Verduno, Novello, Roddi and parts of Castiglione Falletto. The second is the older Helvetian sandstone clay that bestows the wines with a more muscular style. This can be found in Monforte d'Alba, Serralunga d'Alba, Diano d'Alba, Grinzane Cavour and the other parts of Castiglione Falletto. Made today from the Nebbiolo clones Lampia, Michet and Rosé, Barolo has an exceptional terroir with almost every village perched on its own hill. The climate is continental, with an extended summer and autumn enabling the fickle Nebbiolo to achieve perfect ripeness.

Inspired by the success of modernists such as Elio Altare, there has been pressure in recent years to reduce the ageing requirements for Barolo; this has mostly been driven by new producers to the region, often with no Piedmontese viticultural heritage and armed with their roto-fermenters and barriques, intent on making a fruitier, more modern style of wine.

This modern style arguably appeals more to the important American market and its scribes, but the traditionalists continue to argue in favour of making Barolo in the classic way. They make the wine in a mix of epoxy-lined cement or stainless-steel cuves, followed by extended ageing in 25-hectoliter Slavonian botte (barrels) to gently soften and integrate the tannins. However, even amongst the traditionalists there has been a move, since the mid-1990s, towards using physiologically (rather than polyphenolically) riper fruit, aided by global warming. Both modernist and traditional schools can produce exceptional or disappointing wines.
Recommended traditionalist producers:
Giacomo Borgogno, Giacomo Conterno, Bruno Giacosa, Elio Grasso, Marcarini, Bartolo Mascarello and Giuseppe Mascarello.
Recommended nmdernist producers:
Azelia, Aldo Conterno, Luciano Sandrone, Paolo Scavino and Roberto Voerzio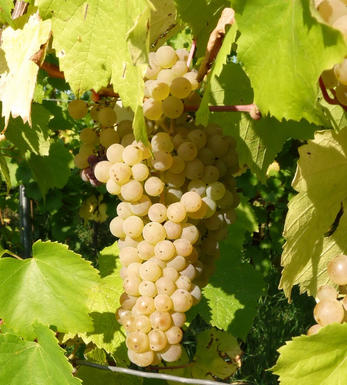 Muscat
Muscat refers to a family of grapes of which there are around 200 different branches. Muscat Blancs à Petits Grains is the most noble of the variety and makes the best and most distinctive wines. It is the only wine grape that produces wines that actually taste of grapes, and can produce a range of wines from pale, bone dry whites, through to golden yellow, rich, sweet wines.
In Alsace, two types of Muscat are grown - Muscat Blancs à Petits Grains and Muscat Ottonel. They are usually blended to produce wines that tend to be light and dry with a fruity, musky character and an intensely aromatic bouquet. Intensely sweet late harvest wines are also produced.
Muscat de Beaumes de Venise is one of the best Vin Doux Naturels in France. This is produced by adding grape spirit to the partly fermented must - the best producers, such as Domaine de Durban, produce deliciously sweet wines with rich grapey aromas balanced by fruity acidity.
In Australia Muscat à Petit Grains is used to produce the fortified Liqueur Muscats of Victoria (esp. Rutherglen). These are extraordinary wines - dark and treacly with a sensational perfume of orange, raisins and honey.