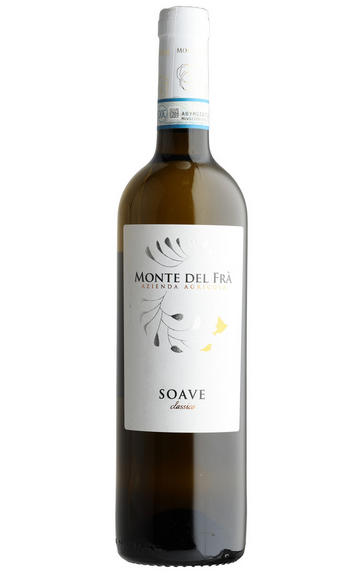 2022 Soave Classico, Monte del Frà, Veneto, Italy
Prices start from £15.50 per bottle (75cl).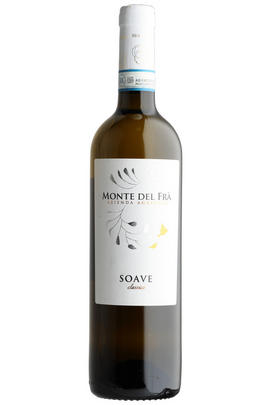 Critics reviews
Full bottle 1,293 g. 40–45% Garganega, 30–35% Cortese, and 20–25% Trebianello and Trebbiano. This is their 'calling card' and is produced in the highest quantities of all their wines. Screwcap. A hotter vintage, but because the vines shut down, the grapes kept their acidity.
A fibrillation of flowers and sudsy lemongrass fragrance spills out the glass like a spring morning spills through an open window. Fabulous acidity: nervy, quicksilver, vibrating at the speed of light, and yet there is a beautiful creaminess that curves like a white sail filled with warm wind flying full against a blue sky. 
A bright river of crystalline flavours scintillates the palate: cobnuts and bergamot, crunchy nectarine, jasmine and rock salt and seagrass stones. I don't think I ever taste this wine without wanting to throw my head back, my arms wide, and laugh with the sheer joy of it. Is this the perfect drink-me-every-day wine? It might be...
Drink 2023 - 2027
Tamlyn Currin, JancisRobinson.com (March 2023)
About this WINE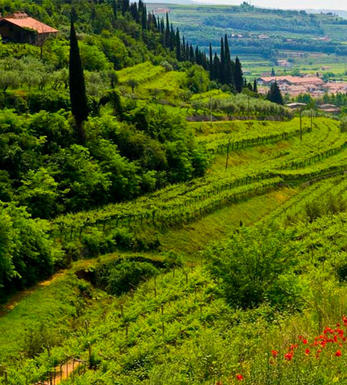 Monte del Fra
Monte del Frà translates as ;Hill of Monks; and is located in the heart of the Bianco di Custoza DOC. It now consists of over 65 hectares of vineyards is owned and run by brothers Eligio and Claudio Bonomo. It is one of the most progressive and dynamic producers in the region and has been particularly innovative in its adoption of modern viticultural techniques.

Eligio Bonomo was the first producer in the region to retrain the traditionally 1.6m high cordon vines to lower-trained, single guyot systems. In the winery the Bonomos use thoroughly modern, clean and temperature-controlled fermentation and storage facilities in order to preserve the aromatic freshness in their wines. They produce very good-quality wines which are clean, display excellent purity of fruit and are elegant and well balanced.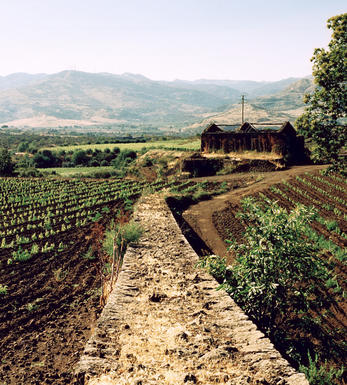 Soave
Soave is a famously large, white wine DOC in the Veneto and is located to the north and east of the city of Verona. It gets its name from the Suevians, a German tribe who arrived in Italy along with the Lombards during the Dark Ages.
Its Garganega-based wines leapt to prominence in 1968 with the creation of the Soave DOC, spurred on by a massive co-operative industry. Soave Classico covers the original hillside zones around the communes of Soave and Monteforte, while a new hillside catch-all sub-zone, Colli Scaligeri, has also been created for those just outside the Classico area.
With the award of DOCG status to Soave Superiore in 2006, the authorities are making a concerted effort to raise the quality and profile of all Soave wines.Trebbiano Toscana, which formerly made up 15% of the blend, is now out, and the minimum alcohol level has been raised by 0.5%.
The minimum dry extract has been raised to 18 grams/litre, vine density has been capped at 3,300 vines/ha and the vines themselves may only be trained using the espalier, single pergola or single Veronese pergola methods.
Soave is now made with 70% Garganega with the remaining 30% coming from Trebbiano di Soave, Chardonnay or Pinot Bianco.
Soave Superiore must be at least 12% alcohol and cannot be released onto the market until 1st September the year after the harvest. In addition, the minimum level of dry extract has been raised to 20 grams/litre and yields have been reduced to 70 hl/ha. At its best, Soave should exhibit a lemony fruit character, good structure and a creamy, minerally, citrus finish.
Recommended producers: Corte Sant'Alda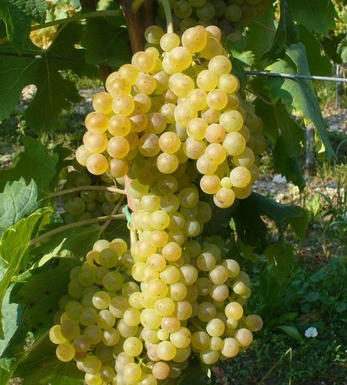 Garganega
The 5th most widely planted white grape in Italy and the main grape used in the production of Soave. It is an abundantly vigorous grape and yields must be kept low for its discreet aromatic qualities to show in the wine.
Garganega reaches its peak in the Soave Classico zone where it constitutes 70-100% of the blend. The best wines are fresh, delicate, well balanced and can be redolent of almonds and citrus fruits. Garganega is also a key component in Bianco di Custoza and Colli Euganei.