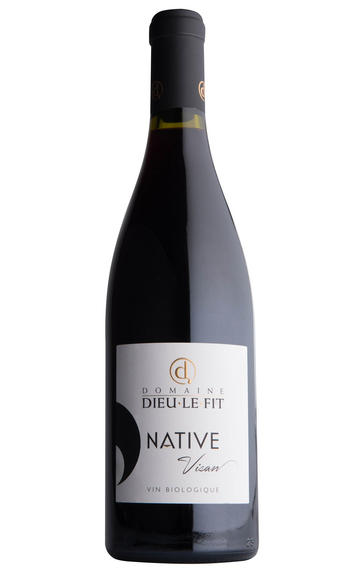 2022 Côtes du Rhône Villages Rouge, Visan, Native, Dom. Dieu-le-Fit, Pouizin, Rhône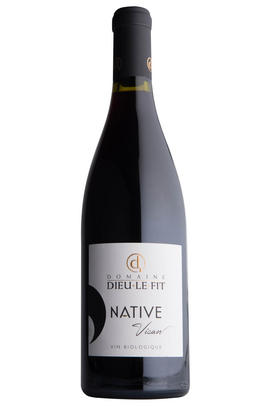 About this WINE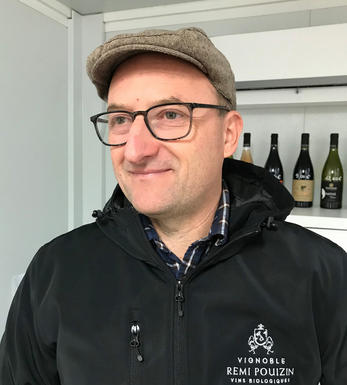 Remi Pouizin
Rémi and Geraldine Pouizin of Domaine Dieu-le-Fit are at the top of their game. Demeter accredited from 2016, we are delighted to be working with them for our Own Selection Côtes du Rhône. Rémi inherited most of his vineyards from the property known as Fourmente, where he built his own winery. Their wines are given branded names as they are essentially assembled from different plots. Red clay and pudding stones are at the lower altitudes, then "saffre" (sandstone) is just above the village itself. The more varied garrigue-strewn soils sit on the plateau heading in the direction of Rasteau.
Working organically is part of Rémi's family philosophy; his grandparents grew fruit and vegetables organically in the 1960s. Rémi insists, "If I can drink a product, I am happy to put it on my vines. If it would be poisonous to me, it doesn't go anywhere near them." Clearly, there is honesty and integrity in everything the couple does.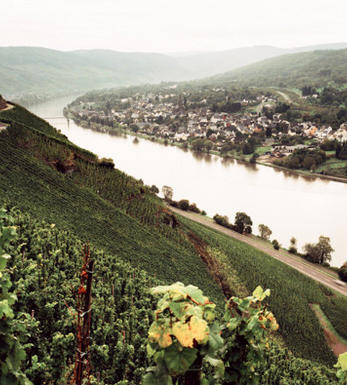 Côtes du Rhône Villages
A clear step up from basic Côtes du Rhône in terms of both quality and price, the Côtes du Rhône Villages appellation covers an area of 5,700 hectares entirely within the Southern Rhône. About 15 percent of the size of its generic counterpart, it offers mostly excellent, very good value wines from all three hues that are more serious, concentrated and interesting.
Red wines dominate, made up of a minimum 50 percent Grenache, at least 20 percent Syrah and Mourvèdre, and no more than 20 percent from 10 other named varieties. Out of 95 communes that are eligible to use the Villages name, the finest 18 of them have the right to append their village name, as long as the wine is exclusively from that commune. The classification is quite fluid though, with Gigondas, Vacqueyras, and Beaumes de Venise and Vinsobres and Rasteau having been upgraded to AOC status, and other villages like Massif d'Uchaux and Plan de Dieu being added.
Best enjoyed from two to 10 years of age, the best wines probably come from Cairanne and Sablet, but all are well worth a look. The whites are rapidly improving and are delicious in their first three years. Rosé wines are made from the same cépage as the reds and are usually very good.
Recommended Producers: Chapoton, Domaine Cros de la Mûre, La Soumade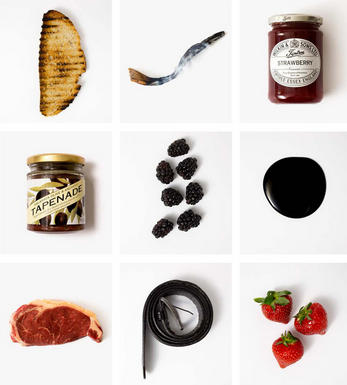 Grenache/Garnacha
Grenache (Noir) is widely grown and comes in a variety of styles. Believed to originate in Spain, it was, in the late 20th century, the most widely planted black grape variety in the world. Today it hovers around seventh in the pecking order. It tends to produce very fruity, rich wines that can range quite widely in their level of tannin.

In many regions – most famously the Southern Rhône, where it complements Syrah and Mourvèdre, among other grapes – it adds backbone and colour to blends, but some of the most notable Châteauneuf du Pape producers (such as Château Rayas) make 100 percent Grenache wines. The grape is a component in many wines of the Languedoc (where you'll also find its lighter-coloured forms, Grenache Gris and Blanc) and is responsible for much southern French rosé – taking the lead in most Provence styles.

Found all over Spain as Garnacha Tinta (spelt Garnaxa in Catalonia), the grape variety is increasingly detailed on wine labels there. Along with Tempranillo, it forms the majority of the blend for Rioja's reds and has been adopted widely in Navarra, where it produces lighter styles of red and rosado (rosé). It can also be found operating under a pseudonym, Cannonau, in Sardinia.



Beyond Europe, Grenache is widely planted in California and Australia, largely thanks to its ability to operate in high temperatures and without much water. Particularly in the Barossa Valley, there are some extraordinary dry-farmed bush vines, some of which are centuries old and produce wines of startling intensity.