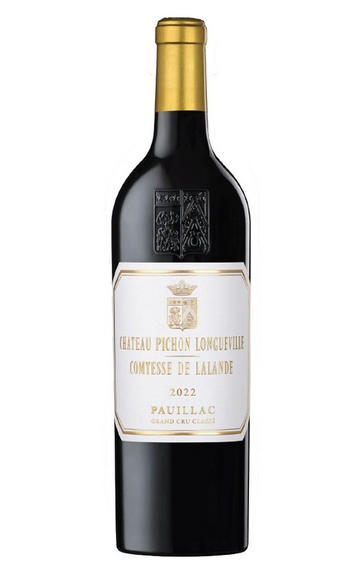 2022 Château Pichon Longueville Comtesse de Lalande, Pauillac, Bordeaux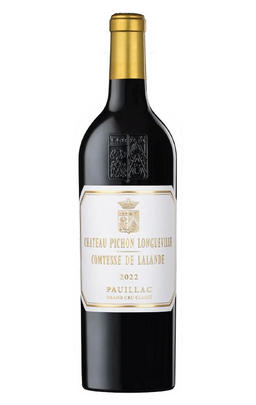 Critics reviews
Neal Martin, Vinous
96-98/100
The 2022 Pichon-Longueville Comtesse de Lalande was picked from 6 to 27 September at 30hL/ha, the drought chipping away so that one-third was eventually lost. This has 13.65% alcohol and a pH of 3.80. There is 17.5% pressed wine, the highest ever. This has a subtle bouquet, not understated, but it unfurls in the glass (unlike others that explode.)
Blackberry and cedar, light touches of mint, a hint of dark chocolate. The palate is medium-bodied with a velvety texture with a lovely balanced, gentle but insistent grip, slightly granular as it fans out with black fruit, cedar and light graphite notes. This is a very suave Pichon-Lalande that will age with style.
Drink 2029 - 2065
Neal Martin, Vinous.com (May 2023)
Antonio Galloni, Vinous
96-99/100
The 2022 Pichon-Longueville Comtesse de Lalande is magnificent. In recent years, Estate Director Nicolas Glumineau has pushed Pichon Comtesse to the limit. Maybe even a bit too far. But the 2022 is in the end a super-classic wine that emphasizes mid-weight structure, aromatic presence and persistence more than size. 
Sweet floral, savoury and mineral accents run through a core of ripe, racy red-toned fruit. All the elements are so well balanced. Tasted four times.
Drink 2032 - 2062
Antonio Galloni, Vinous.com (April 2023)
Lisa Perrotti-Brown MW
98-100/100
A blend of 78% Cabernet Sauvignon, 17% Merlot, and 5% Cabernet Franc, the 2022 Pichon Longueville Comtesse de Lalande is deep garnet-purple in colour. After a little coaxing, aromas of blackcurrant jelly, juicy plums, and wild blueberries waltz out of the glass, followed by nuances of red roses, damp soil, tar, and liquorice. 
The medium-bodied palate is tightly wound, with impressive tension created by mineral-laced, crunchy black fruit layers, framed by firm, grainy tannins and seamless freshness, finishing long and savoury. pH 3.8.
Lisa Perrotti-Brown MW, The Wine Independent (May 2023)
Exceptionally well controlled, delivering grip and tension alongside the creamy ripe blackberry, cassis and raspberry puree fruits, studded with cloves, cocoa bean, violet, iris, wet earth, heather, mandarin, orange zest, slate. Another exceptional vintage from a property that is delivering at the top of its game, this impresses without seeming to try too hard. 
Precision winemaking also, with very low pump-overs, reduced by half from a decade ago, and no added sulphites until putting the wine into barrel. 3.65ph, 31h/h yield, with around 50% of production split between this and Reserve.
Drink 2032 - 2048
Jane Anson, JaneAnson.com (May 2023)
Jancis Robinson MW
17.5+/20
78% Cabernet Sauvignon, 17% Merlot, 5% Cabernet Franc. Cask sample. Gently fragrant, the Cabernet element to the fore. Juicy extract but firmness behind. Suave texture of tannin. A certain finesse but power as well. Freshness and length on the finish. A refined statement. 13.5%.
Drink 2032 - 2055
Jancis Robinson MW, JancisRobinson.com (May 2023)
The 2022 Pichon Longueville Comtesse de Lalande is one wine where a comparison with this estate's magical 1982 appears reasonable. Wafting from the glass with deep aromas of cassis, plums, violets, rose petals, tobacco leaf and pencil shavings, it's full-bodied, supple and fleshy, with a layered, seamless core of fruit that largely conceals its chassis of powdery structuring tannin. 
Concluding with a long, expansive and beautifully perfumed finish, it's a blend of 78% Cabernet Sauvignon, 17% Merlot and 5% Cabernet Franc that has the potential to equal or even surpass the 2019 and 2016 vintages at this address. It checks in at a very classical 13.6% alcohol and a high pH of 3.80.
William Kelley, Wine Advocate (April 2023)
I love the aromatics here with botanicals as well as currants, blackberries and oranges. Full-bodied with incredible tannins that build on the palate with finesse and focus. Featherlight but always there. Stealth in structure. Very vertical. Savory. Superb. 78% cabernet sauvignon, 17% merlot and 5% cabernet franc.
James Suckling, JamesSuckling.com (April 2023)
One of my favourite wines from 2022, utterly seductive from the first sip, this is a stunning effort that shows the power of Pauillac in 2022, delivered with elegance and class. Heavily scented on the nose, full of dark fruits, savoury notes of salty chocolate and floral scents. 
Smooth and so appealing in the mouth, the texture stands out, deep and rich but soft and chalky; tannins have a subtle powderiness that spreads the mouth, cooling and refreshing and giving the minerality while the cool black and blue fruits linger in layers expanding vertically. 
This is so refined and polished - it's serious, no doubt, not super fun, but it doesn't need to be; it's rich and sumptuous with sweet blue fruits balanced by high acidity that keeps the focus and energy. Bright, bold, well-worked, clean, crystalline and pure. Somehow delicate and punchy at the same time. 
A mind-blowing wine that you just have to marvel at with intensity, brightness and vibrancy, building as it goes. A long, clean finish leaves you wanting more, salivating for that next sip. 3.8pH. A potential 100-point wine. 3.8pH. 50% grand vin. Tasted twice.
Drink 2030 - 2050
Georgina Hindle, Decanter.com (April 2023)
One of the gems from Pauillac is unquestionably the 2022 Château Pichon-Longueville Comtesse De Lalande, which is 78% Cabernet Sauvignon, 17% Merlot, and 5% Cabernet Franc. A hypothetical blend of the 2019 and 2020, it's a full-bodied, concentrated, opulent Comtesse offering beautiful blue fruits, some chocolate, leafy herbs, undeniable minerality, ripe, velvety tannins, and an excellent finish. 
Despite the higher Cabernet Sauvignon component, this stays silky, expansive, and incredibly sexy. It will be drinkable with just 4-5 years of bottle age but should have a lengthy drink window—hats off to director Nicolas Glumineau for another legendary wine from this château.
Jeb Dunnuck, JebDunnuck.com (May 2023)
About this WINE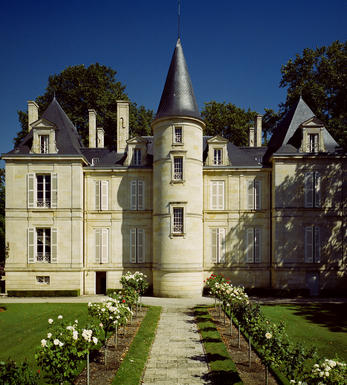 Château Pichon Comtesse
Château Pichon Comtesse is an estate in Pauillac on the Left Bank of Bordeaux. The estate was ranked a Second Growth in Bordeaux's 1855 classification, and belongs to an unofficial group referred to as "Super Seconds".
It is located in the southern part of the Pauillac appellation, just next to Château Latour and a short distance from the border with St Julien. The attractive château building here is visible from the D2 road as you approach Pauillac from the south, on the opposite side of the street from Château Pichon Baron. The two neighbours were once part of one larger estate, which was divided in two in 1850. From 1978 until the mid-2000s, Pichon Comtesse was managed by Madame May-Eliane de Lencquesaing, one of the most prominent women in Bordeaux history.
Today, the estate belongs to the Rouzaud family, owners of Champagne Louis Roederer. The estate, which currently has 80 hectares of vines, is managed by talented winemaker Nicolas Glumineau. Nicolas and his team also manage Château de Pez, a sibling estate further north in St Estèphe.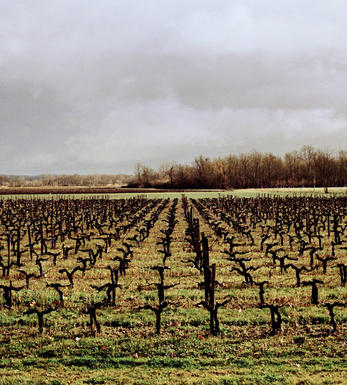 Bordeaux
Bordeaux remains the centre of the fine wine world. The maritime climate on the 45th parallel provides for temperate winters and long, warm summers, perfect conditions for growing grapes suited to the production of classically-constructed, long-lasting wines. This vast region of 120,000ha of vineyards (four times the size of Burgundy) is home to 10,000 wine producers and 57 different AOCs. Red now makes up 88 percent of Bordeaux wine, and is usually referred to as Claret. The origin of this name was to differentiate the lighter-coloured wines of the coastal region from the deeper "black" wines from up-country regions.
The Left Bank, comprising the wine regions of the Médoc, Pessac-Léognan and Graves are planted predominantly with Cabernet Sauvignon, which thrives on the gravelly soils left by the ancient course of the river. This is a thick-skinned variety which ripens late, producing powerful, tannic wines capable of long ageing. It is blended with Merlot, Cabernet Franc and sometimes Petit Verdot. The highlights of the Médoc are the four communes of St- Estèphe (blackcurrant concentration); classical, cedarwood and cigar-box Pauillac; richly-fruited St Julien; and elegant, fragrant Margaux.
On the Right Bank, most famously in St-Emilion and Pomerol, it is the fleshy Merlot grape which prevails, sometimes supported by Cabernet Franc. Here the soils are more mixed, with gravel and clay underpinning the rich, fruity wines of Pomerol. Styles vary more in St-Emilion, depending on the predominance of sand in the lower-lying slopes, or limestone on the hillsides and plateau.
By the 18th century, individual properties - known as châteaux, however humble - were becoming known for the quality of their wines and in 1855, those of the Médoc (plus Haut-Brion, a property commended by Samuel Pepys as early as 1663) were classified into five levels of classed growths. Lafite, Latour, Margaux and Haut Brion were cited as First Growths, to whose ranks Mouton Rothschild was elevated by presidential decree in 1973. Beneath the ranks of the classed growths lies a raft of fine châteaux known as Crus Bourgeois, while a host of less well-known "petits châteaux" still makes attractive, enjoyable Claret at affordable prices.
The other jewel in the Bordeaux crown is the district of Sauternes, making some of the most outstanding sweet white wines in the world (from the likes of Châteaux d'Yquem, Rieussec and Climens). The foggy autumn mornings along the banks of the Garonne River near Sauternes and neighbouring Barsac enable the noble rot, botrytis cinerea, to form on the skins of the grapes, which can still ripen in the afternoon sun as late as the end of October or early November. The Sémillon grape is the prime component, but Sauvignon Blanc and a little Muscadelle are also planted to provide insurance if the weather is less favourable to Sémillon, as well as offering a counterpoint in flavour.
There are many inexpensive dry white wines - more Sauvignon than Sémillon - from regions such as Entre-Deux-Mers and Graves, with just a handful of outstanding properties located in Pessac-Léognan. The most famous of the great dry whites hail from Châteaux Haut Brion, Laville Haut Brion and Domaine de Chevalier.
The finer wines of Bordeaux are sold en primeur in the late spring following the harvest, some two years before the wines are ready for physical delivery. The châteaux offer their wines through a system of Bordeaux négociants (brokers) who sell them on to importers round the world. Prices vary enormously from one vintage to another, dependent on perceived quality and world demand, which shows no signs of diminishing, especially for the great years.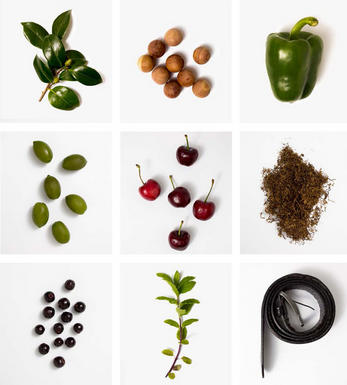 Cabernet Sauvignon Blend
Cabernet Sauvignon lends itself particularly well in blends with Merlot. This is actually the archetypal Bordeaux blend, though in different proportions in the sub-regions and sometimes topped up with Cabernet Franc, Malbec, and Petit Verdot.

In the Médoc and Graves the percentage of Cabernet Sauvignon in the blend can range from 95% (Mouton-Rothschild) to as low as 40%. It is particularly suited to the dry, warm, free- draining, gravel-rich soils and is responsible for the redolent cassis characteristics as well as the depth of colour, tannic structure and pronounced acidity of Médoc wines. However 100% Cabernet Sauvignon wines can be slightly hollow-tasting in the middle palate and Merlot with its generous, fleshy fruit flavours acts as a perfect foil by filling in this cavity.

In St-Emilion and Pomerol, the blends are Merlot dominated as Cabernet Sauvignon can struggle to ripen there - when it is included, it adds structure and body to the wine. Sassicaia is the most famous Bordeaux blend in Italy and has spawned many imitations, whereby the blend is now firmly established in the New World and particularly in California and Australia.