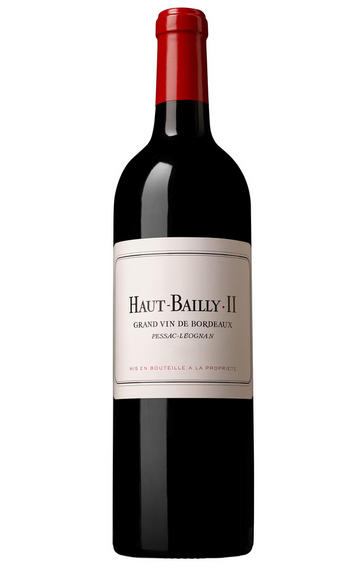 2022 Haut-Bailly II, Pessac-Léognan, Bordeaux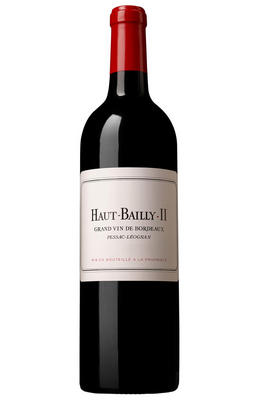 Critics reviews
The 2022 Haut-Bailly II is a selection of fruit from younger vines (there is also a Troisieme Vin). Dark berry fruit, brown spice and tobacco aromas unfold nicely in the glass. 
The palate is medium-bodied with grainy tannins, fine acidity and moderate depth. There is a cracked black pepper dash toward a finish that is reserved at the moment and will open once in bottle. It has a real personality and should age over 15 or more years. 
Drink 2028 - 2040
Neal Martin, Vinous.com (April 2023)
Antonio Galloni, Vinous
91-93/100
The 2022 Haut-Bailly II is bright, fresh and vibrant, almost surprisingly so for such a torrid vintage. Medium in body and gracious, the 2022 is all class. Like many wines in this vintage, Haut-Bailly II offers a compelling mix of ripe, radiant fruit supported by a super-classic structural feel. Pretty floral notes brighten up the finish. This is beautifully done.
Drink 2027 - 2047
Antonio Galloni, Vinous.com (April 2023)
Lisa Perrotti-Brown MW
90-92/100
The 2022 Haut-Bailly II, a blend of 65% Merlot, 30% Cabernet Sauvignon, 3% Cabernet Franc, and 2% Petit Verdot, is deep garnet-purple in colour. Scents of black cherries, mulberries, and crushed blackcurrants jump from the glass, followed by wafts of fallen leaves, camphor, and crushed rocks. 
The medium to full-bodied palate is filled with juicy black fruits and earthy accents, supported by plush, rounded tannins and soft acidity, finishing with a peppery kick.
Drink 2027 - 2045
Lisa Perrotti-Brown MW, The Wine Independent (May 2023)
Silky and smooth, with some raspberry leaf freshness, this is creamy but not overly done, has intensity and depth, edges of white pepper spice and pulses of bright slate minerality. 
No more Château le Pape as of this vintage (after ten years of working the 6ha vineyard to bring it up to the quality they are looking for), as from now on, it has been integrated into Haut-Bailly II. 30hl/h yields, 2nd vintage in the new cellar. Gentle, low-intervention winemaking.
Drink 2026 - 2038
Jane Anson, JaneAnson.com (May 2023)
Jancis Robinson MW
16.5/20
65% Merlot, 30% Cabernet Sauvignon, 3% Cabernet Franc, 2% Petit Verdot. RContains parcels of Merlot from the now discontinued Ch Le Pape. Cask sample. Ripe, round, mellow with a gourmand expression of fruit. Just enough freshness. 
Lovely texture and the tannins are smooth but crunchy. Firm, dry finish to bring everything together. Slight glow of alcohol on the finish. 14.5%. 
Drink 2027 - 2038
Jancis Robinson MW, JancisRobinson.com (May 2023)
A blend of 65% Merlot, 30% Cabernet Sauvignon, 3% Cabernet Franc, and 2% Petit Verdot, the 2022 Haut-Bailly II reveals aromas of liquorice, dark berries, plum, spices and cherries, followed by a medium to full-bodied palate that's round, succulent and concentrated, concluding with a penetratingly saline finish. 
It's a fleshy yet long Haut-Bailly II, matured in only 30% new oak. The erstwhile Château Le Pape is now partly integrated into this cuvée.
William Kelley, Wine Advocate (April 2023)
Lovely mocha, chocolate hazelnut and dark berry character with orange peel undertones. Full and very polished with ultra-fine tannins and a persistent and focused finish. 65% merlot, 30% cabernet sauvignon, 3% cabernet franc and 2% petit verdot.
James Suckling, JamesSuckling.com (April 2023)
Beautiful fragrance on the nose, so floral and aromatic. Clean and crystalline on the palate, smooth and supple but so clean and pure. Relatively light, you can tell they didn't push this; it feels calm and gentle with creamy blueberry fruit and soft black cherries. 
Lovely approachability and ease of drinking. Quietly seductively, it has the power and concentration of the vintage but keeps a sleek, straight frame with bite and crunch. 2% Petit Verdot completes the blend. 3.8pH. 
As of this vintage, the 6ha Château le Pape production will go into this wine and Haut-Bailly's third wine. Consultants Christophe Olivier and Axel Marchal.
Drink 2025 - 2036
Georgina Hindle, Decanter.com (April 2023)
The 2022 Haut-Bailly II is based on 65% Merlot, 30% Cabernet Sauvignon, and the balance Cabernet Franc and Petit Verdot. Harvest here spanned from May 7 to 27, and this is the first vintage where the Le Pape cuvée is no longer being produced; hence those grapes are now included in the second wine of Haut-Bailly. 
This beauty offers a great nose of ripe black fruits, smoked herbs, tobacco, and black olives, carrying to a medium to full-bodied, round, elegant 2022 with beautiful tannins. It's unquestionably a terrific second wine providing two decades of prime drinking.
Jeb Dunnuck, JebDunnuck.com (May 2023)
About this WINE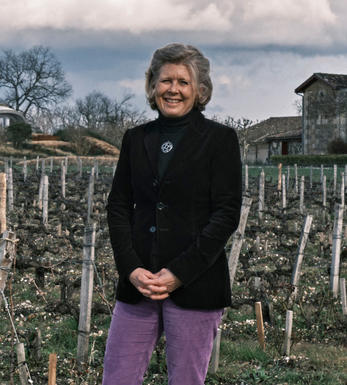 Chateau Haut-Bailly
Château Haut-Bailly is a Graves Cru Classé estate that has really hit form in the last 5-7 years. Haut-Bailly was bought by the Sanders family in 1955 and was run by Jean Sanders until 1998 when Robert G. Wilmers, an American banker, purchased it. It is located in the commune of Léognan, which is usually more associated with white wine production.
Haut-Bailly has 28 hectares of vineyards which are very well sited on high, gravelly ground just east of Léognan village. The wine is a blend of Cabernet Sauvignon (65%), Merlot (25%) and Cabernet Franc (10%). It is matured in small oak barriques (50% new) for 15 months and is bottled unfined and unfiltered.

Ch. Haut-Bailly makes small quantities of a rosé from 100% Cabernet Sauvignon, preferring to use the single varietal to maintain freshness in the blend. The wine is fermented 1/3 in new oak barrels and 2/3 in stainless steel at 16°C.
Haut-Bailly is renowned for its smoothness and silkiness but, since the mid 1990s, the wines have better depth of fruit as well as more grip, concentration and body. They are now amongst the top echelons of Pessac-Léognan wines.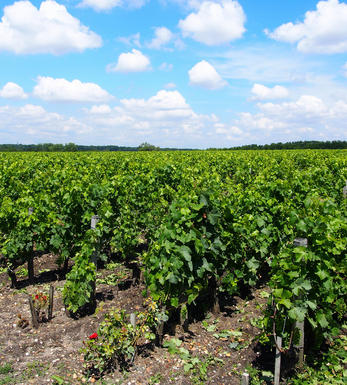 Pessac-Leognan
In 1986 a new communal district was created within Graves, in Bordeaux, based on the districts of Pessac and Léognan, the first of which lies within the suburbs of the city. Essentially this came about through pressure from Pessac-Léognan vignerons, who wished to disassociate themselves from growers with predominately sandy soils further south in Graves.
Pessac-Léognan has the best soils of the region, very similar to those of the Médoc, although the depth of gravel is more variable, and contains all the classed growths of the region. Some of its great names, including Ch. Haut-Brion, even sit serenely and resolutely in Bordeaux's southern urban sprawl.

The climate is milder than to the north of the city and the harvest can occur up to two weeks earlier. This gives the best wines a heady, rich and almost savoury character, laced with notes of tobacco, spice and leather. Further south, the soil is sandier with more clay, and the wines are lighter, fruity and suitable for earlier drinking.
Recommended Châteaux: Ch. Haut-Brion, Ch. la Mission Haut-Brion, Ch. Pape Clément, Ch Haut-Bailly, Domaine de Chevalier, Ch. Larrivet-Haut-Brion, Ch. Carmes Haut-Brion, Ch. La Garde, Villa Bel-Air.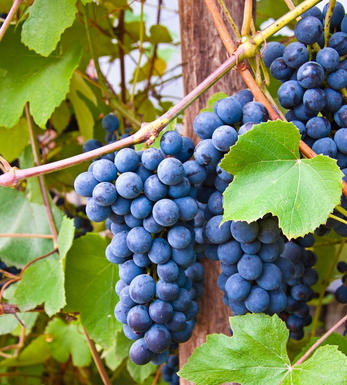 Merlot/Cabernet Franc
Merlot and Cabernet Franc are grape varieties commonly used in Bordeaux-style blends, particularly in the Bordeaux region of France. When these two grapes are blended, they can create a wine that combines the best characteristics of each variety.
Merlot is known for its smoothness, soft tannins, and ripe fruit flavours. It often contributes black cherry, plum, and chocolate flavours to the blend. The grapes are relatively easy to grow and ripen earlier than other Bordeaux varieties, making them versatile for blending.
Cabernet Franc, on the other hand, adds structure, depth, and complexity to the blend. It typically brings aromas of red fruits such as raspberry and strawberry, along with herbal notes like bell pepper and tobacco. These grapes have thinner skins and can be more challenging to cultivate, requiring specific growing conditions to reach their full potential.
When Merlot and Cabernet Franc are combined, the result is a well-balanced wine with various flavours and aromas. The blend often exhibits a Bordeaux wine's medium to full body, along with a smooth texture and moderate tannins. The specific flavour profile can vary depending on the proportions of each grape in the blend and the terroir and winemaking techniques employed.