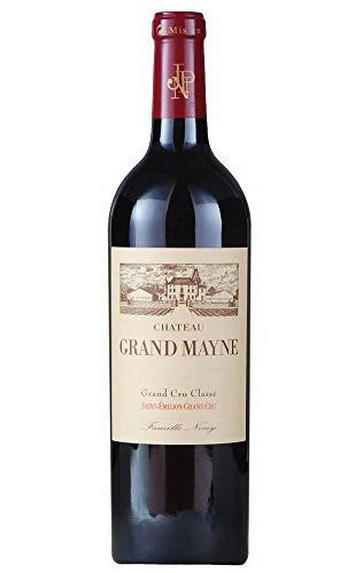 2022 Château Grand Mayne, St Emilion, Bordeaux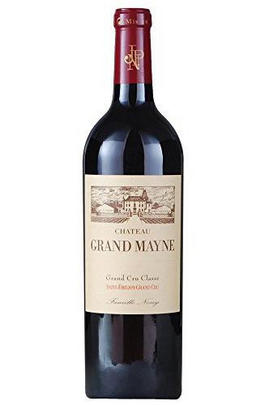 Critics reviews
Neal Martin, Vinous
93-95/100
The 2022 Grand Mayne was picked from 8 to 20 September and needed time to settle in the glass. Black cherries, crushed strawberry, graphite and liquorice aromas appear with time. This needs its barrel maturation to cohere the aromatics. 
The palate is medium-bodied with a sweet, slightly vanilla entry. The new oak is prominent at the moment, although there is sufficient fruit to soak that up. Indeed, a second sample demonstrates much more precision and sophistication on the finish. Bon vin.
Drink 2032 - 2067
Neal Martin, Vinous.com (April 2023)
Antonio Galloni, Vinous
94-96/100
The 2022 Grand Mayne is a fabulous example of the year. Rich and radiant, it offers sweet red cherry/plum fruit, spice, graphite, mocha, dried flowers and a kiss of sweet French oak. This generous, plush Saint-Émilion deftly marries textural richness with energy as it shows off the unique balance that makes the best wines of this vintage so alluring. 
A bit of new oak needs to be integrated, but there is more than enough depth for that to happen. The 2022 is beautifully put together and poised in the early going. It's a superb Grand Mayne in the making.
Drink 2032 - 2052
Antonio Galloni, Vinous.com (April 2023)
The Nony family has produced a silky, intense, balanced but fully charged wine in 2022, with muscular tannic construction, plenty of layers, edges of smoked caramel, blueberry and bilberry fruit, deep colour extraction, cinnamon and clove that make the oak impact pretty evident. This is impressive, with ageing ability.
Drink 2029 - 2044
Jane Anson, JaneAnson.com (May 2023)
The 2022 Grand Mayne offers up generous aromas of sweet berry fruit, spices, espresso roast and new oak, followed by a medium to full-bodied, rich and fleshy palate with a broad, velvety attack and a deep core of fruit framed by powdery tannins that assert themselves on the youthfully chewy finish. 
This is a ripe, gourmand Saint-Émilion that represents a generous but balanced interpretation of the vintage. If its élevage remains in the background by the time it's in bottle, it may make my review look conservative.
William Kelley, Wine Advocate (April 2023)
Full-bodied yet fresh and linear with bright fruit and firm, fine tannins. Crunchy and minerally. Fresh.
James Suckling, JamesSuckling.com (April 2023)
Plump and nicely weighted on the palate. Lovely fragrance, and black fruit characters are clean, pure, and inviting. The tannins are almost chewy, powdery and gently fleshy, well integrated, coating the mouth with a crushed stone, really appealing liquorice freshness. 
You can feel the power underneath, concentrated but delivered with precision and detail. A touch 'hot' and spiced on the finish, but there's lots to like here. Still a little compact and reserved but has excellent ageing potential.
Drink 2026 - 2045
Georgina Hindle, Decanter.com (April 2023)
Darker plums, currants, iron, and leathery nuances, as well as plenty of background spicy oak, emerge from the 2022 Château Grand Mayne, a ripe, medium to full-bodied, straight-up sexy 2022 with sweet tannins and a great finish. Plush, hedonistic, and balanced are the keywords here, and I'd be happy with bottles in the cellar. Tasted multiple times, this should easily be in the same ballpark quality-wise as the 2019 and 2020.
Jeb Dunnuck, JebDunnuck.com (May 2023)
About this WINE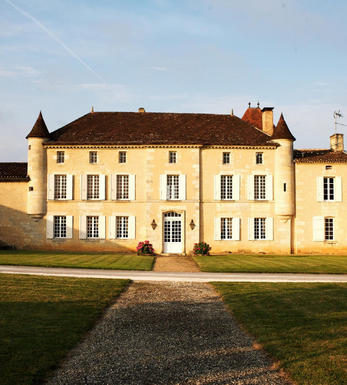 Chateau Grand Mayne
Château Grand Mayne sits at the heart of the St Emilion appellation on Bordeaux's Right Bank. The 17-hectare vineyard has remained unchanged for 300 years or so. Brothers Jean-Antoine and Damien Nony are the third generation of their family at the helm here. Their late father, Jean-Pierre, sadly passed away in 2001, aged just 55. The most prized part of the vineyard is a slope of limestone over clay. "My father used to call it his Romanée-Conti," Jean-Antoine recalls. "It looks like a Burgundian Grand Cru."
As recently as the 1960s, there was around 40% Cabernet Franc planted here. Over time, it dropped to 10-15% of the plantings. When Jean-Antoine took over in 2012, he initiated a replanting programme, now underway and due to be completed in 2035. The estate has been a Grand Cru Classé since 1955.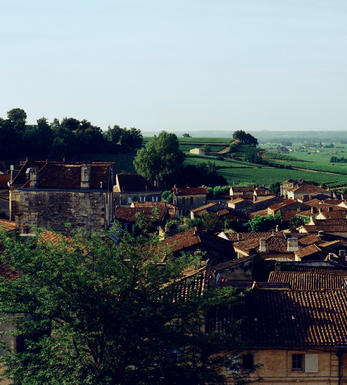 St-Emilion
St Emilion is one of Bordeaux's largest producing appellations, producing more wine than Listrac, Moulis, St Estèphe, Pauillac, St Julien and Margaux put together. St Emilion has been producing wine for longer than the Médoc but its lack of accessibility to Bordeaux's port and market-restricted exports to mainland Europe meant the region initially did not enjoy the commercial success that funded the great châteaux of the Left Bank.
St Emilion itself is the prettiest of Bordeaux's wine towns, perched on top of the steep limestone slopes upon which many of the region's finest vineyards are situated. However, more than half of the appellation's vineyards lie on the plain between the town and the Dordogne River on sandy, alluvial soils with a sprinkling of gravel.
Further diversity is added by a small, complex gravel bed to the north-east of the region on the border with Pomerol. Atypically for St Emilion, this allows Cabernet Franc and, to a lesser extent, Cabernet Sauvignon to prosper and defines the personality of the great wines such as Ch. Cheval Blanc.
In the early 1990s there was an explosion of experimentation and evolution, leading to the rise of the garagistes, producers of deeply-concentrated wines made in very small quantities and offered at high prices. The appellation is also surrounded by four satellite appellations, Montagne, Lussac, Puisseguin and St. Georges, which enjoy a family similarity but not the complexity of the best wines.
St Emilion was first officially classified in 1954, and is the most meritocratic classification system in Bordeaux, as it is regularly amended. The most recent revision of the classification was in 2012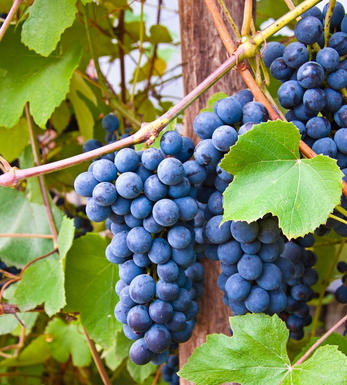 Merlot/Cabernet Franc
Merlot and Cabernet Franc are grape varieties commonly used in Bordeaux-style blends, particularly in the Bordeaux region of France. When these two grapes are blended, they can create a wine that combines the best characteristics of each variety.
Merlot is known for its smoothness, soft tannins, and ripe fruit flavours. It often contributes black cherry, plum, and chocolate flavours to the blend. The grapes are relatively easy to grow and ripen earlier than other Bordeaux varieties, making them versatile for blending.
Cabernet Franc, on the other hand, adds structure, depth, and complexity to the blend. It typically brings aromas of red fruits such as raspberry and strawberry, along with herbal notes like bell pepper and tobacco. These grapes have thinner skins and can be more challenging to cultivate, requiring specific growing conditions to reach their full potential.
When Merlot and Cabernet Franc are combined, the result is a well-balanced wine with various flavours and aromas. The blend often exhibits a Bordeaux wine's medium to full body, along with a smooth texture and moderate tannins. The specific flavour profile can vary depending on the proportions of each grape in the blend and the terroir and winemaking techniques employed.