About this WINE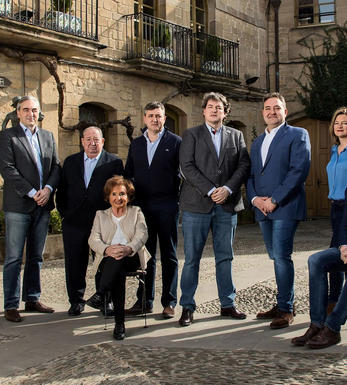 Bodegas Muga
Traditional Rioja, quite naturally enough, has a great following at Berry Bros. & Rudd; the synergy of values and history is self-evident and the wines, of both colours, are to my mind some of the most distinctive and under-rated in Europe. When one visits the area around the old railway station at Haro, one is overwhelmed by the role-call of great names, all located in close proximity to one another, all famous names... with Tondonia, la Rioja Alta, CVNE all stalwarts of the Berry Bros. & Rudd list. The other famous name, hitherto absent from our catalogue, and only, in all probability, to avoid the embarrassment of such riches, is Muga. Tasting the wines recently, we decided that Muga were every bit as good as the others and so we now complete the Haro jigsaw by proudly purchasing them for the first time.
Bodega Muga was founded in Haro in 1932 and is still in family ownership; the company farms 250 hectares in La Rioja Alta and in addition has long-standing contracts with the owners of another 150 hectares. Located in the foothills of the Montes Obarenses, the five principle vineyards (El Estepal, La Loma, Blatracones, La Loma Alta, and Sajazarra) share clay and limestone soils, each with its own unique microclimate, informed by the happy coincidence of continental, Mediterranean and Atlantic influences. The extended Muga family controls all aspects of the production and advocates the complexity afforded by the entire canon of grapes, that is to say Tempranillo, of course for the red, but also Garnacha, Mazuelo and Graciano in addition to Viura and Malvasia for the whites.

The key to everything here is wood, from the magnificent 18th century wooden Bodega to the impressive collection of 14,000 barrels used for the maturation. In addition the wines are fermented in large wooden casks, of which there were 90, all of subtly differing sizes, at the last count. An in-house Cooperage employs three experts full time in addition to a 'Cubero', a specialist who makes and maintains the large casks. It should come as no surprise that vinification is traditional with racking every four months and clarification with egg-whites. The residual egg-whites, together with the discarded lees go to make up a high quality compost, which serves as an organically sustainable fertiliser. And so the whole process resumes, nourishing itself as it will surely nourish those who sample their most impressive range.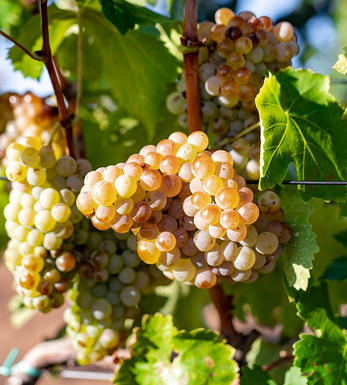 Viura
Viura is a synonym for Macabeo and is the most widely planted white grape variety in Rioja. It is a fairly straightforward grape to cultivate, although it is susceptible to disease and in particular to downy mildew and grey rot. It is a generous-yielding grape and in Rioja it tends to be blended with approximately 5% Malvasia to produce classic white Riojas. In Rioja Alvesa it is often blended with Tempranillo to produce high quality Red Riojas.
In the wrong hands, Viura can produce rather neutral tasting wines. However skilled winemakers manage to preserve the grape`s natural aromatic freshness and produce wines that are enhanced by oak maturation rather than overwhelmed. Marqués de Cáceres and Herencia Remondo are widely recognised as two of the finest exponents of Viura in Rioja.