2009 Mas Conscience, L'As, Côteaux du Languedoc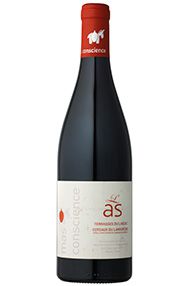 The Producer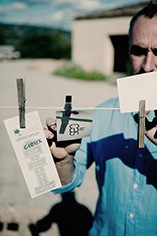 Mas Conscience
Mas Conscience is a recent addition to the ranks of our Languedoc producers. The estate is located on the highly promising terroir of the Terrases du Larzac in the Coteaux du Languedoc, 35 killometers northwest of Montpellier.

Geneviève and Laurent Vidal farm 10 hectares of up to 55 years old, at up to 250 metres of altitude, their terroir dominated by clay and limestone, with pebble stones evidenced à la Chateauneuf-Du Pape. They subscribe to bio-dynamic viticulture, by which all the stages in the vineyard cycle are dictated by lunar and tidal patterns and treatments are organic and parcel specific.

The results are, as one might expect, full of character. Vin de Pays Le Cas is pure Carignan from 50 year-old vines; while l'As, at the higher AOC level, is a Syrah-Grenache with a small amount of Carignan.
View Producer
The Grape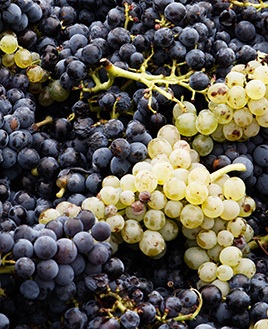 Southern Rhône Blend
The vast majority of wines from the Southern Rhône are blends. There are 5 main black varieties, although others are used and the most famous wine of the region, Châteauneuf du Pape, can be made from as many as 13 different varieties. Grenache is the most important grape in the southern Rhône - it contributes alcohol, warmth and gentle juicy fruit and is an ideal base wine in the blend. Plantings of Syrah in the southern Rhône have risen dramatically in the last decade and it is an increasingly important component in blends. It rarely attains the heights that it does in the North but adds colour, backbone, tannins and soft ripe fruit to the blend.
The much-maligned Carignan has been on the retreat recently but is still included in many blends - the best old vines can add colour, body and spicy fruits. Cinsault is also backtracking but, if yields are restricted, can produce moderately well-coloured wines adding pleasant-light fruit to red and rosé blends. Finally, Mourvèdre, a grape from Bandol on the Mediterranean coast, has recently become an increasingly significant component of Southern Rhône blends - it often struggles to ripen fully but can add acidity, ripe spicy berry fruits and hints of tobacco to blends.
View Grape
The Region
The Coteaux du Languedoc appellation is either a useful assemblage of the top enclaves in the Hérault department or an extremely unhelpful conglomeration of vastly different sub-regions which would be more helpfully categorised independently. Whatever one's opinion, it is not short of both significance and potential, running along the Mediterranean coast from Narbonne almost as far east as Nîmes, and covering over 10,000 hectares – as well as some of the most attractive and wonderfully-situated vineyards in France.

Several of its sub-appellations are fighting for full AC status, the most famous being La Clape, Picpoul de Pinet and Pic St Loup. Of the others, high quality wines are now being produced in, inter alia, Montpeyroux, Grés De Montpellier and Terrasses du Larzac. All the principle grapes are represented, with Carignan and Cinsault reduced to a maximum of 40 percent apiece to encourage more fashionable varieties, especially Syrah and Mourvèdre. The terroir is equally diverse, with limestone, schist, sand and clay all evidenced.
View Region
Customer Reviews
Questions And Answers