2013 Domaine des Terres Falmet, Cinsault Vin de Pays d'Oc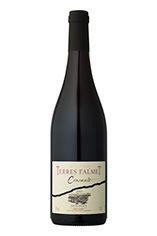 The Producer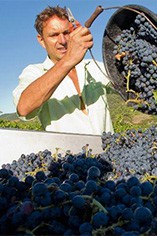 Domaine des Terres Falmet
Yves Falmet is a serious young man and wine maker, completely dedicated to the principles of biodynamic viticulture, whereby one is led by the moon, the stars and the tides and one fertilizes only with natural so-called preparations, made to special recipies form products such as dandelion, chamomile and cardamon.

If this sounds somewhat romantic and idealised, that is because it probably is! Romantic but also rather expensive….Nonetheless the results, as with other famous biodynamic producers, can be outstanding. The intoxication of the heights seems a rather clumsy translation for the name of this wine;

the heights presumably referring to the location of these old vines, the intoxication bit being probably self-explanatory. In French it apparently also means 'mountain sickness', although the malady in question clearly has not afflicted these very healthy grapes and their impressively old vines.

His L'Ivresse des Cimes blend from the St. Chinian appellation, is made up of (a third each) of Syrah, Grenache and Mourvèdre. Biodynamic farming as described above, allied to the lack of oak in the maturation, have ensured a product that is pure and aromatically refined.
View Producer
The Grape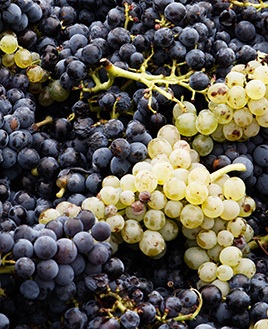 Southern Rhône Blend
The vast majority of wines from the Southern Rhône are blends. There are 5 main black varieties, although others are used and the most famous wine of the region, Châteauneuf du Pape, can be made from as many as 13 different varieties. Grenache is the most important grape in the southern Rhône - it contributes alcohol, warmth and gentle juicy fruit and is an ideal base wine in the blend. Plantings of Syrah in the southern Rhône have risen dramatically in the last decade and it is an increasingly important component in blends. It rarely attains the heights that it does in the North but adds colour, backbone, tannins and soft ripe fruit to the blend.
The much-maligned Carignan has been on the retreat recently but is still included in many blends - the best old vines can add colour, body and spicy fruits. Cinsault is also backtracking but, if yields are restricted, can produce moderately well-coloured wines adding pleasant-light fruit to red and rosé blends. Finally, Mourvèdre, a grape from Bandol on the Mediterranean coast, has recently become an increasingly significant component of Southern Rhône blends - it often struggles to ripen fully but can add acidity, ripe spicy berry fruits and hints of tobacco to blends.
View Grape
Customer Reviews
Questions And Answers