Champagne Besserat de Bellefon, Cuvée des Moines, Extra Brut
The Producer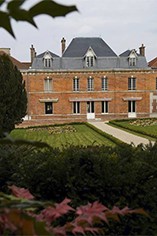 Champagne Besserat de Bellefon
Besserat de Bellefon has its origins in 1843 when Edmond Besserat, founded his Champagne House in Aÿ. The marriage in 1920 of a descendant (another Edmond) to a certain Yvonne de Méric de Bellefon of Champagne nobility sealed the creation of Besserat de Bellefon.

Their fame in Paris especially was borne of a challenge issued to the House, by the Manager of the Parisian Restaurant La Samaritaine de Luxe in 1930, to create a Champagne with a creamy mouthfeel suitable to pair with his gastronomic creations. Thus was born the Cuvée des Moines, which owes the creamy style demanded to the use of less sugar in the liqueur de tirage to create a lower pressure (4.5 atmospheres) versus the conventional 6 atmospheres found in most champagnes, thus producing softer mousse.

In 2009, Besserat de Bellefon unveiled its Cuvée des Moines Extra Brut, which with the House's characteristic high proportion of Meunier combined with very little added sugar in the dosage maintains their pure style. For their 170th anniversary, the Cellar Master, Cédric Thiébault, created their BdeB Cuvée. Concentrating on Pinot Noir and Chardonnay with a touch of oak from the Champagne forest of Argonne, it maintains the House style: pure, creamy, gastronomic.
View Producer
The Grape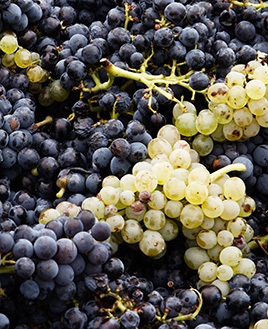 Champagne Blend
Which grapes are included in the blend, and their proportion, is one of the key factors determining the style of most Champagnes. Three grapes are used - Pinot Noir, Chardonnay and Pinot Meunier.

26% of vineyards in Champagne are planted with Chardonnay and it performs best on the Côtes des Blancs and on the chalk slopes south of Epernay. It is relatively simple to grow, although it buds early and thus is susceptible to spring frosts. It produces lighter, fresher wines than those from Burgundy and gives finesse, fruit and elegance to the final blend. It is the sole grape in Blancs de Blancs, which are some of the richest long-lived Champagnes produced.
Pinot Noir accounts for nearly 40% of the plantings in Champagne and lies at the heart of most blends - it gives Champagne its body, structure, strength and grip. It is planted across Champagne and particularly so in the southern Aube district.
The final component is Pinot Meunier and this constitutes nearly 35% of the plantings. Its durability and resistance to spring frosts make the Marne Valley, a notorious frost pocket, its natural home. It ripens well in poor years and produces a soft, fruity style of wine that is ideal for blending with the more assertive flavours of Pinot Noir. Producers allege that Pinot Meunier lacks ageing potential, but this does not deter Krug from including around 15% of it in their final blends.
View Grape
The Region
Brut denotes a dry style of Champagne (less than 15 grams per litre). Most Champagne is non-vintage, produced from a blend from different years. The non-vintage blend is always based predominately on wines made from the current harvest, enriched with aged wines (their proportion and age varies by brand) from earlier harvests, which impart an additional level of complexity to the end wine. Champagnes from a single vintage are labelled with the year reference and with the description Millésimé.

Non-vintage Champagnes can improve with short-term ageing (typically two to three years), while vintages can develop over much longer periods (five to 30 years). The most exquisite and often top-priced expression of a house's style is referred to as Prestige Cuvée. Famous examples include Louis Roederer's Cristal, Moët & Chandon's Dom Pérignon, and Pol Roger's Cuvée Sir Winston Churchill.
Recommended Producers : Krug, Billecart Salmon, Pol Roger, Bollinger, Salon, Gosset, Pierre Péters, Ruinart
View Region
Customer Reviews
Questions And Answers