2012 Domaine de l'Hortus, Grande Cuvée Rouge, Pic Saint Loup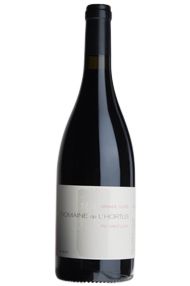 The Producer
Domaine de l'Hortus
The dramatic sheer limestone cliff of the famous 'Pic' in Pic Saint-Loup provides a fitting backdrop to the wine Domaine de L'Hortus, which is made up, under the tutellage of Jean Orliac, of one of the most honest, likeable and talented wine-making teams that one could hope to meet.

Monsieur Orliac has been farming the calcerous terraces and quartz-rich escarpments for over three decades and knows better than anyone the minutiae of its soil-structure. His particular love is the Mourvèdre grape; a relationship which predates the variety's current popularity.

The very special terroir, which forms a balcony to the Cevennes Hills, is located 24 km north of Montpellier, situated below what can best be described as 'scree slopes' Behind the drama and the dazzling whiteness of the limestone, there is superb terroir here, skillfully expolited in a series of wines which play to the tune of tradition and nurture the best possible results from the indiginous grapes of the area. The results are wines of great polish and personality, wines of which the region can be justly proud.
View Producer
The Grape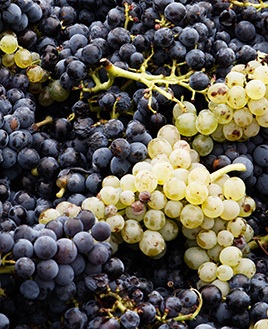 Southern Rhône Blend
The vast majority of wines from the Southern Rhône are blends. There are 5 main black varieties, although others are used and the most famous wine of the region, Châteauneuf du Pape, can be made from as many as 13 different varieties. Grenache is the most important grape in the southern Rhône - it contributes alcohol, warmth and gentle juicy fruit and is an ideal base wine in the blend. Plantings of Syrah in the southern Rhône have risen dramatically in the last decade and it is an increasingly important component in blends. It rarely attains the heights that it does in the North but adds colour, backbone, tannins and soft ripe fruit to the blend.
The much-maligned Carignan has been on the retreat recently but is still included in many blends - the best old vines can add colour, body and spicy fruits. Cinsault is also backtracking but, if yields are restricted, can produce moderately well-coloured wines adding pleasant-light fruit to red and rosé blends. Finally, Mourvèdre, a grape from Bandol on the Mediterranean coast, has recently become an increasingly significant component of Southern Rhône blends - it often struggles to ripen fully but can add acidity, ripe spicy berry fruits and hints of tobacco to blends.
View Grape
The Region
Pic Saint-Loup in Côteaux du Languedoc is evocatively and accurately named, with steep limestone escarpments stark in the Mediterranean sunshine of the hilly uplands to the north of Montpellier. Pic St Loup produces some of the finest wines in the Languedoc.

To qualify as a Pic Saint-Loup a wine must contain Syrah, Grenache and Mourvèdre, a bold initiative and thus far a successful one with some truly outstanding domaines such as Lascaux and Cazeneuve producing some of the very best wines in the region.
View Region
Customer Reviews
Questions And Answers