1966 Taylor's, Single Harvest Port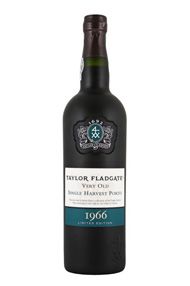 The Producer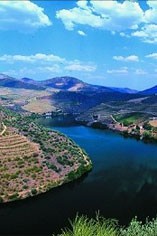 Taylor Port
Taylor's Port, sometimes called Taylor-Fladgate (particularly in the U.S.) is one of the most well-known of all Port wine brands.
The first Taylor joined in 1816, followed later by a Fladgate and a Yeatman. Taylor's is the only Port wine shipper to remain completely independent throughout its history. British ownership continues to this day, when, after the last Yeatman, Dick, died in 1966, the firm passed via his widow to her nephew, Alistair Robertson.

Adrian Bridge, Alistair's son-in-law, is the current Managing Director. David Guimarãens leads the winemaking team that is responsible for maintaining Taylor's position as a premium Port wine producer.
Taylor's was the first to commercialise a
Single Quinta (Estate) Vintage
with their 1958 Quinta de Vargellas. Taylor's were one of the first shippers to offer a 10 & 20 year old Aged Tawny ports and in the early 1970's it pioneered the
Late Bottled Vintage (or LBV)
style.
In addition to Vintage Port, Taylor's has also enjoyed considerable success with its Quinta de Vargellas, under which label Vintage wine is made in good years that have not been declared.The range has been augmented by the 116-hectare Quinta de Terra Feita in the Pinhão valley and Quinta do Junco, Vila Nova da Gaia and Xisto.
The Port wines are typically closed and austere when young; it is only with adequate ageing that they loosen up and offer their subliminal qualities. Worth waiting for, though, to secure stocks one is best advised to buy young.
View Producer
The Grape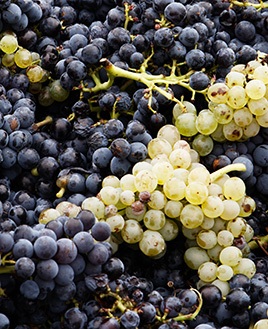 Port Blend
There are around 40 different grape varieties permitted in the production of Port - however the vast majority of Ports are produced from a blend of 5 grapes - Touriga Nacional, Touriga Francesca, Tinta Barroca, Tinta Roriz, and Tinto Cão.
Touriga Nacional produces small, dark-skinned grapes that produce opaque black wines of great extract and high tannins - it gives grip, body, and structure to the blend.
Touriga Franca has a thinner skin and consequently produces wines lighter in colour and tannins than Touriga Nacional. It contributes fruit, aroma, suppleness and roundness.
Tinta Roriz is the Portuguese name for Tempranillo and its high sugar content and low acidity contribute colour and fruit.
Tinta Barroca which is normally grown at highish altitudes and on north-facing slopes, is prized for producing wines of delicacy, finesse and with smooth, velvety fruit. It brings elegance and sweet, ripe fruit to the final blend.
Finally Tinto Cão produces fine and complex wines, though it is probably the least important of the 5 grapes as its painfully small yields have reduced plantings to almost insignificant levels.
View Grape
The Region
Tawny Ports are aged in casks rather than large tanks or bottles like their Ruby counterparts. This gives them a lighter (in both body and colour) and silkier style. There are two major types of Tawny: a blend of several recent vintages with no specific statement of age – known as basic Tawny Port – and older-aged Tawnies, marked as 10, 20, 30 or 40 years old.

Basic Tawny is aged in small casks for two to eight years, during which time the wines take on a tawny colour (hence the name) and a smooth, sweet, dried-fruit character. Tawny Port can also be made by blending red and white Ports together, although the finest examples are not made in this way. Lightly-chilled Tawny makes an excellent apéritif but works equally well with chocolate desserts or cheese. It is ready to drink as soon as it is released, does not throw a sediment, and does not improve with bottle age.

Aged Tawny is the best-known and finest style of Tawny Port, often in par with the other venerable style, Vintage Port. It can be labelled as 10, 20, 30 or more than 40 years old. This age statement refers to the average age of the wines in the blend, although it is not an exact science. Older Tawny Ports are added for extra subtlety and complexity, while younger Tawnies bring freshness. Vintage-dated Tawny is also produced and is known as Colheita. It is relatively rare but often offers exceptional quality and value.

Aged Tawnies are aged for many years in wooden casks where they take on an increasingly tawny colour, a coffee, nutty, dried-fruit complexity and a silky character as the tannins soften. The oldest Tawnies are mellower, complex, delicate and less sweet in style. Once bottled, Aged Tawnies are perfect to drink and do not require decanting as they do not throw a sediment or improve with bottle age.
View Region
Storage Details
Storage in BB&R Warehouses
Wines bought from Berry Bros. & Rudd can be stored
in our temperature controlled warehouses.
We can only accept orders for unmixed cases.

Storage Charges:
£12.00 (inc. VAT)
per case per annum



Customer Reserves
For wines purchased In Bond,
Duty & VAT charges become payable upon withdrawing from your reserves.
BBX wines can only be bought In Bond.
More information on wine storage
£10.20 (inc. VAT)
per case per annum
for Cellar Plan Members
Customer Reviews
Questions And Answers