2013 Gigondas, Cuvée Tradition, Moulin de la Gardette
The Producer
Moulin de la Gardette
Gigondas is the most exciting wine village in the Southern Rhône at the moment. Beyond its sleepy medieval façade and long-standing inferiority complex vis-à-vis Châteauneuf-du-Pape, Gigondas, a Cru since 1971, is now re-establishing itself as a key appellation. It was ever thus, and the name itself (from the Latin jocunditas, meaning 'merry city') hints at an approach to life which is not without its merits.

Jean-Baptiste Meunier took over this ancient family estate (dating from 1670, it is even older than Berry Bros and Rudd!) in 1988 and has quietly brought it to its current size of 9 hectares, with some of the Grenache vines now having achieved centurion status. Organic by inclination and with the occasional biodynamic impulse, Jean-Baptiste makes some of the best Gigondas that is available today.

Their Gigondas Tradition is a blend of 80% Grenache, 10% Cinsault and 10% Mourvèdre. 10% is raised in used Burgundian barrels but the majority of the wine has been both fermented and matured in concrete, traditionally in other words.
Simon Field MW, Rhône Buyer
View Producer
The Grape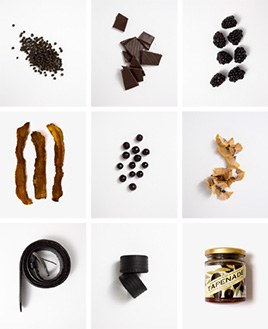 Syrah/Shiraz
A noble black grape variety grown particularly in the Northern Rhône where it produces the great red wines of Hermitage, Cote Rôtie and Cornas, and in Australia where it produces wines of startling depth and intensity. Reasonably low yields are a crucial factor for quality as is picking at optimum ripeness. Its heartland, Hermitage and Côte Rôtie, consists of 270 hectares of steeply terraced vineyards producing wines that brim with pepper, spices, tar and black treacle when young. After 5-10 years they become smooth and velvety with pronounced fruit characteristics of damsons, raspberries, blackcurrants and loganberries.

It is now grown extensively in the Southern Rhône where it is blended with Grenache and Mourvèdre to produce the great red wines of Châteauneuf du Pape and Gigondas amongst others. Its spiritual home in Australia is the Barossa Valley, where there are plantings dating as far back as 1860. Australian Shiraz tends to be sweeter than its Northern Rhône counterpart and the best examples are redolent of new leather, dark chocolate, liquorice, and prunes and display a blackcurrant lusciousness.

South African producers such as Eben Sadie are now producing world- class Shiraz wines that represent astonishing value for money.
View Grape
The Region
Gigondas has been renowned for the quality of its wines since Roman times, although it was not really until it was classified as a Côtes du Rhône Villages in 1966 that it began to realise its potential. It achieved AC status in 1971 and today produces some of the finest, most underrated and under-priced wines in the Rhône valley; although, for the last two of these at least, probably not for much longer.
Gigondas' 1,200-hectare of rugged vineyards are located east of Châteauneuf-du-Pape, beneath the famous mountains of Dentelles de Montmirail. Gigondas produces sumptuous, plummy reds with a good structure and a sprinkle of pepper. It is similar to (if a touch less slick than) good Châteauneuf-du-Pape which, at its best, it can challenge and even surpass.
Made with a maximum of 80 percent Grenache, combined with at least 15 percent Syrah and/or Mourvèdre, the rest can be made of any of the varieties authorized for Côtes du Rhône – apart from Carignan. The wines can normally be broached after two to three years, while the best repay ageing for 10 years or more. The region also produces dry, Grenache-dominated rosés which are good but can sometimes lack a little vitality.
Recommended Producer: La Bastide St Vincent, Domaine Montirius
View Region
Customer Reviews
Questions And Answers